Skip Navigation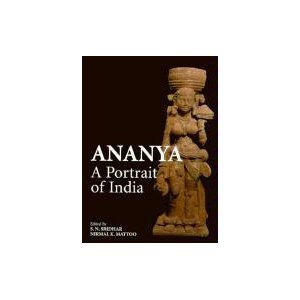 Ananya means "no other" in Sanskrit. India is unique: a cradle of civilization; a nation as diverse as a continent; the land of over a thousand languages and dialects; birthplace of major religions; a major influence on world knowledge, values, history, and culture; the country of Buddha, Ashoka, Akbar, Gandhi, and Nehru; the land of seminal concepts in mathematics and philosophy; of Yoga, the Mahabharata, the Bhagavad Gita, the Kamasutra, the Taj Mahal; of world-famous art, architecture, music and cuisine.
Today's India, with close to a billion people, is the world's biggest democracy, with a vibrant free press and an independent judiciary. Its economy, with a middle class of 250 million consumers, is the fifth largest in the world.
Ananya: A Portrait of India introduces the richness of India's 5000 year-old civilization. In Ananya forty of the world's most distinguished experts on India introduce and interpret India's past and present. Written specially for an international audience of general readers, not specialists on India, each chapter presents the highlights of one aspect of Indian civilization in a lively, readable, fashion. Both traditional and contemporary India are covered. The 40 chapters, followed by an Epilogue, are arranged into the following sections:
Introduction
History
Indic Religions and Philosophy
Science and Technology
Society and Politics
Business and Economics
Art and Architecture
Language and Literature
Performing Arts
Makers of Modern India
Identity and Diaspora
The authors are among the most distinguished authorities on India. They include a Padma Vibhushan, two Padmabhushans (highest civilian honors given by the President of India), present or past Presidents of the Indian Academy of Letters (Central Sahitya Akademi), Indian Academy of Music and Theater (Sangeet Natak Akademi), Indian Music Congress, Indian Historical Congress, two Bhatnagar award (India's prestigious science prize) winners, Fellows of the British Academy, the Royal Academy of Engineers, members of the Indian National Science Academy, American Academy of Arts and Sciences, a member of the Center for Advanced Study in the Behavioral Sciences, former Vice-Chancellors, Directors of Centers of Advanced Study, named professors, and Senior Research Fellows of the American Institute of Indian Studies.
Ananya was designed and edited at the Center for India Studies, State University of New York at Stony Brook, and published by the Association of Indians in America. Like its subject, is unique: Its combination of extensive, up to date coverage, superb scholarship, and lively presentation style makes it easily the best single-volume portrait of this fascinating civilization.
ANANYA: A PORTRAIT OF INDIA
EDITED BY
S. N. SRIDHAR, CENTER FOR INDIA STUDIES, SUNY STONY BROOK, AND
NIRMAL K. MATTOO, ASSOCIATION OF INDIANS IN AMERICA
PUBLISHED BY ASSOCIATION OF INDIANS IN AMERICA, NEW YORK
960P. HARDCOVER, 100 ILLUSTRATIONS (35 IN COLOR)
PRICE $79.95 PLUS $5.92 S/H.