Skip Navigation
Accelerated College Education (ACE)

Overview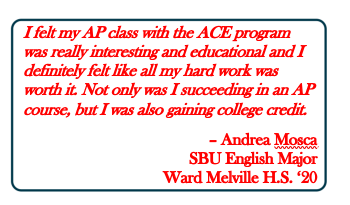 The Stony Brook University Department of English's Accelerated College Education (ACE) provides Long Island and New York City high school students with the academic challenges of a college-level English curriculum within the high school setting.  
The program helps students develop the skills necessary for a successful college career, familiarizes them with the demands of university coursework, and introduces them to the learning environment and resources of a major university before they enter college full time.  The ACE experience can provide future opportunities to students, such as the ability to enroll in higher-level college courses or to complete a four-year degree in a shorter amount of time.
The program began in 2016 under the guidance of English Department faculty member and former Chair, Dr. Celia Marshik, and Brian McAuliffe, a long-time local high school English teacher who continues to serve as ACE Program Coordinator. ACE currently serves more than 280 students per year from over a dozen schools.


How It Works
ACE students enroll in introductory-level Stony Brook University courses taught in their high schools.  Upon successful completion of ACE course requirements, students receive credit from Stony Brook University for the course(s) in which they have enrolled and for which they have paid.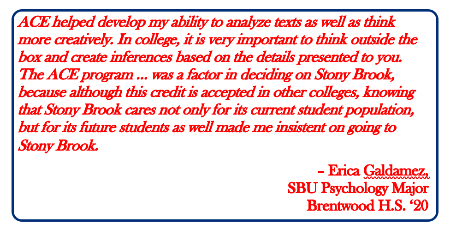 The English Department seeks to broaden the scope of the program bringing college preparation, and college credit, to need-based students who wouldn't otherwise have access to it.  ACE participants have included high-need students from at-risk communities for whom the program helps level the playing field toward becoming the first in their families to attend college.  ACE offers a pre-college experience to prepare and inspire these soon-to-be first-generation college students.
The coordinator's role is to recruit area high schools, developing relationships with principals and English teachers.  The coordinator annually visits participating schools to promote the program and ensure curriculum adherence and teacher readiness.  High school teachers must possess a master's in English or demonstrate substantive progress toward the degree, and if accepted, teachers must submit a syllabus by January for a course planned for the subsequent academic year. Professional development is provided to new participating teachers through a mandatory summer workshop.
For more information, please contact Brian McAuliffe.