Skip Navigation
 
D-TALE Holds First Ever Advisory Board Meeting
Stony Brook University's Distributed Teacher and Leader Education (D-TALE) program held the inaugural meeting of its advisory board in the Wang Center Chapel on November 8, 2019.
D-TALE is Stony Brook University's home for all programs that lead to New York Certification for P-12 teaching and administration. It offers certifications in English, Mathematics, Social Studies, Science, Foreign Language and English to Speakers of Other Languages, as well as school district, building, and business leadership.
Teachers coming out of Stony Brook University are taught to help shape the future by learning to be effective, confident teachers able to lead young minds in a competitive era. The D-TALE Advisory Board identifies key issues related to the P-12 educational community and provides advice on enhancing teacher and leader preparation through higher education.
The Board consists of representatives from the University and the regional community. Members of the Advisory Board include superintendents, principals, practitioners across disciplines, directors of teacher centers, representatives from the Board of Cooperative Educational Services (BOCES), other community and professional organizations, and Stony Brook alumni, faculty, staff and administrators from related academic and administrative areas.
"I was happy to see the turnout that we had...there seemed to be a good deal of enthusiasm," said Dr. Terry Earley, director of D-TALE.  Earley hosted the meeting and had departmental program directors present their most recent work to the advisory board. "It's a win-win situation for everyone involved."
The advisory board will meet regularly with D-TALE's faculty and administration to address the educational needs of future teachers and the communities they will serve. Topics of discussion included the expansion of microcredentials, the introduction of a center for excellence in teaching, efforts to increase diversity in the programs, and a general commitment to building communities of learning.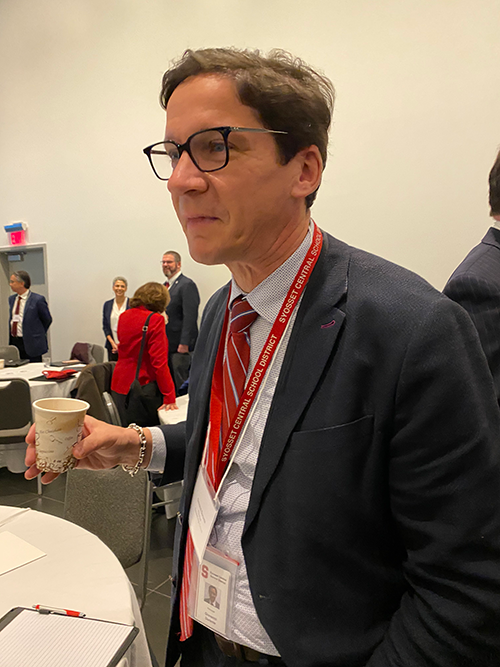 "Stony Brook has been really good to me for so many years. I'm happy to be here," Giovanni Durante, Stony Brook alum and Syosset High School principal, said when asked why he chose to serve.
The School plans to hold its next advisory board meeting in the Spring of 2020. At this meeting, members will expand on some of the issues that were brought up during this last meeting, including microcredentials, diversity and new approaches to the teaching of technology.