Skip Navigation
Omar Badessi's Passion for Teaching Helps Students Stay Involved and Engaged Through the Pandemic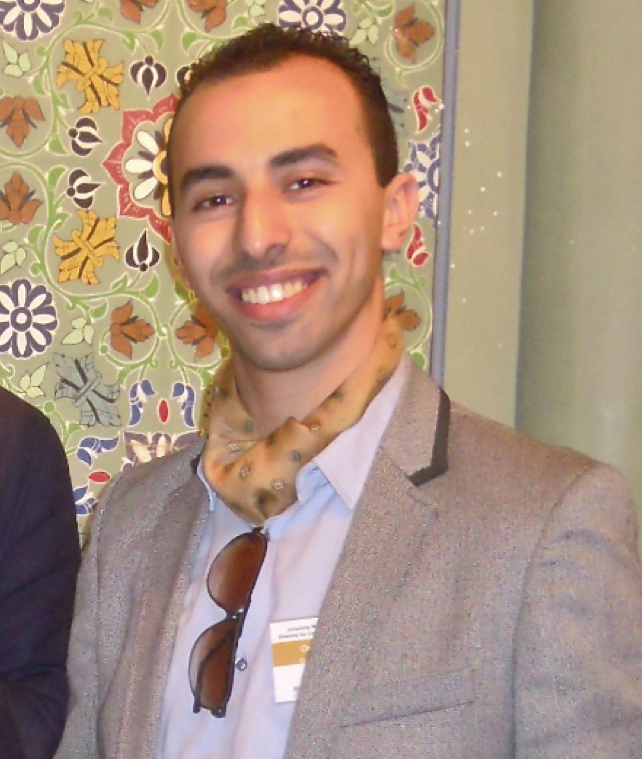 Omar Badessi, a PhD student and instructor in the College of Arts and Sciences Department of Hispanic Languages and Literature, was drawn to Stony Brook University and its wealth of opportunities. As an instructor at the University, Omar has been tremendously successful in effectively communicating with his students, despite some limitations posed by the COVID pandemic. In order to get his students involved in and excited about learning a new language, Omar bolsters his lesson plans with engaging activities such as karaoke nights, cultural exploration projects, and the performance of skits. Omar's dedication to offering the highest quality of education shows through in his students' reflections on his classes. As one former student shared, "His true passion for teaching is remarkable and inspiring to see, and it was an honor to be a part of his class this past semester."
Read our interview with Omar to learn more about his experience at SBU, his teaching techniques, and rapport with his students.

How did you become interested in the study of languages? 
It's my passion! Since I was a little kid, I was exposed to a wide range of cultures and languages. This is because of the way I was raised by my parents, and because of my interests that were developed and explored in depth in later stages of my life and during my graduate education in International Relations. 
Given these experiences, I am used to working in intercultural environments. Apart from Morocco, my home country, I have lived, studied and worked in France, Germany, Spain, and the USA, and traveled across many other countries. My multicultural spirit allows me to successfully and quickly adapt to foreign environments, and to understand their complex cultural systems. This has contributed greatly to the expansion of my social and academic network, naturally leading me to build and maintain productive working relationships. Starting with smaller-scale interpersonal relationships, I hope to influence positive international relations.
Students in Omar's class before the pandemic

Your students repeatedly remark on your great enthusiasm for teaching. How do you maintain a high level of enthusiasm day in and day out? 
First of all, because I do care about my students! When I am teaching, I want to share my enthusiasm for a rich life experience, where languages constitute a key element to connect and interact with new places and its people in a way that is often inaccessible to those without the language. I enjoy connecting and interacting with people from all walks of life.
Moreover, as development of intercultural understanding is essential to reducing conflict, the study of languages has become increasingly important. It is crucial to bring about a mindset of preparing for peace instead of preparing for fear and war. Indeed, the world is a complex place and knowledge of languages brings us closer! Luckily, students in my classes start to be more aware about this important aspect and start feeling motivated and encouraged because they see something genuine and noble they can believe in. 
Indeed, language class is an ideal venue to expose students to the subtleties of other cultures. Not only do students learn a language, they learn new ways of thinking and avoid building false stereotypes. Importantly,  this extends and reinforces one of Stony Brook University´s main goals: diversity and inclusion.
Secondly, I strive to stay aware that I am dealing with human nature. One of my favorite quotes that helps me keep this crucial aspect in mind comes from Lou Ann Walker: "Theories and goals of education don't matter a whit if you don't consider your students to be human beings."
The primary objective of any of my lessons remains the transmission of knowledge and know-how, imparting the pleasure of learning new languages to my students. 
Also, spicing things up with a little guidance about life is an essential component of my pedagogical style, especially when dealing with those students who need a figure model in their life or just someone who can understand and help them without judging them. I am aware that teachers can have a profound impact on their students; therefore, we must become the spark that enables them to surpass themselves, give them the tools of their own autonomy so that they become responsible citizens and accomplished intellectuals and transform their knowledge into action. At SBU I serve with pride and do my best to not only talk the talk but to WALK THE WALK!
How do you encourage interaction among your students? 
As a budding language scholar I aim to develop a teaching methodology that is focused on building an inclusive and equitable environment for our students that is focused on openness, sensitivity, and the ability to interact civilly with people of all walks of life. Furthermore, I aim to accomplish this by creating my own micro society with an uncompromising standard of excellence and with an eye towards elevating SBU's performance and reputation as a leading public research university.
How did you come to develop your pedagogical approach? 
I learned to be a conversationalist and I do my best to teach this quality to my students by pushing them out of their comfort zone and encouraging them to do all this in a foreign language. A good teacher, in my opinion, constantly listens to the interests and needs of his students; he dives deep to understand his students' personalities and their milieux; he seeks to strike a fair balance between their demands and the demands of the subject, the institution and society.

Learning from students is a key element of my pedagogy. I am continually sensitive to their ideas and seeking ways to be inspired by them. As Robert A. Heinlein once said, "When one teaches, two learn."
A Star is Born: This activity aims to give students an opportunity to show their talents while practicing their Spanish.
Watch Video
How do you ensure that the technology you implement in your lessons contributes to the learning process instead of distracting attention away from it? 
I keep abreast of advances in the field of information, communication technologies and educational research. I constantly use different media tools in a fun way (Internet, computer-assisted presentation, film, songs, skits, etc.). My class is designed to feel like a break from the isolated world that some of those technologies can create. 
What advice would you give to all Seawolves to make the best of this remote/hybrid/in person learning situation we are in? 
Do not be mediocre! Always be adaptive and evolve! One of my favorite thinkers, Epictitus, once said: "On the occasion of every accident that befalls you. Remember to turn to yourself and inquire what power you have for turning in to use."

Be aware of your comfort zones because they may lead to stagnation, and remember that smooth seas don't make skillful sailors. It is necessary to set a lofty goal and strive with all one's might to achieve such a goal. In doing so, an individual will live a life of self overcoming. But in the process, enjoy life and your human nature.

Indeed, these are difficult times, however, they hide great compensations for our self improvement, so learn to see them as good fortune. Expect to have events happen as they do happen, not as you wish.  Eventually, all the trials you encounter will introduce you to your inner strengths. As Seneca once said, "A gem cannot be polished without friction, nor a man perfected without trials."
3/21