Skip Navigation
Cianna Jackson '19
European Studies and Art History double major, Anthropology  minor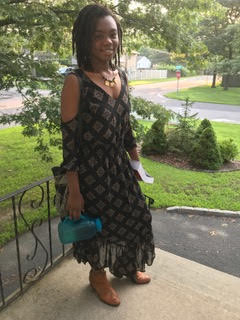 Cianna Jackson first heard about Stony Brook University in high school, where her music and history teachers spoke highly of the College's Department of Music. Originally planning to double-major in History and Music, she took their praise into account and applied. " The proximity of the campus to my home was an important factor," she says. "I believe that staying in close contact with my support system - my family - played a role in my success as an  undergraduate."
Cianna's original plans for her major changed when she discovered European Studies. "I loved the fact that the major was interdepartmental, in the sense that I could take classes in history, art, ancient and medieval studies, language, politics, film, and literature," she explains.
During her first semester, she took an introductory course in Art History. She loved the course and the professor who taught it; ultimately declaring Art History as a second major. She also has a minor in Anthropology.
Cianna is currently working on two honors theses -- one for Art History, "Aristocracy, Periclean Democracy, and the Representation of Girls in Classical Athens," and one for European Studies, "Weaving, Woman, and Wiles: A Comparison of Two Aristophanic Plays." As she is enrolled in an accelerated program, Cianna will most likely receive her master's degree next spring.
Outside of academics, Cianna is  very involved in her community. On campus, she is part of the Sigma Beta Honor Society, the National Society of Collegiate Scholars, the National Society for Leadership and Success, and participates in activities with the Veteran's Club. Off campus, she participates in and leads service and outreach through her local assembly.
As a student who is deeply immersed in the study of culture, Cianna appreciates how far departments within the College go to promote cultural awareness and diversity. "In my experience, events and talks in different departments help expand students' knowledge on cultural happenings, environmental issues, popular topics of debate, among other things," she says. "Personally, I believe that this has helped me to consider different perspectives and become more aware of current events taking place beyond the Stony Brook campus."
Cianna's advice for incoming students? "Don't be afraid to ask questions! Whether you have a problem or a creative idea for a club or research, there are great faculty who are willing to help you," she says. "Also, I would recommend that you take a class in something that simply sparks your interest — there are always interesting classes that might expose you to something you may not otherwise have learned that you might find inspirational!"