Skip Navigation
Jennifer

Itzkin 

'20
BA Women's, Gender and Sexuality Studies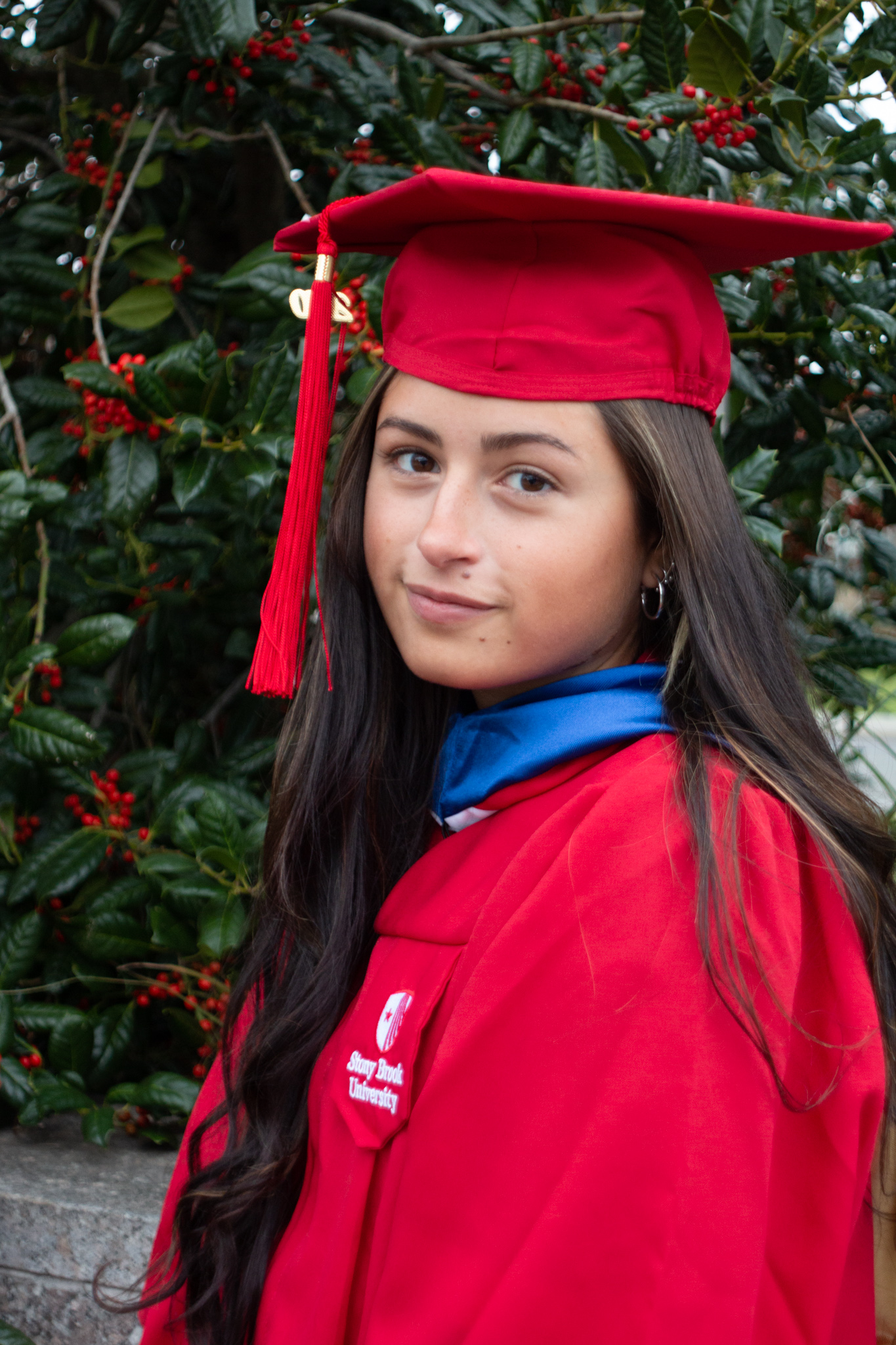 Why Stony Brook?
I am a born and raised New Yorker, located just 20 minutes from the Stony Brook campus. Both my father and my brother are Stony Brook alumni. Hearing about their enriching experiences during their time on campus is what originally intrigued me about SBU. 
Living so close to campus was just an added bonus in my decision to choose Stony Brook. While touring the campus four years ago, I could feel the buzz of community, acceptance, and opportunity. I had only heard positive stories from past students, and four years later I have learned them all to be true. The professors at Stony Brook are extremely knowledgeable in their fields and always willing to guide their students in the right direction. The level of education that I received during my time at Stony Brook is unmatched, but I believe that some of the most important lessons I learned were out of the classroom. The diverse and accepting student body at Stony Brook taught me more about myself and others than I could have ever read in a book.
On her program of study:
My major is Women's, Gender, and Sexuality studies. I chose this field of study because it is something I have always been interested in, but did not have a safe space to study prior to attending SBU. I appreciate the ever-changing nature of this field and the fact that there is always room to improve and learn more. Even within my four years of college, new ideas and theories have developed and our levels of understanding have progressed. Gender and sexuality is an integral part of our being that so many people struggle with. A lack of understanding leads to unequal opportunities, mental discrepancies, social shaming, and an overall repetition of history. Through education and discussion, we can make the world a more accepting place.
On her favorite class:
One of my favorite classes at Stony Brook was WST 301 - Histories of Feminism with Professor Nancy Hiemstra. This class gave students an insight into the history of womens' role in society and politics. It is so important to understand the past in order to learn from mistakes, as well as successes, and ultimately improve the present and the future. Professor Hiemstra created an open and welcoming environment that helped me break out of my shell and speak my mind in class. I also met some amazing classmates through the group work and collective engagement in the course materials. 
Advice for future Seawolves: 
Becoming a Seawolf is a huge honor and should be treated as such. You are now a member of an incredible community that prides itself on acceptance, diversity, and raising the bar. Your expectations for yourself will shortly be exceeded as you grow and transform throughout the next four years at Stony Brook University. Be prepared to be challenged, but do not be surprised when you succeed with a greater confidence then you ever had before. Expect to leave your comfort zone, but anticipate finding a place where you can let your truest self shine. Do not be afraid to break your own rules and let yourself experience all that being a Seawolf encompasses. Participate in as many campus events as possible, interact with your classmates, ask your professors for guidance, and use your voice. At Stony Brook, there is no idea too grand, no creative endeavour too ambitious, and no question too complex. You will be given the resources, guidance, and support to make all of your dreams and aspirations a reality. 
On her favorite SBU memory:
As I reflect on my time at Stony Brook University, the time spent working on my senior thesis stands out. This may seem unexpected, as writing a paper does not necessarily compare to the laughs I had at the SAC or the lessons I learned in Javits. However, as my fourth year of college came to an end and I entered the classroom in preparation of starting my research paper, I realized that all of the hard work I had done previously led me to this moment. I reflected on the incredible education that I had received that prepared me to think for myself, form my own opinions, and hopefully teach someone else the important lessons that I had the privilege of learning myself. As a Women, Gender, and Sexualities major, I was aware of my senior thesis paper from the moment I committed to my field. It was daunting, and admittedly I was overwhelmed. When the time had finally come to display all of the knowledge that I had gained throughout my time at Stony Brook, not only was I no longer feeling overwhelmed, but I was excited to share information about a topic that I am so passionate about. My professor, Victoria Hesford, and my classmates created a productive environment that allowed us to bounce ideas off of each other, sort out our thoughts, and ultimately teach each other the research that we all had been preparing throughout our college experiences. I leave that class with a broader understanding of my field, as well a newfound confidence in myself. My senior thesis truly proved to me that I can do anything I set my mind to, and that is a priceless lesson. 
On graduating during COVID-19:
When I was younger and I pictured my college graduation, I could never have pictured it to be quite like this. It's difficult to feel excited at times when there are so many bigger things happening in the world around me. However, I try my best to remind myself of the amazing achievements that I have accomplished and not let these unprecedented circumstances take away from that pride. I am disappointed that I will not be able to graduate physically alongside my friends and family, but it will be nice to have my dog there with me. And I don't have to wear heels. I am excited to tune into the virtual graduation on Zoom on December 18th!