Skip Navigation
In the Spotlight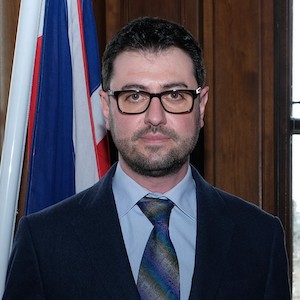 Matteo Brera, Executive Director of  the Center for Italian Studies
We are very happy to welcome the incoming  Executive Director, Dr. Matteo Brera, to the Center for Italian Studies. Matteo holds degrees from the Universities of Pavia, Edinburgh and Utrecht and has worked - both within academia, and in the private/not-for-profit sectors - in the United Kingdom, the Netherlands and Canada, before being selected as the new Executive Director among many highly qualified candidates. The recipient of a Marie Curie Global Fellowship with a project on the hierarchisation of racism, memory and the construction of the racial discourse in the US South, Matteo has also published extensively on Italian and European literatures, Fascism, and the political impact of ecclesiastical book censorship.  
Please join us in welcoming Matteo Brera to Stony Brook University and the Center for Italian Studies.
Latest News
Dear Friends, 
Please find a listing of some of our Spring 2023 events below, and note that all past recorded events can be found on The Center for Italian Studies at Stony Brook's YouTube Channel. _______________________________
March 29, 5:30pm
The Center for Italian Studies
Documentary screening followed by Q&A with Porpora Marcasciano.


April 12- May 11
The Center for Italian Studies
Paganini (si) ripete
A Performer's Afterlives
Exhibition
An exhibition on the afterlives of Niccolò Paganini will be on display at the Center for one month.

April 12, 4:30pm
The Center for Italian Studies
The Forbidden Dream
Niccolò Paganini and America
A talk by musicologist, Danilo Prefumo, followed by a student performance.

April 12, 7:00pm
The Center for Italian Studies
A play by Anthony DiFranco presented by the Department of Languages and Cultural Studies


April 20, 1:15pm
Humanities Bldg, Room 1006
Representations of Religion in the New Media
A public lecture by Dr. Alessandro Testa


April 20, 3:00pm
The Center for Italian Studies
Multilingualism, Translation, Diaspora
Challenges and Opportunities
Discussion between Jo Angouri, Moira Inghilleri, and Loredana Polezzi.

May 1, 2:30pm
The Center for Italian Studies

Italy in Spain: Organizing an Exhibition on Guido Reni at the Prado Museum in 2023

A lecture, given by David García Cueto, focusing on the challenges and overall project of "Guido Reni" on view at the Prado Museum 
---
In Memoriam
Made in Italy, Made for America
Honoring Mario B. Mignone (1940-2019)
The Center for Italian Studies hosted a memorial conference in honor of its founder, Mario B. Mignone, at Stony Brook University on November 11th and 12th, 2022. The program  included presentations by his family, friends, colleagues, scholars, University associates, and government officials who remembered him and recalling his life's achievements.