Skip Navigation
Message from Dr. Stanley
Statement from President Stanley on Proposed Changes to Title IX
November 30, 2018
The federal Department of Education has announced proposed changes to Title IX rules and regulations governing how colleges and universities respond to allegations of sexual misconduct.
Stony Brook University currently follows New York State's stringent Title IX laws and procedures and has a well-defined process that safeguards the rights of all parties. Some of the proposed changes could weaken these protections.
We are serious about keeping our students safe and free from sexual and gender-based violence.
In the Spotlight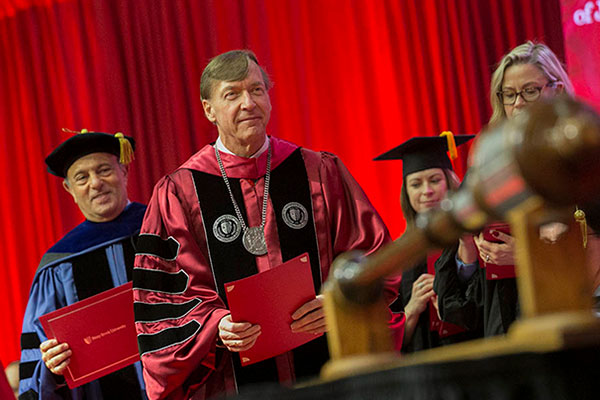 1,800 New Grads at 2018 Winter Commencement

"I know that behind each and every one of your degrees is a story of hard work, of passion for knowledge, and of challenges, but ultimately today, perseverance and sweet success," President Stanley Jr. told the class at the Dec. 21 ceremony.

President's Office Hours
President Stanley holds office hours each semester to set aside time to meet with Stony Brook University students. These office hours are an ideal opportunity for students to meet President Stanley to share their thoughts and discuss a variety of subjects about the University.