Skip Navigation
Message from Dr. Stanley
President's Budget Message

March 25, 2019
On the eve of a new 2019 State budget agreement, I wanted to provide an update to the campus community on the University's current financial status and where we are headed.  We still face significant challenges, as the fundamental issue of the structural deficit that all SUNY schools face has still not been resolved. As shown in the accompanying table which contains data provided by SUNY on the yearly and total costs of the new contract, the sum of the contractual salary increases for the academic enterprise components of SUNY will be more than $1.1 billion, and Stony Brook, as a premier research university will bear a significant part of that, more than $200 million.   
To be clear, no one questions the appropriateness of the increases for our outstanding faculty and staff, but we have not been provided with a corresponding increase in state allocation, or the alternative of increases in tuition and fees to meet these costs.
In the Spotlight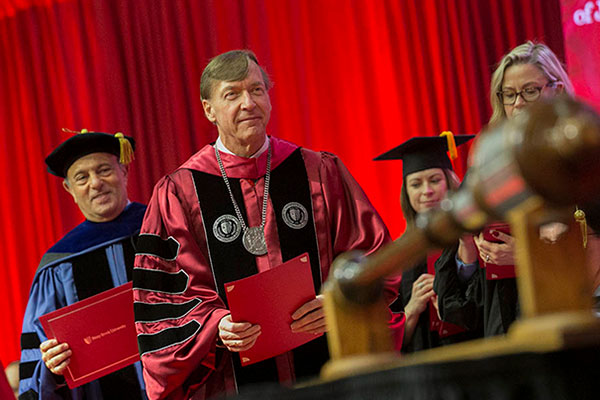 1,800 New Grads at 2018 Winter Commencement

"I know that behind each and every one of your degrees is a story of hard work, of passion for knowledge, and of challenges, but ultimately today, perseverance and sweet success," President Stanley Jr. told the class at the Dec. 21 ceremony.

President's Office Hours
President Stanley holds office hours each semester to set aside time to meet with Stony Brook University students. These office hours are an ideal opportunity for students to meet President Stanley to share their thoughts and discuss a variety of subjects about the University.