Skip Navigation
Message from Dr. Stanley
Stony Brook Condemns Gun Violence; Reaffirms its Commitment to Diversity, Equity and Inclusion

March 15, 2019
On behalf of Stony Brook University and all that we stand for, I condemn the senseless act of violence that occurred in Christchurch, New Zealand. On behalf of our students, faculty and staff who have family, friends or other connections to New Zealand, we support you and our heartfelt sympathy is with everyone affected by this horrible massacre. As President of Stony Brook University, I want to reaffirm Stony Brook's commitment to diversity, equity and inclusion and to creating a campus environment where all are welcome and safe.
The Dean of Students has reached out to our students from New Zealand to offer and provide any support they might need. Also, out of an abundance of caution, we coordinated with UPD to provide additional protection and support to our Muslim community.
In the Spotlight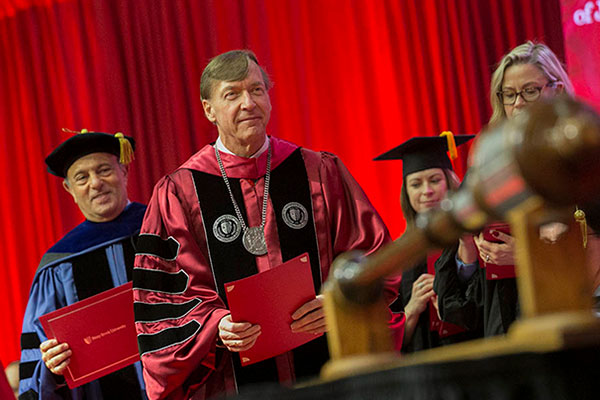 1,800 New Grads at 2018 Winter Commencement

"I know that behind each and every one of your degrees is a story of hard work, of passion for knowledge, and of challenges, but ultimately today, perseverance and sweet success," President Stanley Jr. told the class at the Dec. 21 ceremony.

President's Office Hours
President Stanley holds office hours each semester to set aside time to meet with Stony Brook University students. These office hours are an ideal opportunity for students to meet President Stanley to share their thoughts and discuss a variety of subjects about the University.