Skip Navigation
President Maurie McInnis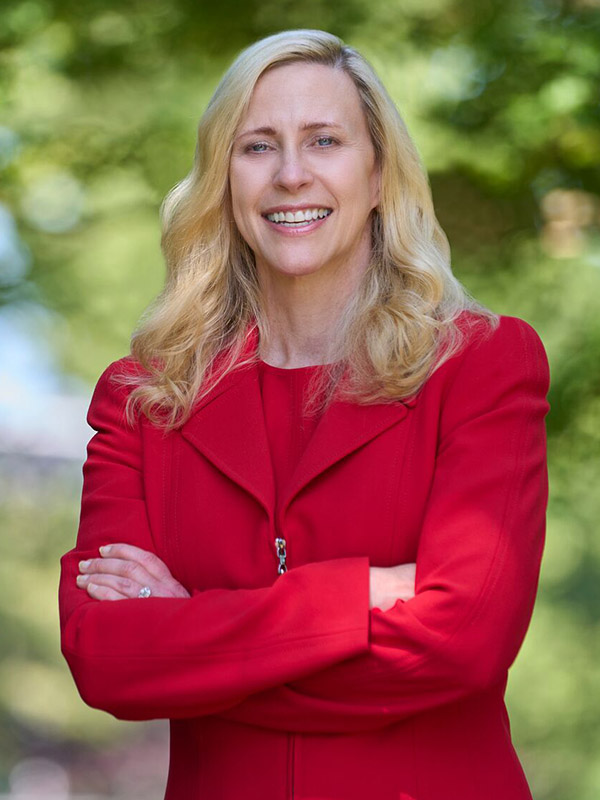 Maurie McInnis is the sixth president of Stony Brook University, an internationally recognized public research institution and center of academic excellence designated as a  flagship  university in New York State and ranked as the number one public university in the state under her leadership.
Appointed in July 2020, President McInnis also oversees Stony Brook Medicine, Long Island's premier academic medical center, which encompasses five health sciences schools, four hospitals, and 200 community-based healthcare settings. She is a key player in furthering economic development on Long Island and in Stony Brook's role as part of the management team of nearby Brookhaven National Laboratory, a U.S. Department of Energy facility.
Advancing Access, Opportunities and Social Mobility For All Students
As an administrator, President McInnis is focused on providing a high-quality, affordable education for all students, which has resulted in a diverse student population that includes twenty percent underrepresented minority students, more than one-third of students who are Pell Grant-eligible, and one-third who are the first in their families to go to college.  Stony Brook University is ranked #1 on the College.net Social Mobility Index—ahead of all 65 members of the American Association of Universities (AAU). It has an 80-percent six-year graduation rate for Pell Grant recipients, compared to 77 percent for non-Pell Grant students, and four-year graduation rates continue to increase. 
To promote excellence through equity and diversity in STEM fields, President McInnis  announced the Stony Brook Simons STEM Scholars Program in May 2022, supported by a  $56.6 million gift from the Simons Foundation and the Simons Foundation International, to improve pathways to STEM careers and doctoral degrees for under-represented students. 
Achieving Financial Sustainability and Pursuing Bold Opportunities 
President McInnis initiated a university-wide Strategic Budget Initiative shortly after taking office in 2020 to enhance research, academic program development and opportunities in the health sciences while reducing administrative burdens and building new revenue sources. Notable resulting  accomplishments to date include a 22-percent increase in research expenditures attributed to investments in additional support for research administration and new seed grant programs, human resources-focused technology and support services enhancements and improvements in graduate tuition revenue sharing.  A results-oriented leader, President McInnis strategically moved the campus to a multi-year all-funds budgeting model to invest in strategic priorities and enable the university to identify areas for new revenue-increasing opportunities and new growth.
To propel Stony Brook University to even higher levels of excellence, President McInnis continues to make significant investments that put bold opportunities within reach. In late 2021, she launched the $75 million-dollar President's Innovation and Excellence Fund, which is fully supported by philanthropic gifts, to enhance externally funded research on campus. This fund has supported Stony Brook's efforts to compete and advance as a finalist as the City of New York and the Trust for Governors Island look to reimagine Governors Island as a global hub for climate science research and innovation.  
Leading a Top Public Research University
A renowned cultural historian and author, President McInnis' academic scholarship has focused on race, slavery, and power in the 19th century American South. She brings to Stony Brook her humanist values , among them her conviction that institutes of higher learning should use their expertise and influence to address major societal problems. As such, she is deeply committed to the mission of public research universities.
Before coming to Stony Brook, she served four years as executive vice president and provost at the University of Texas at Austin and spent nearly 20 years at the University of Virginia in various academic and administrative appointments.
Along with her leadership team, President McInnis continues to embrace and advance opportunities to recruit accomplished faculty to improve teaching and learning, conduct groundbreaking research, provide the best clinical care for patients, and boost the socioeconomic mobility of all students at Stony Brook University.