Skip Navigation
President Maurie McInnis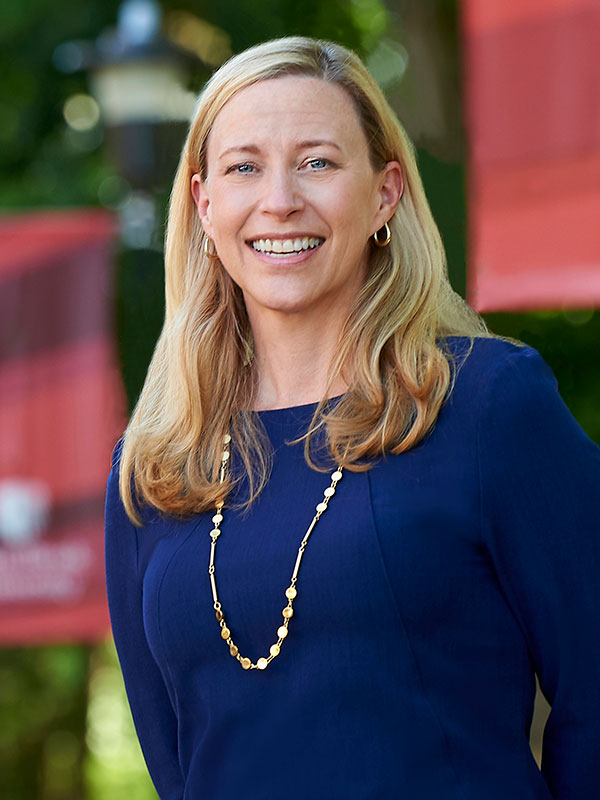 Maurie McInnis became the sixth president of Stony Brook University, one of America's leading public universities and an internationally recognized research institution, on July 1, 2020. As chief executive for Stony Brook, McInnis also oversees Stony Brook Medicine, Long Island's premier academic medical center, which encompasses five health sciences schools, four hospitals, and 200 community-based healthcare settings. She is a key player in furthering economic development on Long Island and in Stony Brook's role as part of the management team of nearby Brookhaven National Laboratory, a U.S. Department of Energy facility.
EXPERTISE TO LEAD A TOP PUBLIC RESEARCH UNIVERSITY
McInnis brings to Stony Brook her humanist values as a renowned cultural historian of the 19th century American South, among them her conviction that institutes of higher learning should use their expertise and influence to address major societal problems. As such, she is deeply committed to the mission of public research universities.
Before coming to Stony Brook, she served four years as executive vice president and provost at the University of Texas at Austin (UT), a top public research university of more than 50,000 students. Prior to that, she spent nearly 20 years at the University of Virginia in various academic and administrative appointments, including vice provost for academic affairs, associate dean for undergraduate academic programs in the College of Arts and Sciences, director of American studies, and professor of art history.
SPEARHEADING A ROBUST COVID-19 RESPONSE
McInnis joined Stony Brook in the midst of a pandemic crisis and has led the campus through uncharted territory to forge ahead with educating students and keeping Long Island at the forefront of innovation. The health and well-being of the Stony Brook community is her highest priority, and McInnis has spearheaded sweeping plans, including hybrid learning, detailed safety and health protocols, dynamic mental health and wellness support, and a re-engineered campus life.
She championed an integrated and science-based planning process led by Stony Brook's COVID-19 multidisciplinary planning team, bringing researchers from across the university and hospital together to confront this complex situation from every angle — from immunology to public safety, and from mental health to economics.
The team established a strong response plan and proactive testing regimen. McInnis supports these efforts through frequent engagement with students, faculty, and staff. She encourages the campus community to work collaboratively and support one another using positive reinforcement for observance of coronavirus guidelines. This approach has resulted in Stony Brook University's keeping its COVID-19 case count and spread lower than those of many other institutions. 
McInnis and the university have been recognized by SUNY Chancellor Jim Malatras; local community leaders; and Deborah Birx, former coordinator for the White House coronavirus response and Coronavirus Task Force, as a role model for minimizing the spread of COVID-19 in a challenging university environment while protecting the broader community.
ACHIEVING FINANCIAL SUSTAINABILITY
To help ensure a successful future for the university during a time of extraordinary economic challenges, McInnis called upon the collaborative spirit of Stony Brook and initiated a universitywide Strategic Budget Initiative shortly after taking office. Illustrating Stony Brook's campuswide dedication to the power of partnership, roughly 400 faculty and staff across five task forces, multiple working groups and the technical support team are engaged in the initiative. The task forces have built teams that hear from subject matter experts, generate hundreds of ideas, and define areas in which they believe they can have the greatest impact. Their work is focused on exploring new revenue streams, increas ing productivity, build ing and strengthen ing academic and research programs, and notably, work ing collaboratively and effectively together as one unified campus.