Skip Navigation
---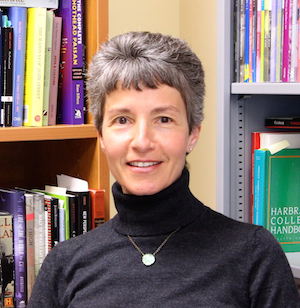 Spring 2018 Office Hours: 
Mondays 10:45 - 12:45 and by appointment
---
 Mary Jo Bona   is professor of Italian American Studies and Professor and Chair of the Department of Women's, Gender, and Sexuality Studies.  She is past president of the Italian American Studies Association and served for six years on the board of MELUS, the Association of Multiethnic Literature of the United States. Her authored books include: Women Writing Cloth:  Migratory Fictions in the American Imaginary, By the Breath of Their Mouths: Narratives of Resistance in Italian America , Claiming a Tradition: Italian American Women Writers , and a book of poetry, I Stop Waiting For You . Bona is also editor of The Voices We Carry: Recent Italian American Women's Fiction ; co-editor (with Irma Maini) of Multiethnic Literature and Canon Debates ; and series editor of Multiethnic Literature for SUNY Press. Bona received a stipendiary award and entrance into the Academy of Teacher Scholars at Stony Brook, and teaches courses on feminist theories and literature for WGSS, English (her affiliated department), Comparative Literature and European Languages, Literatures, and Cultures.
---
Publications: 
2019
, 
"Queer Daughters and Their Mothers: Maso, Cappello and Bechdel Write Their Way Home." Palgrave Macmillan, forthcoming.
2018, "The Culture Wars and the Canon Debate." American Literature in Transition: 1980-1990. Cambridge University Press.
2018, "Mothers and Daughters." The Routledge History of the Italian Americans. Routledge.
2015, "Falling Through the Cracks: Italian America, Literary Studies, and the Academy." New York: John D. Calandra Institute. 44-52.
Chapter translated
in
Palinsesti
3. Università della Calabria. 73-82.
2015, "The Fruits of Her Labor: DeSalvo's Memoirs of Food and Family" with Jennifer DiGregorio Kightlinger. Personal Effects: Essays on Culture, Teaching, and Memoir in the Work of  Louise DeSalvo. Fordham University Press. 189-209