Skip Navigation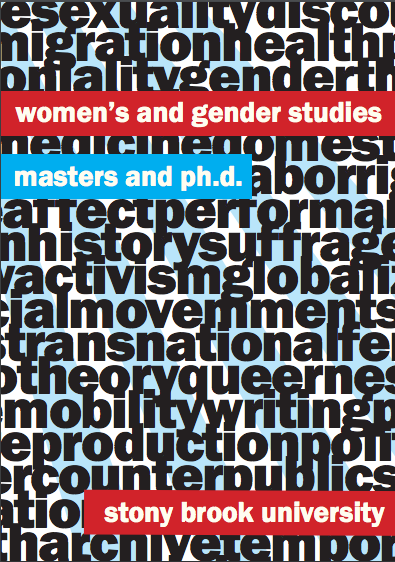 The graduate program in Women's and Gender Studies at Stony Brook creates a space within the academy for critical thinking across disciplines about the explanatory categories of gender, race, class, sexuality, nation, and disability. Women's, Gender, and Sexuality Studies explores how these categories come into being and operate across different cultures and historical periods, and how they shape social, political, economic and institutional organizations as well as personal experience and perception.
The MA program was introduced in 2014 along with a PhD program. In its first three years of existence, all MA candidates successfully completed the requirements and graduated within two years. After finishing the program, Laura Abbasi-Lemmon (MA, 2016) began a PhD program in Women's Studies at the University of Maryland, while Emily Whearty (MA, 2017) continued her work in the non-profit sector as a precinct advocate at L.I. Against Domestic Violence.  Our most recent graduate, Joie Meier (MA, 2018) was accepted into the PhD program in Gender Studies at Indiana University Bloomington. 
The program is particularly strong in four key areas: transnational social movements and globalization; the politics of representation and media analysis; gender and health; and the critical analysis of sexuality.  Along with the core faculty in Women's, Gender, and Sexuality Studies, the graduate programs draw from an extensive network of Graduate Faculty from across Stony Brook University, including in the social and behavioral sciences, humanities, and health sciences.
---
Requirements for the M.A. Degree  
In addition to the minimum requirements of the Graduate School, the following are required:
The minimum course requirement for the M.A. degree is 30 graduate credit hours. An M.A. candidate is expected to take:
1. WST 600 Feminist Interdisciplinary Histories and Methods
2. WST 601 Feminist Theories
3. WST 698 Women's, Gender, and Sexuality Studies Teaching Practicum
4. Two additional WST courses numbered 600 or higher
The remaining courses may be distributed among graduate offerings in other appropriate fields. A student must achieve a 3.5 overall grade point average for all graduate courses taken at Stony Brook to receive a degree.
B. First-Year Evaluation
In the middle of the student's second semester of graduate work, the director of graduate studies prepares a file for the student's first-year evaluation. It consists of (1) the student's grades and (2) letters from the professors in all of the student's classes. Students may submit any other relevant material such as a seminar paper or original essay. The graduate studies committee will evaluate the dossier and decide whether the student should be encouraged to continue in the program.
C. Satisfactory Progress Toward the M.A.
Because so many factors depend on satisfactory progress toward the degree, it is important for students to be aware of and monitor their own progress. The following define the minimum limits for satisfactory progress for full-time students:
1. Maintain a 3.5 average, with no course below B-, in each semester of graduate study, as well as complete all incomplete grades by the first deadline. Students who fail to fulfill these requirements in any semester will be automatically placed on probation during the following semester and will be subject to possible dismissal.
2. Receive an acceptable first-year evaluation in the spring semester of the first year of study.
D. Foreign Language Requirements
Students must show competence in one foreign language. Competence in a foreign language can be demonstrated by (1) earning a grade of B or better in a graduate translation course or (2) passing a language examination to be taken with a dictionary.  All students must have passed the language requirements before they are allowed to take the M.A. examination.
E.  M.A. Examination
M.A. students will complete a thesis on a substantive topic in Women's and Gender Studies requiring original research. The student will form a committee of three faculty, at least two of whom must be from the WGSS graduate faculty, who will supervise the project and give final approval. The student's committee and project proposal must be approved by the graduate studies committee prior to embarking on the thesis.
F.   Advisor and Mentor
The Graduate School requires all students to have an advisor. The director of graduate studies serves as advisor to all entering students during their first year and helps them plan their programs. Before the end of the first academic year, full-time students should choose an official graduate advisor from the WGSS core faculty. Advisor and student meet regularly to discuss the student's progress and program. Students are encouraged to consult with all members of the faculty.
G.   Residence Requirements
The University requires that students receiving an M.A. must take at least two consecutive semesters of full-time graduate study, which usually means 12 credits per semester.
---
Recent Graduates  
 2016, Laura Abbasi-Lemmon, "Experiencing and Knowing Pregnant  Bodies: A Critical Discourse Analysis of Pregnancy Texts"  
 2017, Emily Whearty, "Animating Food: Analyzing Choice, Control, and Disability"
 2018, Joie Meier, "White Supremacy in the Northeast: Keystone United in Pennsylvania"
 2018, Margaret Hill, " Reproductive Constraint: The Face of Modern Motherhood in an Era of Global Climate Change/Pollution and Neoliberalism"