Skip Navigation
Application Guidelines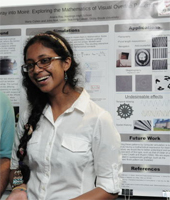 School Nomination Requirement
Interested applicants must first seek nomination by their high school in order to be eligible to apply to the Simons Summer Research program. Each high school may nominate a maximum of three students (must be in 11th grade) per school.   Independently submitted, late or incomplete applications will be disqualified. Please note that submission of more than 3 nominations per school will result in disqualification of all candidates.
 If you are not certain of the school official/contact handling nominations for your high school (usually a School Research Coordinator, Science Teacher, Guidance Officer), please contact us. 
Selection Process:
Prior research experience is not a prerequisite for the program.

The completed application package includes:
a. Application Part 1 (online form); AND  Application Part 2 (short answer/essay responses)
b. Letters of recommendation (2) +  recommendation form; and

c. an official transcript; and
All are considered important elements in the selection process. Deadline for application materials is January 23, 2019 (postmarked). No exceptions!
Additional admissions procedures (including interviews, by telephone or in person) may be required for placement within certain research groups/labs. Note that obtaining an interview is not an indication of acceptance into the Simons program.
Notification:
Applicants will generally be notified by April 1. Because of the high volume of competitive applications and the excessive administrative requirements involved, we are unable to provide critical commentary on unsuccessful applications.
---
Percentage of students admitted:
about 10%