Skip Navigation
A Closer Look at the Proposed Tuition Increase
March 6, 2023
After representatives of Stony Brook's Undergraduate Student Government (USG) met with President Maurie McInnis in February to share their concerns about the proposed tuition increase at SUNY campuses, including Stony Brook, USG Vice President for Academic Affairs Harrison Feig proposed a 'fireside chat video' to the president. President McInnis agreed, and the two met recently, where she shared the important information he and other USG members heard during their earlier meeting.
In this one-on-one interview, President McInnis speaks candidly about the proposed tuition increase, what it means for students, and New York State Governor Kathy Hochul's overall comprehensive funding package for higher education, including how it will benefit Stony Brook University specifically. 
Supporting Information
Compared with in-state tuition rates in the AAU and among Northeast regional flagships, Stony Brook ranks toward the very bottom — well over $3,000 per year below the median. Comparable out-of-state tuition among our peers is even lower, over $10,000 less for out-of-state students.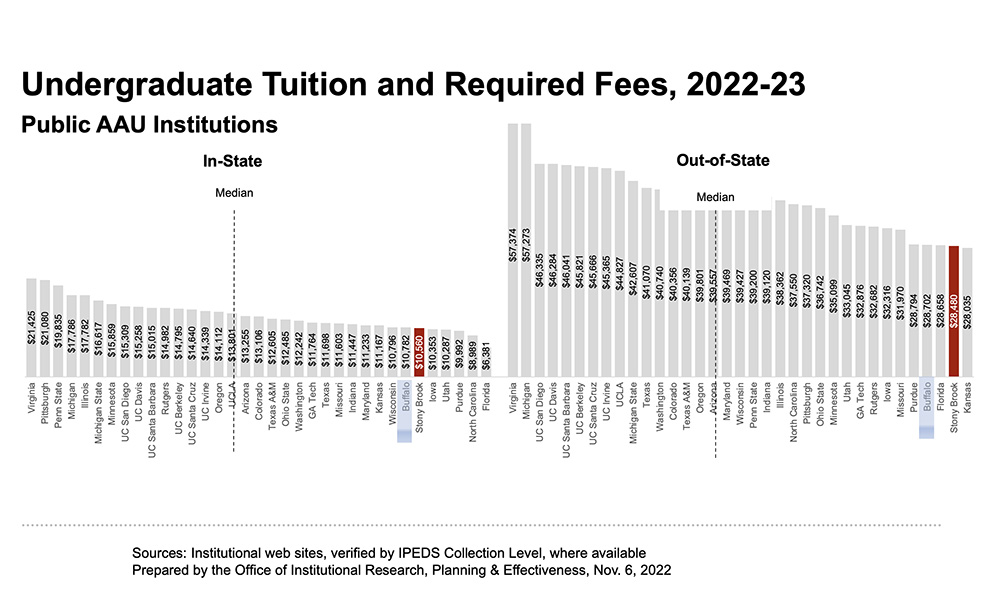 The following chart shows in-state undergraduate tuition and required fees for 2022-23 for public flagship institutions in the Northeast. Stony Brook has the lowest total tuition and fees among our Northeast public flagship peers with $7,070 tuition and $3,490 in fees for a total of $10,560, more than $5K less than the median. Stony Brook's tuition has been frozen for three years with only modest increases in the years before that.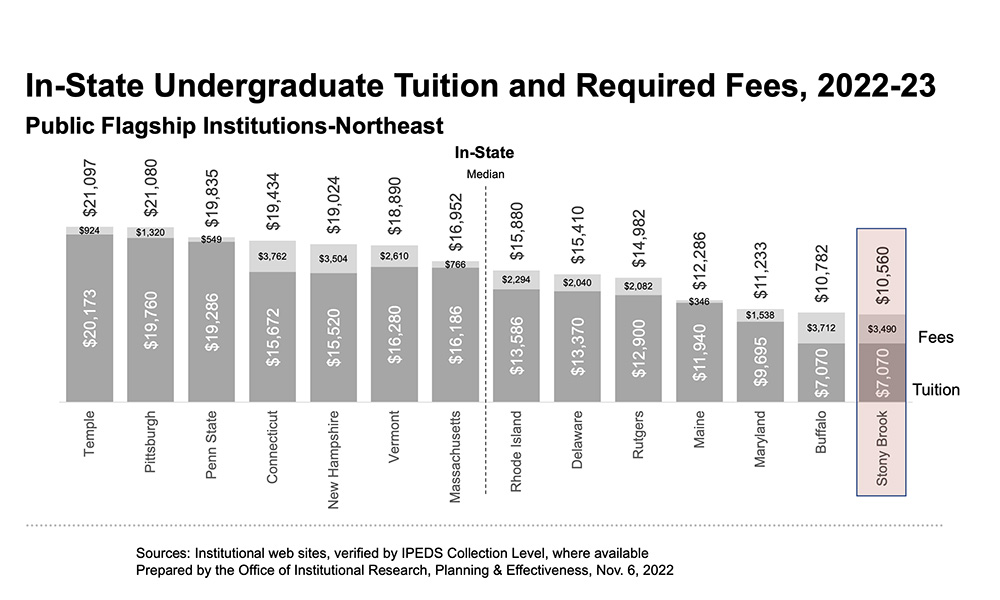 This next chart shows that if implemented, at the end of the proposed five-year predictable tuition plan, SBU tuition would be approximately $10,655. It would still be at or near the bottom of our Northeast flagship peers, assuming no increase at other schools, which have had tuition increases in the past.  Governor Hochul's proposal includes a provision that the TAP and Excelsior program grants would rise as tuition rises.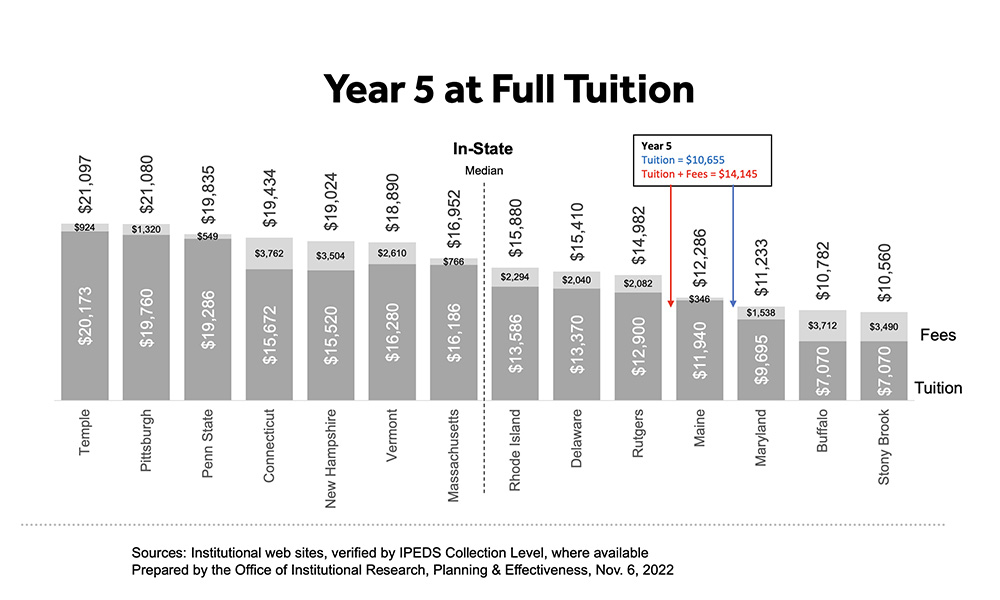 There has been no increase in Stony Brook's base operating aid in 12 years, and we have had to fund mandated contractual salary increases from our existing budget to the tune of a compounding $10M per year. The following chart shows that within a couple of years, Stony Brook's entire state allocation will only be going to pay for the current contract increases.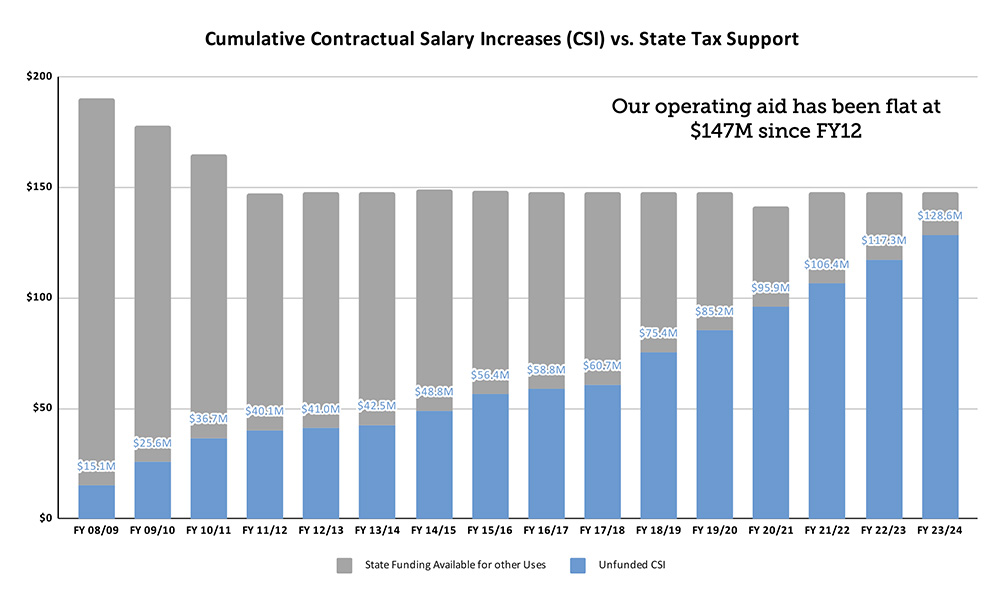 Q&A
Q:  Governor Hochul has proposed implementing a five-year predictable tuition plan that includes recognizing the differential costs involved in supporting a research institution. How does the proposed tuition increase work across the SUNY system?
A: The Governor's five-year tuition proposal would institute a predictable tuition framework, allowing families to plan for the full four years. The proposal calls for modest increases across all of SUNY's campuses, with a differential tuition rate for the four University Centers that include Stony Brook, Buffalo, Binghamton and Albany, which have higher costs. The proposal also increases TAP and Excelsior awards to match the tuition increases, and Stony Brook will cover the increases for those students who receive a Pell grant but not TAP or Excelsior. For each of the five years, the proposed tuition increase would be the lesser of the Higher Education Price Index or 3 percent ("base"), plus an additional 6 percent at the four University Centers. 
Q: What is driving the need to increase tuition and why now? 
A: Tuition has been frozen for three years, with only modest increases in the years before that, and our base operating aid provided by the State of New York has not increased for 12 years. Stony Brook cannot provide the education that it was established to provide without the necessary financial support to do so.  In-state tuition and fees at Stony Brook University and University at Buffalo, New York's flagship institutions, are more than $5,000 below the median in-state student tuition and fees of the Northeast public flagships. A similar pattern is in place for out-of-state tuition.
Q: When would the proposed new tuition rates take effect?
A: Governor Hochul's  proposed new tuition model is under discussion in New York State's Senate and Assembly at this time. The Legislature is expected to pass the budget for next fiscal year by the end of March. As the legislative process continues, the Stony Brook campus community will be updated as additional information is available. 
Q: How does being a New York flagship impact the cost of attending Stony Brook?
A: The cost of running a top-tier research center like Stony Brook has increased significantly in recent years while funding from the State has stayed flat. From the rising costs of supplies and materials to contractual salary increases for our faculty and staff, there are many contributing factors to the overall cost of providing a high-quality education. The State has not increased our base level of operating aid since 2012,  and there has not been a tuition increase at SUNY since 2019 while the cost to support a research-intensive university continues to rise.
The costs to support high-level research are simply greater than educational costs at other colleges and universities, which is why differential tuition strategies have been adopted by higher education systems across the nation, including Maryland, Texas, Wisconsin, North Carolina and California. Comparable Northeast public flagships have increased tuition and fees in response to these added costs and the inflationary increases that apply to research university expenditures. Including required fees, Stony Brook has the lowest tuition in the Northeast among our public flagship peers. The new tuition model recognizes the unique challenges and costs for a state flagship research university while allowing us to continue to provide access to educational excellence, which includes support for Pell-, Excelsior- and TAP-eligible students by ensuring they are not absorbing additional financial burdens from incremental tuition increases that would negatively impact their ability to attend Stony Brook.
Q: What is different now that Stony Brook is a flagship? For students, is the real difference a tuition increase? 
A: "Flagship" status is not about tuition. It is about recognizing the exceptional work we are already doingas the state's premier public research university and about supporting the institution in a manner equivalent to the way other states across the nation fund their leading public institutions. As invited members of the prestigious American Association of Universities (AAU), Stony Brook University and University at Buffalo are recognized as being among the premier research universities in the nation and world. And like other AAU institutions, we attract the world's best faculty as well as students who seek a world-class education. Our universities are known as preeminent centers of learning, scholarship, and discovery as well as powerful engines for economic development, technological innovation, clinical care, and cultural enrichment. We play a key role in positioning New York State for leadership on a global scale, with profound impacts on education, science, medicine and technology.
Q: What steps is Stony Brook taking to ensure it continues advancing its mission to serve all students, including many who come from modest means? 
A: We remain committed to ensuring affordability and accessibility for students from low-income, underserved, and disadvantaged backgrounds.  Stony Brook University remains one of the top schools nationally for promoting socioeconomic mobility, and over one-third of our students are Pell-eligible, and one-third are the first in their families to go to college. Access coupled with excellence is at the core of our mission and must be preserved. The proposed plan for a tuition increase protects the most economically disadvantaged students at Stony Brook. Because the proposal includes increases in TAP and Excelsior grants as tuition rises, students receiving TAP and/or Excelsior will not pay any additional out-of-pocket tuition.Additionally,  students who receive Pell but do not receive either TAP or Excelsior will see the increases in tuition covered by  the University.
Q: How will Stony Brook use the additional monies generated from increasing tuition?
A: Covering the tuition increases for students who are eligible for aid, thereby ensuring that they are not absorbing an additional financial burden, is a top priority for Stony Brook's use of the additional tuition revenues. We are national leaders in our percentage of Pell-eligible students and social mobility. We are committed to maintaining this distinction among AAU institutions and remaining a destination for a diverse community of learners. Restoring faculty and staff reductions in crucial academic, research, and operational service areas caused by the last decade of static operating aid, minimal tuition increases, and contractual expenses is our second critical  priority.
The tuition increases will allow the university to ensure that students have access to the best possible educational experience, including areas like advising, required class availability, mental health services, career services, and the ability to work side by side with faculty in research labs. We must make sure that our students have the tools and support needed for success on their academic journeys.
Q: The governor also proposed a state-matched endowment program to generate funding for Stony Brook. What does this mean exactly?
A: Governor Hochul's proposed state-matched endowment program calls on Stony Brook supporters to join us in an endowment match to help us to meet our mission. Stony Brook's current endowment is the second smallest across AAU institutions. An increased endowment size will have a direct, positive effect on university rankings and reputation. Earnings from the State-match and funds raised would  be used for endowed professorships, scholarships and programmatic enhancements, as well as for innovative research, academic or clinical purposes. Endowments are developed to be invested for the long term. The principal is left to grow for the future, while modest investment income, typically four to five percent annually, is available to support current-year initiatives. As our endowment grows, the university is able to make future commitments and invest strategically in strengths while being able to respond to changing needs.  It will be important now, as it always has been and will continue to be, for Stony Brook to be a responsible steward of funds and resources so that it can continue to advance its mission focused on student access and success.
Q: Financial aid is currently capped by the maximum cost of attendance. Will the cap be raised if tuition is increased?
A: Yes, because the maximum cost of attendance would increase with a proposed tuition increase, the cap would be raised as well.