Skip Navigation
Spring Semester 2021: Welcome Back
February 12, 2021
Dear Students, Faculty, and Staff:
I hope that you are settling into the rhythm of the Spring semester, despite winter's best attempts to disrupt our plans in the first few days of the term. That said, the campus looks absolutely beautiful in the snow and I appreciate the hard work of our facilities team to promptly clear the roads and sidewalks over the past week.
Now in my seventh month as president, I thought it would be a good time to update our community on a few of the priorities that will help lay the foundation for Stony Brook's future. 
Maintaining our Mission During the Pandemic
Another semester in pandemic times can feel a bit like the movie Groundhog Day. But, just as Bill Murray does (or at least tries to do) in that iconic movie, despite the seeming sameness of each day, I encourage all of us to summon the fortitude to work, learn, and grow in this adaptive mode. We've proven that we have the ability to keep each other safe by wearing masks, maintaining physical distance, and zooming a whole lot more than we would like while we wait for coronavirus vaccines to become more widely available. With patience and resilience, I hope the outlook at the end of this term will include a flatter curve, a lower case count, and a rising number of opportunities to interact with each other in person. Student and employee responsibilities are outlined on our Coming Back Safe and Strong website.
I have served on the Reimagine NY Commission since last summer and was heartened by our recent Pandemic Resilience roundtable with the New York State Library. Experts shared their insight on New York's experience with past pandemics, and how the state has historically rebuilt from those challenges, and emerged even stronger. This roundtable discussion also kicked off the New York State Library Personal History Initiative, which encourages New Yorkers to document and share personal experiences during the pandemic as a way to start writing the history of this time.
 A graphic artist captured the notes of our conversation below: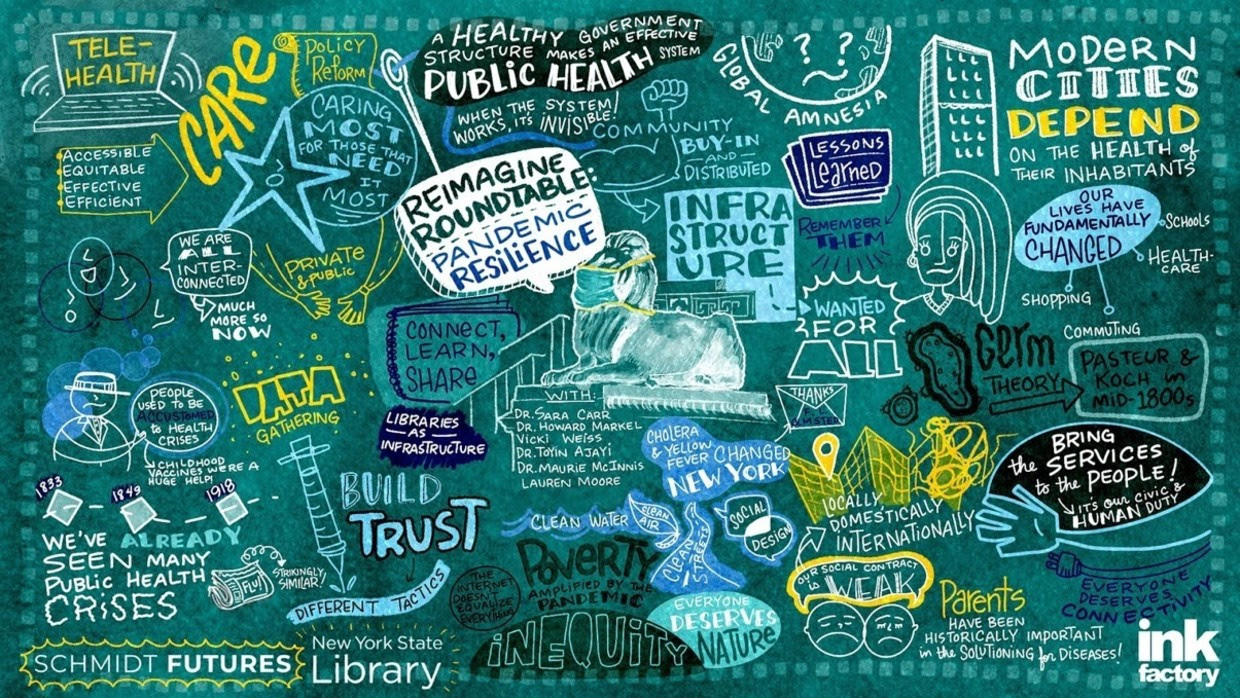 Achieving Financial Sustainability
When I arrived, I made a commitment to help our community develop a greater understanding of our finances, our sources of funding, and our current expenses — including but not limited to the pressures of COVID-19 — all in service of a collaborative process that would help us sustain our institution and strengthen our position in the future. Vice President Rose Martinelli just reported on the progress of our Strategic Budget Initiative. Thank you to the task force members and co-chairs and all who are serving on working groups, as well as the 1,500 faculty and staff who participated in our recent Campus Conversations, which address the scope and work to date of each group.
These collaborative efforts are intended to yield both cost-saving and revenue-generating ideas and inform decisions about our resources and budget planning in future years. More details about next steps will follow soon.
Working with SUNY and the State
I have been working closely with SUNY Chancellor Jim Malatras to further recognize the distinctive and valuable role that research universities play in our state and university system. I am grateful for the enthusiasm the chancellor has demonstrated in this effort, which marks an important shift at SUNY.
It was with this in mind that Chancellor Malatras secured support in Governor Cuomo's proposed FY22 Executive Budget for differential tuition at the four university centers, including Stony Brook, as well as the governor's backing of reduced state regulation on approval of new academic programs. Enacting the governor's proposals for SUNY and the university centers is our top priority for the current legislative session. We will know more about what is included in the final FY22 state budget on April 1.
Building a Strong Leadership Team
The new year has brought important announcements and changes that will shape the future of Stony Brook. In January, we announced the appointment of Paul Goldbart as our next executive vice president and provost. Paul will join us on March 22.
We gratefully acknowledged contributions of Ken Kaushansky, who has stepped down after a decade of leadership as dean of the Renaissance School of Medicine and will end his term as senior vice president (SVP) of Stony Brook Medicine on June 30. Stepping into the interim dean's role is Bill Wertheim, whose experience as a physician, teacher, and mentor to medical students will provide a strong foundation for leading the school in this time of transition.
We are preparing to kick off a national search for our next SVP, the details of which are forthcoming.
We have already begun our national search for the next vice president for advancement. I am grateful to the search committee for their work with our search partner, Lindauer, in gathering a strong pool for this important position. I encourage you to review the search prospectus and consider nominating qualified candidates.
Each of these appointments will add fresh and innovative perspectives to the experience of seasoned Stony Brook leaders. I am pleased to share that as part of our commitment to the UN HeForShe initiative, we have assembled a university council that is perfectly gender balanced. This is one way in which we will strive to build an effective, inclusive leadership team.
Looking Ahead
As we focus on both managing and maintaining through the pandemic, as well as fortifying the mission and reach of our university, I can begin to see a promising vision for our collective future — hopeful and bright like the daffodils whose early shoots are already springing up around campus. The work we do now, and the growing pains that are omnipresent in this remarkable time, can and will have incredible results. We are accelerating our performance and reputation as a research university, as a powerhouse academic medical center, and as an institution with a tradition of student success, empowerment, and social mobility.
So, on this note, let us band together in this critical time to connect with each other through whatever means we can, engage in our virtual learning and teaching, and strive for scholarship in a world that needs new knowledge and creativity like never before. Our Seawolf community has been a beacon of understanding, accountability, and innovation during this difficult period. We have put our minds together to reckon with economic challenges, provided life-saving healthcare, kept our cultural traditions alive, given thanks for one another, and found new and dynamic ways to contribute to our academic community. Sure as the daffodils will bloom, the time when we can celebrate this great accomplishment is coming.

Maurie McInnis
President