Skip Navigation
Rape Aggression Defense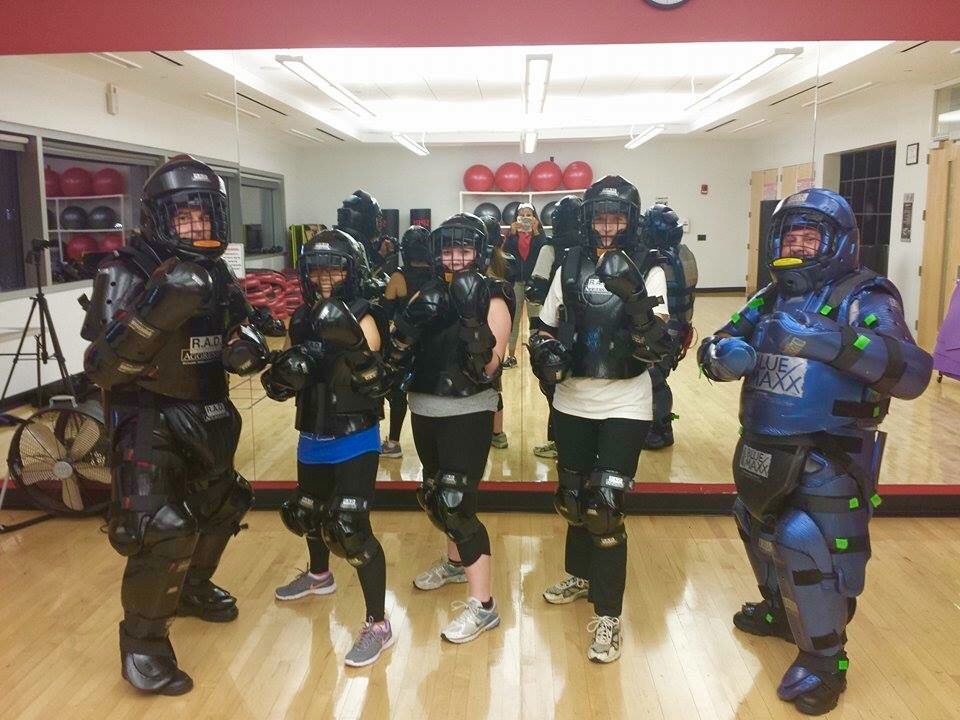 RAD Instructors PO King and PO Bica with students
The primary objective of the Rape Aggression Defense (R.A.D.) program is to develop and enhance the options of self defense so they may become viable considerations to the woman who is attacked.
The R.A.D. program is currently in use at over 100 university and college campuses throughout the United States and Canada.
The R.A.D. approach to personal safety education embodies a practical blend of threat avoidance strategies and real world assault resistance tactics for women. The focus of the R.A.D. course is on the development of easily mastered personal safety skills, which can be safely practiced within a comfortable learning environment. The coupling of those physical skills with a threat assessment process will increase physical safety awareness.
The R.A.D. program is not a traditional self-defense course. It fills a long standing void in personal defense training by enabling women to quickly learn a set of cognitive and physical skills that will be beneficial for the years to come. The choice to resist in any particular situation is a very personal one. An instructor will try to be supportive and through the R.A.D. training process, allow the student to tap into the personal power that they have.
The overall goal is to reduce victimization through informed decisions making and sensible action.
The program entails:
A brief discussion on crime prevention
Learning and practicing self defense skills
Adrenaline Stress Conditioning through scenario training
Stress conditioning is critical to overcoming the freeze that occurs when someone is startled or frightened. On the street or in the home it is the suddenness of the attack that makes it hard for people to respond effectively. Adrenaline stress conditioning is a state of the art training method and scenario training has been proven to be effective worldwide.
For R.A.D. questions, contact Community Relations at (631) 632-3056. The program is sponsored by the Residence Hall Association, University Police and Campus Residences and is free to all Stony Brook University Faculty, Staff and Students.
NOTE: The R.A.D. program is for women only.
The R.A.D. program consists of 12 sessions. Sessions are held in the Campus Recreation Center in room WS216. There is no minimum participation level required. Maximum benefit is achieved by attending as many sessions as possible. To sign up for a R.A.D. class, use the SB Campus Rec App (Atleto) or call CRT at 2-3056 with any questions.
Participants are strongly encouraged to register for the class. Registration is open 24 hours in advance of each class.
Organization and groups can request special instruction apart from the Campus Recreation Class.
Submit Group R.A.D. class request
There is a free return policy that R.A.D. provides at any location in the country. A person can repeat the course as many times as they want and even assist in class. The student needs to contact the course instructor and show them the signed student manual, the original instructor must sign it, to repeat the course.
Campus Safety Tips
First year students should respectfully decline to have any photo and personal information published for distribution to the campus community & some student organizations have abused this type of publication to target first year students.
Study the campus and immediate neighborhood, in geographical terms, with respectto routes between your residence and class/activities schedule. Know where emergency phones are located on campus.
All doors and windows should be secured when you leave your room. Never loan your key to anyone and have locks changed immediately when keys are lost or stolen.
For more safety tips, visit the Campus Safety web page.