Skip Navigation
CPR / AED / First Aid
Why Learn CPR?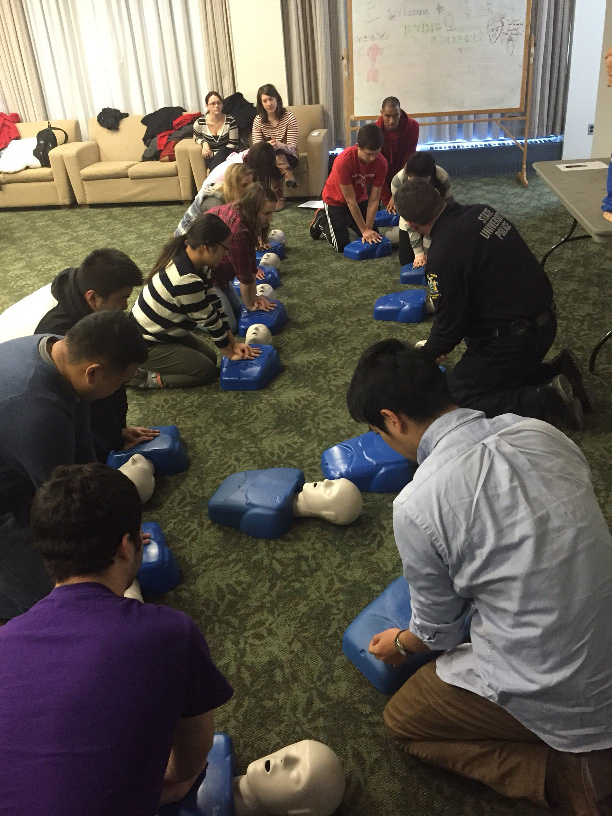 Cardiac arrest – an electrical malfunction in the heart that causes an irregular heartbeat (arrhythmia) and disrupts the flow of blood to the brain, lungs and other organs – is a leading cause of death. Each year, over 326,000 out-of-hospital cardiac arrests occur in the United States.
When a person has a cardiac arrest, survival depends on immediately getting CPR from someone nearby.
According to the American Heart Association, 90 percent of people who suffer out-of-hospital cardiac arrests die. CPR, especially if performed immediately, can double or triple a cardiac arrest victim's chance of survival.
Most Americans (70 percent) feel helpless to act during a cardiac emergency because they don't know how to administer CPR or they're afraid of hurting the victim.


Classes Offered
Our instructors are certified by and instruct classes based on the latest guidelines from the American Heart Association. For those looking to take a CPR class for work or as part of a requirement, please check with your employer/adviser to ensure you are taking the correct class. The classes we offer are:
Heartsaver® CPR AED
Heartsaver® First Aid*
Heartsaver® First Aid CPR AED*
Family and Friends CPR
Additional Information on these classes can be found on the AHA website.
*First Aid Classes will only be scheduled for  those who are need to have it for work or academic requirements
Click Here to request a CPR Class
Hands Only CPR
Please take a moment to watch the Hands Only CPR instructional video below. Although this is not formal training, the skills in this video are vital in the Chain of Survival.