Skip Navigation

Access Control & Lock Shop
The Office of Access Control & Lock Shop is located within the University Police Office of Emergency Management and is responsible for all aspects of physical and electronic security for the Stony Brook campus community. The staff is tasked with the design, installation, and maintenance of all traditional locking systems, electronic card access, closed circuit television systems (CCTV), and intrusion detection systems for all campus buildings.
In the spirit of campus safety and community, the Office of Access Control is committed to following emerging trends in technology and security applications to keep all members of the campus community safe while visiting, working, and studying at our university.
If you would like to submit a work request for lock repair, keys, or card access please visit the FIXIT web-site at  http://www.stonybrook.edu/fixit/. Any questions can also be directed to the Office of Access Control at (631) 632-6407.
If you are a student and are experiencing problems gaining access to your dorm, please visit your quad office. Information on quad offices are available on the Campus Residences web site located at:  https://stonybrook.edu/commcms/studentaffairs/res.
If you are having difficulty gaining access to a classroom, please contact the  Center for Excellence in Learning and Teaching AV Service Counter at (631) 632-9400 during normal business hours. On weekends, rooms are opened and locked according to actual schedules provided by the Registrar's Office. If you are having difficulty gaining access over the weekend please contact  University Police at (631) 632-3333.
Community Relations Team
The members of the University Police are committed to community policing and are actively involved in campus activities. The goal of the Community Relations Team is to educate the campus community on personal safety, risk awareness, crime prevention (including date and acquaintance rape prevention), drug and alcohol risk awareness, and many other community safety issues. The unit's members accomplish their mission through formal talks, informal talks, and new student and employee orientation programs and have an exceptional working relationship with groups and organizations on campus.
Officers on the Community Relations Team are certified instructors in many courses including:
Active Shooter Instructors
American Heart Association CPR/AED/First Aid Instructors
Distracted Driving Instructors
Green Dot Instructors
Rape Aggression Defense (R.A.D.) Instructors
Safe Space Providers
View a list of programs we offer
Contact Us
You may contact the Community Relations team by phone at (631) 632-3056 or by email under the  'Contact Us' Page for questions and to learn more about these programs.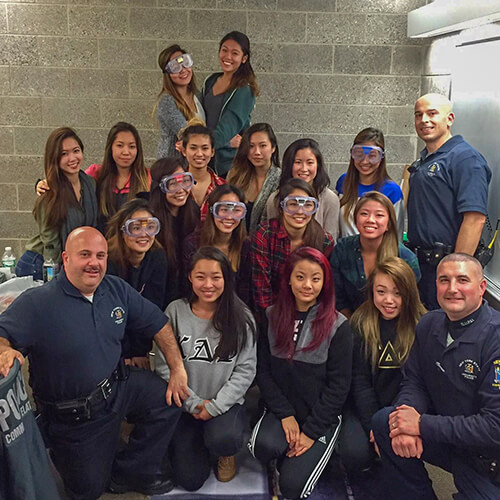 Parking Enforcement
Rules and Regulations
The Rules and Regulations pertaining to parking and traffic enforcement on the Stony Brook University Campus can be found in  Part 584 of  SUNY's Policies & Procedures.
Use of parking permits acknowledges responsibility to operate a vehicle on campus in accordance with Stony Brook University parking rules and regulations above. Following are highlights:
When parking on campus, display the permit by hanging it from the rear-view mirror support, facing outwards.
Permit may be transferred only to any vehicle being used by the original permit purchaser. Your permit may not be transferred to anyone else.
Report theft or loss of permits immediately to (631) 632-AUTO. There is a $10.00 replacement fee.
Permits may not be altered in any manner (other than the application of approved validation stickers).
Ownership of permits with the University is not transferable.
Resale or unauthorized use of permits is prohibited.
Parking Permits
If you park on campus, your vehicle must be registered and display a valid parking permit. You should not park on campus until you have a valid parking permit properly displayed on your vehicle. Violators are obligated to pay all parking tickets incurred and should not assume a favorable decision. The University only recognizes parking permits issued by Parking Services or  official disabled parking permits. All other parking permits are invalid. For information on how to obtain a parking permit, please visit the  Parking Permit Website.
Parking Lots and Garages
The University has three multi-tiered parking garages on campus to serve faculty, staff, students and visitors. Two of these garages, the Hospital Garage and the Health Sciences Center Garage, are located on East Campus. The third one, the Administration Garage, is located on West Campus. For additional information on rates and contact information please visit the  Parking Garage Website.
Parking is permitted in any unrestricted lot during evenings & weekends. Lots are generally unrestricted and available for anyone to park from 4:00p to 7:00a, Monday -Friday, and at all times Saturday & Sunday unless otherwise noted. Check for signs at parking lot entrances for restrictions. Please note the following:
Metered parking lots (orange color-coded) must be paid from 07:00AM to 07:00PM, Monday through Friday but are free at all other times.
Premium parking lots (brown color-coded) all require a Premium permit. These lots include the Life Sciences 1, Life Sciences 2 and Dental School lots.
The Administration Garage is free on Saturday and Sunday.
Overnight parking is prohibited in the Administration Garage, except in cases where official duties require such absences. The individual must inform DOPTS prior to the event.

Improperly stored or abandoned vehicles and attachments are subject to confiscation and disposal in accordance with the provisions of New York State Law.
The following parking maps show the locations of all Stony Brook University parking facilities, such as parking garages, permit parking lots and metered lots locations. It is color-coded to show which permits apply to which lots.
STONY BROOK UNIVERSITY MAIN CAMPUS PARKING MAP
Special Event Parking
The Office of Transportation & Parking Operations coordinates parking needs for all Stony Brook University special events. Regardless of the special event, the Office of Transportation & Parking Operations will provide parking lot coordination assistance as best as possible, as dependent on the event date, time and size.
Please contact the Office of Transportation & Parking Operations at (631) 632-6219 for additional information on special event parking. The office requests that you have all of the following information readily available:
Name
Contact Information
Event Name
Event Date
Event Time
Event Location (at SB)
SB Department/Office and/or Affiliation
Estimated Attendance
Any Special Needs
Parking Tickets
The University Police enforces parking rules with the following in mind:
Life safety infractions such as fire lanes, handicapped spaces, and maintaining access are paramount
Protection of permit holder parking privileges must be provided
To maintain order and equity, so that our campus is accessible
Parking tickets may be paid online through the  Stony Brook Parking System or in person at the Student Financial Services Office (Suite 207, 2nd floor Stony Brook Union), Monday through Friday 9:00am - 12:00pm & 1:00pm - 4:00pm (Closed 12-1). You may also mail payments to the following address:
PO BOX 619
STONY BROOK NY 11790-0619
Checks should be made out to "Stony Brook University Acct. No. 900819." Please include the ticket number(s) on the check.
Parking Ticket Appeals
Appeals must be submitted within 14 calendar days following the date of issuance. Parking tickets can be appealed using the  Stony Brook Parking System, mailed to the address on the back of the citation envelope, or you may go to the Student Financial Services Office (Suite 207, 2nd floor Stony Brook Union) to complete an appeal form. Decisions are generally made within 2-4 weeks using the same method in which the appeal was received. If you do not receive a response within 4 weeks, please contact us at enforcement@stonybrook.edu.
Traffic Appeals Board
You may appeal the Hearing Officer's decision to the Traffic Appeals Board (TAB). Written appeals submitted for consideration by the TAB must be filed within 14 days of the date on which the hearing officer rendered a decision. Appeals received after this date will not be accepted (exceptions may be granted due to extenuating circumstances). Call (631) 632-AUTO or email:  Traffic_Appeals_Board@stonybrook.edu to make an appointment to see the TAB. You may appear in person, submit additional written material to support your appeal or rely on information already supplied. You will be informed of the decision by mail unless instructed otherwise. All decisions made by the Traffic Appeals Board are final.