Skip Navigation
TaLK for SUNY
Deadline for August 2021 departure: Monday, March 15th
TaLK (Teach and Learn in Korea) is a Korean government-sponsored internship/scholarship program that invites undergraduate students in English-speaking countries to Korea to teach English in after-school programs in elementary schools outside Seoul. TaLK scholars work for 15 hours on average a week as teacher assistants. Upon arrival, they participate in a month-long orientation through which they learn skills and knowledge to teach English to Korean students and have opportunities to create their own lesson plans before the field assignment. Benefits include:
Airfare (paid in a form of arrival & departure allowances, approx. $1,200 each) **6-month term contract provides one-way airfare while a one-year term contract supports round-trip airfare.
Approximately $300 settlement allowance upon local assignment
Health insurance
Housing
Stipends (approx. $1,500 a month)
Gain SBU internship and research credits
TaLK for SUNY is a program exclusively designed for SUNY students that allow them to remain as a full-time student and utilize this opportunity to gain internship credits through the paid teaching experiences and research credits by conducting field research on a topic of their choice on Korea.
Eligibility
Finished three semesters or 50 or more credits of undergraduate study by the end of applying semester on any campus within the SUNY system
GPA 3.0 or above
The preference will be given to those who have elementary or above level knowledge of the Korean language. 
Program Requirements
The term for an appointment for SUNY students: 1) a half year (Aug.1~Jan.20 or Feb.1~July 31), 2) one year (Aug.1~July 31 or Feb. 1~Jan. 20)
Register a total of 12 credits for International Internship  (S/NS), Teaching Practicum  (S/NS), Directed Reading (Graded) and Research on Korea (Graded)
Successfully finish the internship term as a TaLK scholar and complete the proposed research and essay.
Application
The recruiting takes place every semester and applications are accepted on a rolling basis year-round. 
For the August 2021 departure, the applications should be accepted by   March 15th , 2021

.

Applications should be submitted through the Study Abroad Programs administered by the Int'l Academic Programs Office.
Documents to be submitted:
           1)   IAP Study Abroad application   with an unofficial transcript 
           2) Two recommendations
           3) a   research proposal form  (1-2 pages. Clink  here to download the form)
           4) a   lesson plan form  (Clink   here  to download the form.) For   lesson plan samples, click   here. 
           ** If you need assistance or need to discuss your possible research topic and lesson plan, please contact Professor Heejeong Sohn.
Application Website:                                                          
http://www.stonybrook.edu/commcms/studyabroad/outgoing/programs/current-year/academic-year/korea/talk#AbouttheProgram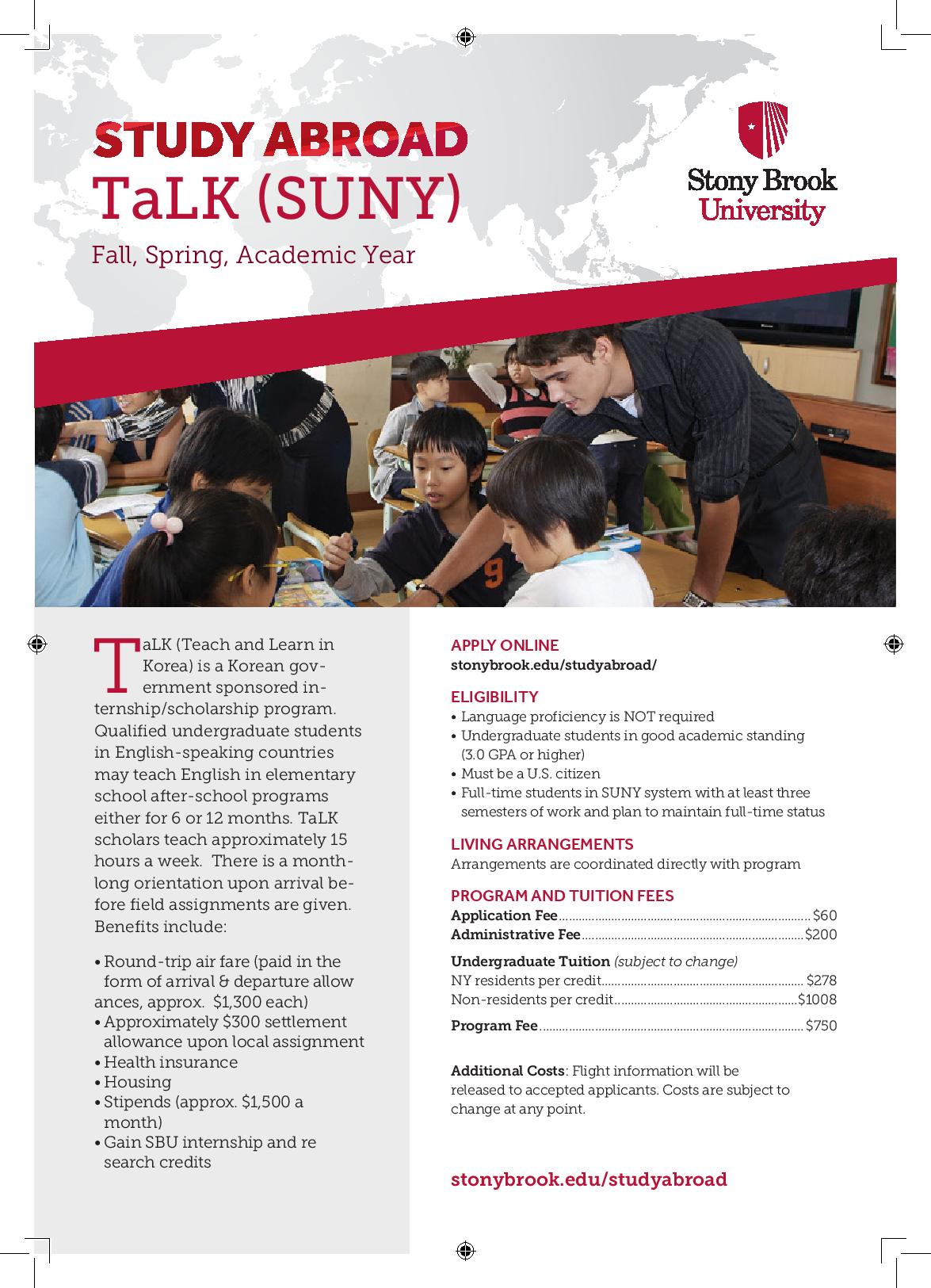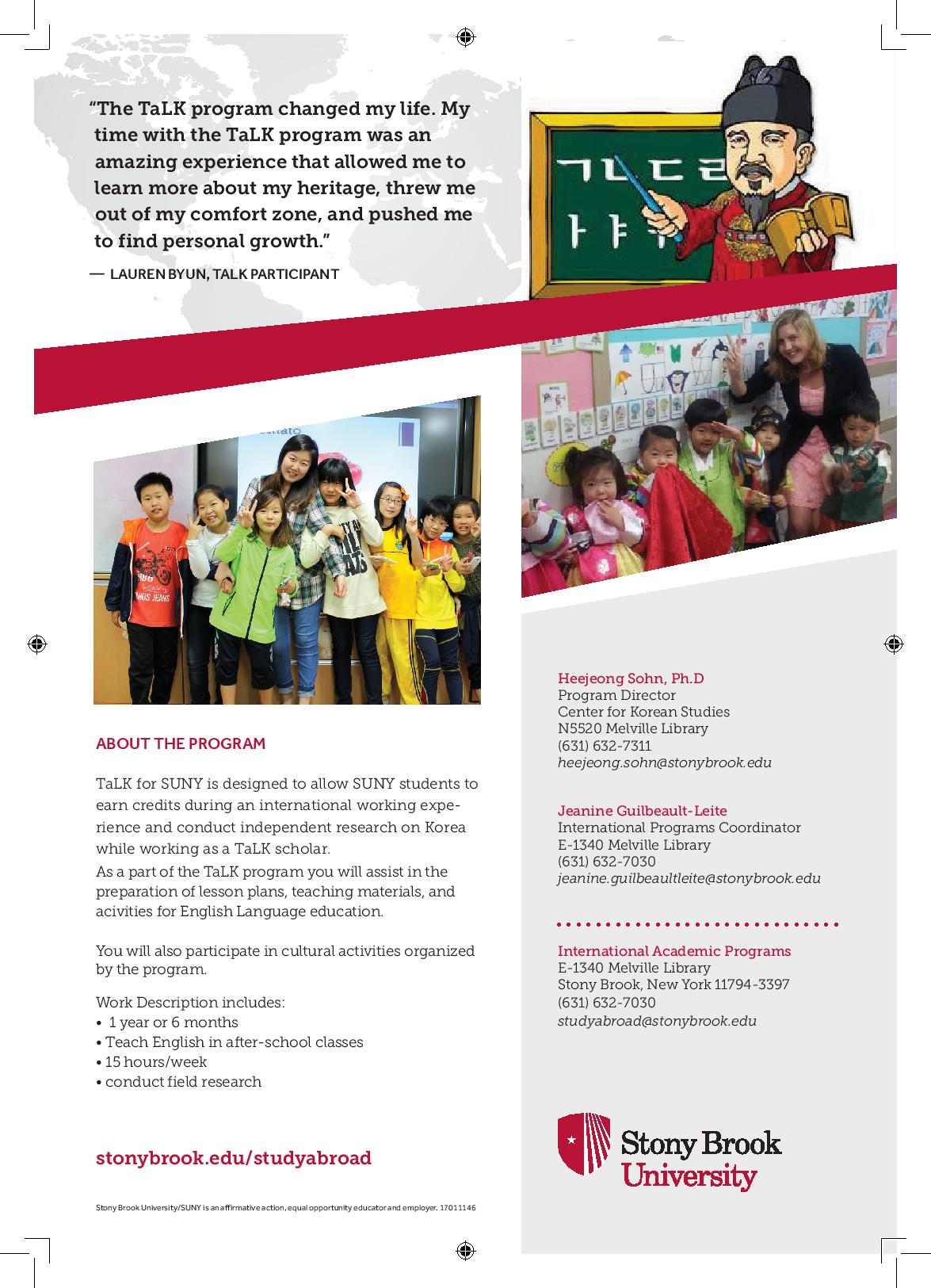 Professor Heejeong Sohn (Program Director)
Center for Korean Studies
N5520 Melville Library
heejeong.sohn@stonybrook.edu
Tel: (631) 632-7311
Jeanine Guilbeault 
Exchange Advisor
International Academic Programs
jeanine.guilbeaultleite@stonybrook.edu
Tel: (631) 632-7030