Skip Navigation
Japan Center Essay Competition Sponsored by Canon U.S.A.
The aim of the JCSB essay competition is to provide young Americans with an opportunity to think creatively and critically about their lives by relating them to some aspect of Japan to help them broaden their horizons and develop global citizenship.  
Contestants should write, in English, one or more aspects of Japan including art, culture, tradition, values, philosophy, history, society, politics, business, and technology in relation to their personal views, experiences, and/or future goals. (Contestants do not need to have any experience in visiting Japan or studying Japanese.)
Call for Essays 
The deadline for the 19th competition is January 8th, 2024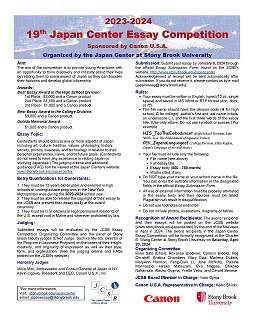 For questions, email us at:  

Sponsor: Canon U.S.A.     
Supporter : Consulate General of Japan in New York
Honorary Judges:
Mikio Mori, Ambassador and Consulate General of Japan in New York
Kevin Ogawa, President and CEO, Canon U.S.A.
JCSB Board Member in Charge: Yoko Ojima  
Canon U.S.A. Representatives in Charge: Keiko Shinki
Organizing Chair: Eriko Sato
Chief Judge: Sachiko Murata
Committee members: Roxanne Brockner, Carolyn Brooks, Peg Christoff, Kristina Chambers, Mary Diaz, Marlene Dubois, MaryAnn Hannon, Feng-Qian Li, Jane McNulty, Patricia Marinaccio, Hiroko Matsuzaki, Eva Nagase, Francesca Nakagawa, Chikako Nakamura, Atsuko Oyama, Yvette Vetro, and Gerard Senese
---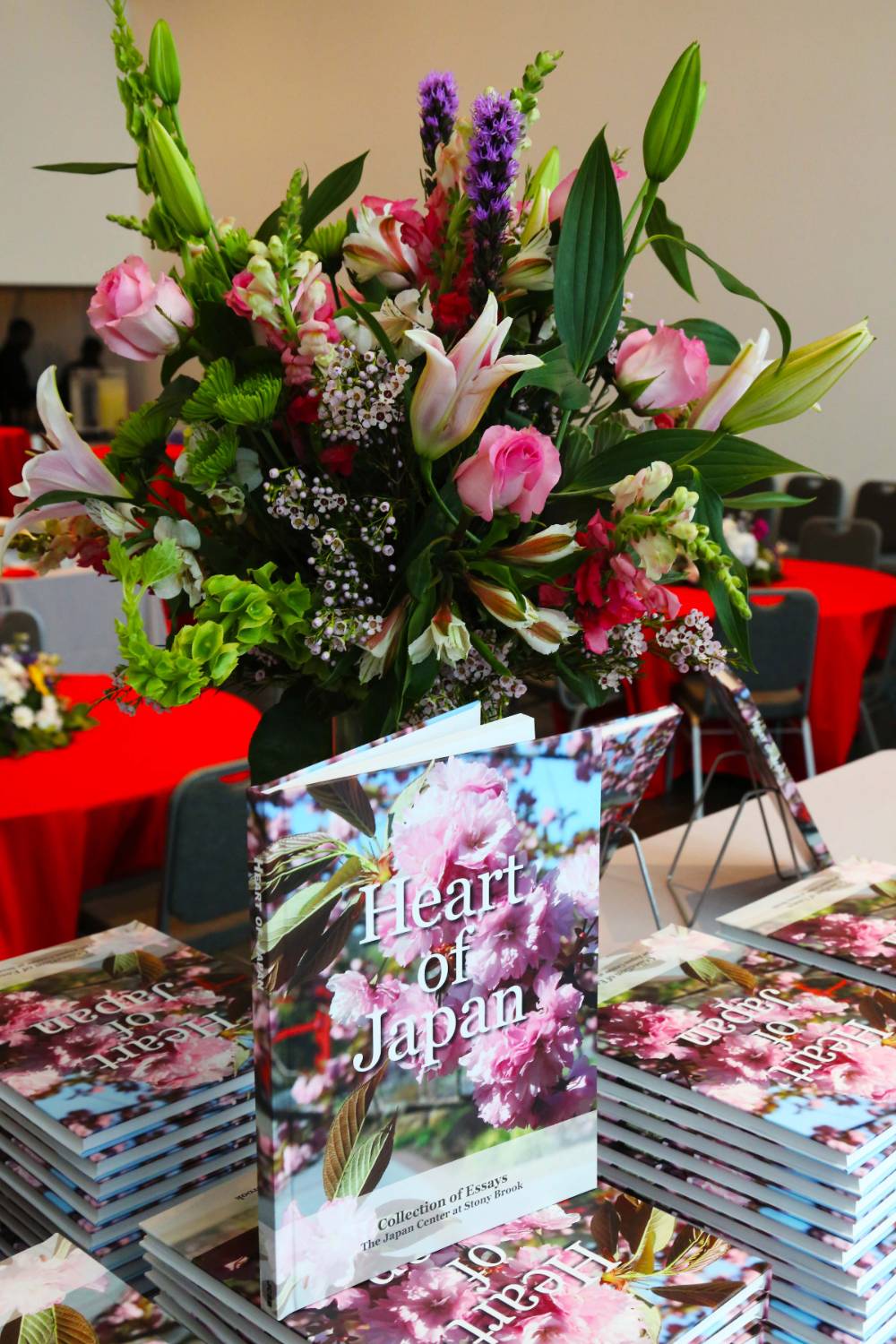 "Heart of Japan"  was published in 2016. It is a collection of 70 essays selected from 1,992 essays submitted through 169 local colleges and high schools during the first ten annual essay competitions. This essay competition was launched in 2005 with generous donation from Canon USA.  The aim of this program is to encourage young Americans to think outside the box and find a connection to Japan, a culturally very distinct country. They often reflect on their personal experiences and their future goals and come up with unique and original thoughts, some of which make us in tears and fill us with positive spirit. The essays are screened by the Japan Center's committee members and a panel of judges that consist of Stony Brook University's faculty members. The winners are formally recognized at the award ceremony that takes place at the Wang Center in each spring and the top winners have been invited to the Japanese Ambassador's residence for a formal luncheon with the ambassador, which has been creating once-in-lifetime memories for young writers.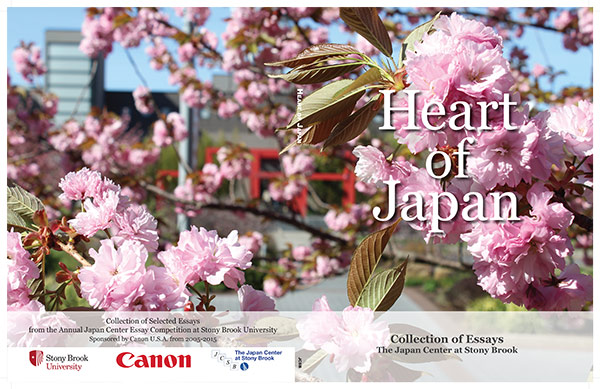 Book cover photo © Yvette Vetro
Past Competitions:   
18 th competition; 17th competition; 16th competition; 15th competition; 14th Competition;  13th Competition;12th Competition; 11th Competition; First ten competitions