Skip Navigation
14th Japan Center Essay Competition (2018-2019)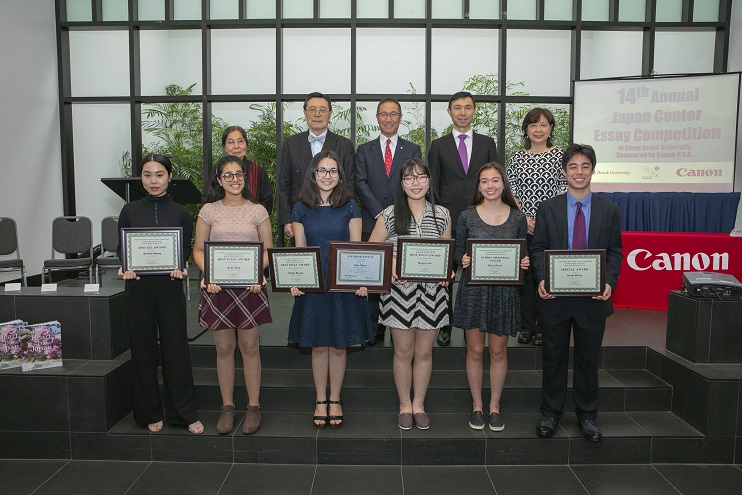 AWARD 
WINNERS

High School Division Best Essay Award
 1st Place Best Essay Award and Consul General of Japan Special Award
 "The Religion Embedded in Japanese Culture" by Keika Berger (Kings Park High School)              
2nd Place Best Essay Award
 "Sankoryo" by Avni Garg (Stuyvesant High School) 
3rd Place Best Essay Award
"Life Lessons from Sushi" by Maggie Liu (Stuyvesant High School)
College Division Best Essay Award
 None
Uchida Memorial Award
 "Hanbun Hanbun, Half and Half" by Kiara Royer (Horace Mann School)    
Special Award
 "Rice Fields and Train Tracks" by Bram Ellant (Hunter College High School)
 "Japanese: A Personal Duty" by Rachel Zheng (Townsend Harris High School)
FINALISTS
Amrita Harshan (Eleanor Roosevelt High School)
Nistha Bade Shrestha (Stony Brook University)
Rina Hisajima (Hunter College High School)
Sasha Koulakova (Huntington High School)
Daniel Mori (High School of American Studies at Lehman College)
Bridget Okeefe (Kittatinny Regional High School)
Nirpee Patel (Hicksville High School)
V Pham (Mepham High School)
Vian Wagatsuma (Stuyvesant High School)
Christina Woodard (Lynbrook Senior High School)
Lucy Yin (Stony Brook University) 
* Alphabetically ordered by the author's family name
SEMI-FINALISTS
Alaina Alias (New Hyde Park Memorial High School)
Danielle Brite (Huntington High School)
Mia Brown (Huntington High School)
Chloe Buffone (Huntington High School)
Brenna Camacho (Mepham High School)
Naya Carbon (Elmont Memorial High School)
Nathaniel Deegan (Huntington High School)
Diana DiToro (Mepham High School)
Mayu Evans (Bard High School Early College Manhattan)
Caryl Anne Francia (Francis Lewis High School)
Kathleen Gray (New Hyde Park Memorial High School)
Rusayla Hasan (Townsend Harris High School)
Maya Hasegawa (Longwood High School)
Rebecca Hoffmann (Huntington High School)
Lauren Jones (Sanford H Calhoun High School)
Claire Jung (New Hyde Park Memorial High School)
Anmol Kaur (New Hyde Park Memorial High School)
Tia Lalson (New Hyde Park Memorial High School)
Aiden Lefebvre (Huntington High School)
Ainsley Lumpe (Huntington High School)
Sarika Misir (Commack High School)
Czarissa Moreno (Mepham High School)
Mandy Ni (Mepham High School)
Isabel Podolsky (High School of American Studies)
Alexa Rind (Huntington High School)
Valerie Rogel (Huntington High School)
Ava Scheffler (Mepham High School)
Andreas Seferian (Huntington High School)
Michael Shaari (Horace Mann School)
Ella Siepel (Huntington High School)
Shianne Sillekens (Central High School)
Emma Snoddy (The Chapin School)
Lauren Solla (Townsend Harris High School)
Sofia Stirpe (Shoreham Wading River High School)
Chloe Wheeler (Huntington High School)
Xizhe Yang (Stuyvesant High School)
Jennifer Yuen (Stony Brook University)
* Alphabetically ordered by the author's family name
High School Division 1st Place Best Essay Award and Consul General of Japan Special Award
 "The Religion Embedded in Japanese Culture" by Keika Berger (Kings Park High School)
If you ask a Japanese person what religion they are, you will often get a reply that they are atheist or that they don't practice a religion. This is because the two main religions widely believed in throughout Japan, buddhism and shintoism, are an intrinsic part Japanese cultural values and everyday life. Buddhist and shinto beliefs are embedded in daily routines and common courtesies of the average Japanese person.
Growing up half Japanese and being raised with these unique cultural views in a majoritarily white, christian community, I was often the odd one out when it came to shared beliefs amongst my peers. I distinctly recall being vocally upset when, in elementary science class, some of the students had said that trees weren't living. I adamantly argued that trees were living, not for the fact that they biologically are, but because trees and plants and everything in nature had kami, or spirits. I would recurrently have these same arguments about plants, water, even rocks. Because even at a young age, I valued what my mother had taught me about people and our relationship with nature and all that existed in the world, even if we couldn't see it. 
As I grew older, I began to recognize that I was also separated from my peers in regards to belief of the afterlife. While among Japanese people, casual talk of reincarnation and past lives is perfectly normal, I was disappointed to find out that my American friends didn't quite feel the same. There was talk of heaven and hell, but no recycling of souls, no previous lives, no nirvana. When learning of such things in class, I had to endure the comments of my classmates who would exclaim things like, "why would anybody believe that?" or, "that's so weird."
Although not meant to hurt me, my heart cracked slightly everytime one of these ignorant comments reached my ears. From my friends not understanding the importance of treating nature with respect, to when my history teacher had said that she would bet money that nobody in our class would be shinto, all my life I have had to deal with the identity crisis of who I was. Because I didn't know what religion I was. When somebody asked, I would tend to say "I don't know," for the sake of not having to explain to them that it was more of a lifestyle than a religion-- that it was a way of life, my whole life, and not just a belief that I had. That I wasn't necessarily an atheist and I didn't actively pray to a god, but instead to my grandmother, my ancestors, and the spirits around me. That every Japanese person, whether they say they are atheist or not, will say "itadakimasu" and "gochisousama" before and after every meal because each and every morsel of food was a living being with a soul or kami and spirits and is a gift to be received and eaten with gratitude and respect. Or that my sisters, mother and I will never leave a single grain of rice uneaten because there are seven kami within each one. These beliefs are so deeply rooted in Japanese culture that I find it difficult to explain to someone who doesn't understand, and will only take it superficially as another country's cultural idiosyncrasy. 
Now, when asked what religion I practice, I say I'm buddhist and shinto. I'm used to the nonchalant "that's cool" responses or the confused looks I receive at the mention of an obscure animistic belief system, as old as the country that it comes from. I welcome these reactions with open arms, daring someone to make an off-handed comment about out of date animism or how they haven't met a lot of buddhists. I am and forever will be proud of my cultural heritage and will gladly defend my beliefs to anybody who will question it. Because of my upbringing, I am privileged enough to have grown up being accepting of all faiths and cultures. For that I will be forever grateful.
© JCSB 2019
High School Division 2nd Place Best Essay Award
"Sankoryo" by Avni Garg (Stuyvesant High School)
            Mister Keshav Chandra Agarwal or KC as his friends called him, lived in the town of Sargoda, Punjab province of a country which is now known as Pakistan. Back in 1940's it was part of the Empire of India, a country which had been ruled by the British for almost 200 years. Although I never met KC, my great, great grandfather, I feel like I know him well through stories which have been passed down generations and by my mother.
Two hundred years of foreign rule had bled the country dry of riches, resources and opportunities. It had sucked out the spirit, hope and aspirations of any young man daring to dream. Like many youths of his time, KC being the eldest was forced to fly away from home, find a respectful job and then help establish his many siblings. On a personal level, KC was yearning for direction and to find a purpose to his life.
He landed on both feet but at the lowest rung of the ladder in the cotton ginning industry. After many trials and tribulations, KC was able to procure a small Cotton Ginning machine. Fluffy hand-picked raw cotton came to him in bullock carts. It was deseeded, sorted, ginned, processed, converted to bales and transported to the port for export. His hard work and relentlessness paid off and in time he owned 6 cotton ginning mills. KC was able to start a family and support his siblings, but he still needed a purpose.
The Mitsubishi company was started as a shipping company in 1870 by Mr. Iwasaki Yataro and soon joined the international trading business. KC became their business associate and all the cotton ginned at his facilities was shipped to Japan.
The company had three principles or values called Sankoryo. Shoki Hoko which is corporate responsibility to society, Shoji Komei, integrity and fairness and Ritsugyo Boeki, global understanding through business. Living under the stifling conditions for generations, such ideals were like a breath of fresh air to KC. He discussed them with Mr. Hisaya Iwasaki and Mr. Koyata Iwasaki during their many dealings over the next 15-20 years.
            Witnessing the company's expansion and their positive impact first hand, he took their directives to heart. KC started supporting schools and sponsored many scholarships for higher education. He encouraged other cotton gin owners to deal with the Japanese and initiated an unofficial cooperative. Unfortunately, KC's progress was like a fly in the Britishers ointment.
The nurturing relationship between Mitsubishi and KC ended with World War II and Indian Independence in 1947. Large family conglomerates like Mitsubishi were forced to voluntarily dissolve. Sargoda was divided away from India. KC and his family lost everything, and he barely made it to India with his life. Post partition he was broken, not the enterprising leader he once was but KC kept his values, refused government assistance and would willingly help anyone in need. He passed away from a stroke in 1954.
They can take your wealth, crush your spirit but they can't take your values. KC's legacy lives on. My great-grandfather, Dr. SBD Agarwala moved to England and then to America. When he worked for Shell International, he even had the privilege of meeting Mr. Hisaya Iwasaki. He was treated with great warmth and Mr. Iwasaki gave him a tour of Seikei University. 
Although the Iwasaki family is no longer at Mitsubishi's helm, their principles are held in high regard and reflect disposition and mental framework of the entire country of Japan. To materialistically and spiritually enrich your society. Keep global preservation in your thoughts and actions. Conduct business with honor and fairness
For a company to prosper, it must consider the benefit of all people. It must work towards helping and improving humanity. Keep dealings transparent and open, work with integrity and treat your partners with respect. Try not to focus only on making a profit, take your surroundings into consideration. Our environment is our heritage and our legacy.
In our family, we are taught these principles from childhood. Unfortunately, these values are in sharp contrast to what we sometimes experience in modern western society today. Please understand that you don't have to be a rich philanthropist to help. Even a freshman in a New York City public school like me can make a difference. Our society, our environment, and humanity will be richer if we all believed in and adopted these principles.
© JCSB 201 9
High School Division 3rd Place Best Essay Award
 "Life Lessons from Sushi" by Maggie Liu (Stuyvesant High School)
"Promise me!"
My mother had been reading those barely fact checked, borderline fiction WeChat articles again. She liked to spend her time-consuming tales of brutal crimes and the infinite ways one could get (or cure) cancer. Today, the target was the undetected evil lurking right on my plate: sushi.
"You could get your leg amputated from an infection!" she gasped, "Or the parasites eat you from the inside." She was asking me to swear not to eat it ever again. She was asking me, the undeniable glutton of the family, to never eat my favorite food for the rest of my life. I was appalled, but subject to the overwhelming authority that all Asian mothers seemed to have over their children, I said yes.
But what is life without love, and what is love without risk? My love affair with sushi began as a young child. The first time I was presented with it, I was captivated. The beautifully rounded grains rice, and the midnight black nori, surrounded the pinkish fish like a hug. A nutritionist's dream, really. It was grains, protein, and vegetables in a bite-sized package.
Sushi wasn't just something I loved to eat; it brought love to me as well. Those afternoons spent at Grandma's house making sushi rolls are cherished experiences that I hope to keep in my heart for as long as it beats. I had sushi for my birthdays and graduations. I celebrated the end of finals week by going out for sushi, and sushi cheered me up after report cards came out.
It turned out that no amount of pestering or empty promises would sway me to abandon sushi. Love, and hunger, was truly the most powerful force. My father was supportive, and we would wait for my mother to be invited to a dinner party, or go grocery shopping, or have a high school reunion. If her back was turned, we seized the opportunity to go out to the nearest Japanese restaurant (usually named some variation of "Sakura," "Tokyo," "Samurai") and order some sushi. No matter how much my mother wanted it out of my life, sushi would stay.
When faced with obedience or eating sushi, I chose my own happiness. I refuse to let my life be limited by "what-ifs." Love comes with heartbreak, but humans are always seeking to love and be loved. There is a risk in eating sushi, but life is risky. If not, then can it even be justified as living? I'm not giving up sushi until I am pregnant, elderly, or have a compromised immune system. Life lived on the edge is better, and the most optimal time to live freely and wildly is now. Whether it is sushi, or anything else, I'm not going to be cautious or timid. I want to live on my own terms and play by my own rules. I choose sushi, and I choose a life lived to its greatest potential.
  © JCSB 201 9  
Uchida Memorial Award
 "Hanbun Hanbun, Half and Half" by Kiara Royer (Horace Mann School)
"You make everything about race."
            Although intended as a joke, this pointed phrase struck something sensitive inside of me. I am half Japanese and half American, but my genuine identity seems to be constantly fluctuating between the two. I feel as if I am fighting a battle between ably presenting to the world the two nationalities that I am and that I love. When I heard this joke, I realized that I relate race to everything else because I cannot define exactly how my two races relate to me.
            Although I was born in New York, I moved to Tokyo when I was three. I grew up with a 'get it when you see it' attitude learned from my dad - if you have the opportunity, take it. I attempted to implement this mindset into my life. But in second grade, I was called to the school psychologist's office for bullying my classmates. After this meeting, I believed my independent, opinionated, and impatient characteristics, traits I believed to be derived from my American half, were to blame. I struggled with the well-mannered and passive politeness of my Japanese friends that differed from my eager tenacity. Ashamed, I believed that I needed to suppress what I thought to be my American half in order to become an upstanding Japanese girl.
            But while my aggression was questioned in Tokyo, I was also punished for my apparent deference in New York. I attend a college preparatory school where an effervescent atmosphere dominates the classroom. Unlike the majority of my high school classmates, I enjoyed listening to their opinions more than presenting my own. I thought I was doing my peers a favor by not constantly adding to the lively discussions in order to respectfully share the classroom airspace. However, what I believed to be my polite, courteous and Japanese mindset did not bode well with my American teachers. My report cards have included comments like "I wish she'd take on a more active role in class" or "a good student, but she needs to participate more," forcing myself to question if my Japanese outlook was somehow unbecoming or wrong.
            I became increasingly confused about where and how I could fit in. Within me were two different points of view that were equally as successful as the other, but apparently not compatible together. As my two cultural sides struggled in their opposite environments, I thought myself too American to succeed in Japan, while too Japanese to thrive in America.
            But my awareness grew as I settled into my new American setting. I realized that I constantly attributed specific traits of mine to either my Japanese or American half in an effort to discern exactly who I am. I had based my entire identity off of cultural stereotypes, but as I struggled to break free from these generalizations, I also attempted to confine myself inside of them. I had to envision my own identity instead of enclosing myself in too narrow a definition of what it meant to be Japanese American. While it may feel at times that my two cultural strands of DNA have become tangled, I've learned to appreciate the true beauty behind my nationalities.
            So how exactly do I define myself? I would say that I am an onnanoko who was taught that 'hitotsubuno komeni futatsubu no ase' (one grain of rice is two beads of a farmer's sweat) and also a girl who 'enjoys every sandwich' and takes pride in the little things in life. I've worn a kimono and ate toshikoshi soba for New Year's while celebrating the 4th of July with hot dogs and fireworks. I love the fluttering sakura trees in Central Park against the pristine skyscraper backdrop, a sharp contrast to the sakura trees in my oji-san's backyard in Kijimadaira where the soft pink flowers complement the endless stretch of rice fields. And even though I may stumble on the escalators in Roppongi Hills as I constantly stand on the right when I should be on the left, I no longer blame one side of myself for these mistakes. The puzzle of my identity is still being figured out, and I'm developing my personality piece by piece. Combining distinctive experiences, abilities and stories, my kaiseki whirlwind of a persona creates not only someone that is half of this and half of that, but also a girl with newfound confidence to blossom into a unique and whole human being.
 © JCSB 2019
Special Award (A)
  "Rice Fields and Train Tracks" by Bram Ellant (Hunter College High School)
            I opened my eyes to green. It was unlike anything I had ever seen before, a rich emerald green, pure and beautiful. Midori for as far as the eye could see. I felt the wet grass and mud hugging my feet. The air smelled warm and earthy, like the taste of matcha on a cool spring day. My host brother tapped my shoulder silently, then ran ahead of me, beckoning me to follow. I trotted after him, the mud of the rice paddies tattooing my ankles with the mark of a hyakushou, branding me with a life I had never known until now. Sweat stained my shirt, as the hot July sun of Aizu Bange beat down on my back. I saw my host grandfather across the field, tending to the rice. He saw us and smiled, then returned to work. To think that I had only met these people a few days earlier and they had already become my family.
            I flinched at the sound of screeching wheels on a cold metal track. I looked around, and was suddenly surrounded by a sea of tired faces. The open fields were replaced with stainless steel walls, the muddy rice replaced with hard black floors. My host brother, too, was gone, replaced by my noisy high school friends. They were boisterous, gloating over test scores and their favorite athletes' performances, things I had no interest in.
            I shut my eyes again. I thought about the beautiful green of the rice fields, the sounds of the farm, my host family. I was now sitting cross-legged on the tatami mat of their living room, surrounded by three generations of Japanese farmers. I was half a world away from where I lived, hearing a language I did not understand, sitting among people who, days before, were complete strangers. My hands fumbled with unfamiliar eating utensils. My host brother laughed, placed his hands on mine, and laughed again as I performed a buyo with my own. Words I barely knew escaped my mouth-- words like sumimasen and okaasan. They were rough but beautiful, the feeling of the rice on bare feet. I looked around. My father slept, listening to "Greatest Moments" by Miki Imai. My mother was fanning herself, watching sumo on the television. My sister was browsing Instagram and Line for the latest fashions. My grandfather was holding an English dictionary, attempting to teach himself a dialect just as foreign to him as I was. Even as I was surrounded by people I had met only days before, I felt more at home here than anywhere else I could remember.
My eyes opened once again and I was back in the subway. My friends were long gone, and their noise with them. I was alone with a New York "silence", the slow rumble of the train, a chime of doors opening and closing. People talked around me, but I did not hear their words. I reached into my pocket, took out my wallet, and retrieved a small photo. It was me and my host family, smiling gleefully, ready for the day ahead. We stood, arms around each other, sharing a moment of bliss. I smiled. A jolt from the subway sent a toddler off balance, knocking the photo out of my hand. I stood up to retrieve the photo. His mother took his hand, and asked him to apologize. Sumimasen, he said innocently. I smiled, the same smile as before. I glanced ahead, and saw my reflection in the darkened window. I saw a boy, on a journey to find a place to fit in, suddenly aware that he had already found it.
I was still on the subway, but something was different now. I could hear the rush of the wind through the shafts of rice. I felt the tatami mat return under me. I heard the TV, words I did not need to know the meaning to. I heard my host family talking happily, in Japanese, and then in English. The subway jolted to a stop, and as I stood up to get off, the greys of New York rushed back. I gripped the picture tightly, a memento of a lifetime that I would never forget. As I got off the subway, stepping once more into reality, I looked back, and saw my kazoku looking at me, sitting in their living room, on the tatami mat, smiling, and waving.
I simply whispered " Itte kimasu."
They replied "see you again."
© JCSB 201 9   
 Special Award (B)
 "Japanese: A Personal Duty" by Rachel Zheng (Townsend Harris High School)
Elie Wiesel, the prominent Holocaust survivor, once said, "For in the end, it all about memory, its sources and its magnitude, and, of course, its consequences." Growing up in an Asian household, I was always taught to look up to my elders. My grandfather was greatly admired in the family, with reason of course. If it had not been for him, my family wouldn't be legal American citizens. During childhood, my grandparents often looked after me due to my parents busy work schedules. My grandfather always had a passion for history; he never failed to recount his own upbringing as a child. Revering my grandfather, I would always grasp onto every word with unwavering attention.
"Never marry a Japanese person," my grandfather would always tell me. I never imagined five words would be able to trouble me as much as they did. On one hand, I knew it was wrong to have this negative notion against a whole race of people. On the other hand, I felt like I would be betraying my family if I voiced this aloud.
Plainly and simply, racism is wrong. But, I sympathized with my grandfather. His own father had been selected to join the Chinese troops, who fought against the Japanese Imperial Army during the War of 1937.  Stories of war were never my favorite things to listen to, but hearing about my great-grandfather's escape from the Chinese troops invoked an unexplainable pride within me. In the middle of the night, while all the soldiers were asleep, he was able to sneak away to the mountains. When the sun rose, he hid in the depths of the trees on the mountaintops. When nightfall came, he used the moon as his guide home. I think the hopeless romantic in me stemmed from this story too. My great- grandmother would wait by the door, restlessly waiting for him to come home. Eventually, one night he did find his way back to her.
Needless to say, my grandfather had less than pleasant experiences with Japanese people. The year after, the infamous Nanking massacre took place in 1938. My grandfather was inevitably brought with the idea that Japanese people were cruel. Rationally, I can't blame him for having a certain grudge against Japanese people.
Nonetheless, Japan always stood as a place of interest to me. The distinct culture, the innovative technology, the mouthwatering food resonated with me. When high school came around and I saw Japanese was offered as a language, something jumped at me. I confided in my grandfather my interest; ultimately, he was fine with it, but he reminded me, "Never marry a Japanese person." As I grew older, the more that saying unsettled me.
My Japanese class has never been limited to just the language. My sensei didn't want us to become proficient in a language that we had little to no background knowledge about. She never shied away from the skeletons of Japan, including the wars between China and Japan. It's two different things to commit a crime and move on, but it's another to show remorse for it. Remorse won't change history, but holding a constant grudge will also limit our personal growth.
In class, sometimes I have an internal battle between my interest and my guilt for that interest. As I become more educated with the Japanese language, its people, its history, its culture, its traditions, that guilt starts to weaken. My grandfather holds an irreplaceable part in my heart, but I've realized it would be a grave mistake to deprive myself of the knowledge different cultures have to offer.
Perhaps, for some it truly is about the memory and its sources as Wiesel stated. But perhaps, it isn't as black and white as that. Perhaps, it is necessary for us to create our own ideas. Although my family is the most important thing to me, it does not define who I am as a person. To me, in the end, we are not copies of our ancestors. I wouldn't change my upbringing, even if I could, because it has shaped me into who I am today. As I grow, it is a personal duty I owe to myself to be educated and create my own memories. Learning more about all Japan has to offer has taught me to be okay with the disparity between my grandfather and I regarding Japan. History isn't to be ignored, but history must not be the deciding factor for our behavior.