Skip Navigation
The Pre-College Japanese Program
Not accepting new students in 2018-2019 academic year.
The Pre-College Japanese Program h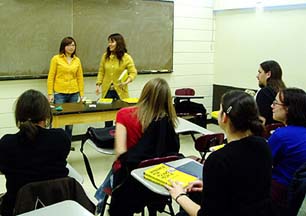 as been offering non-credit weekend Japanese classes for high school students in the local community since 2004 (Director: Eriko Sato,   eriko.sato@stonybrook.edu).
Instructors are all native speakers of Japanese (mainly international students from Japan at Stony Brook University). The classes are held Sunday mornings in the Social and Behavioral Science (SBS) Building on campus during the spring and fall semesters.
News!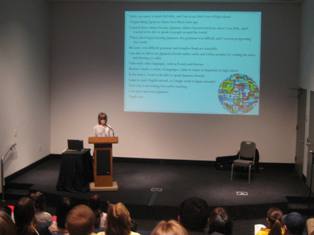 Kyle DiPietrantonio was selected as 2017 Valedictorian at Smithtown East High School!
Claudia Motley received 2017 School of Journalism Dean's Excellence Scholarship at Stony Brook University.
Japan Society Junior Fellows:  Claudia A. Motley (2016),   Kyle DiPietrantonio (2015)
Japan Center Essay Competition Winners sponsored by Canon USA: Kazuo Nakamura (2nd Place Best Essay Award, 2017);  Claire Shapiro (Uchica Memorial Award, 2016), Louis Herman (Merit Award, 2016), and  Claudia Motley (Semi-Finalist, 2016)
Speech Contest Winners:
2016:  1st Place: Kazuo Nakamura; 2nd Place: Tatsuma Hohokabe.
2015 :

 

1st Place:  Carrie Laurino; 2nd Place: 

Caroline LeBrun 

2014:  1st Place Winner:Grace Cimazewski; 2nd Place Winners:

 

Kyle DiPietrantonio & 

Carolyn Laurino; 3rd Place Winner: Autumn Sharrar; Honorable Mention:Luke Golden & Tess Stundis 
2013:

 

1st Place Winners: Annie McNulty & Allison Varca; 2nd Place Winner: Cassie Arnemann; 3rd Place Winners: Grace Cimazewski and Autumn Sharrar; Honorable Mention: Samantha Streeter; Young Ambassador Award: Kazuo Nakamura  
20 12 : 1st Place Winner: Allison Varca; 2nd Place Winners: Olivia Mignon and Anne McNulty; 3rd Place Winner: Grace Cimaszewski
2011: 1st Place Winner: Allison Varca; 2nd Place Winner: Olivia Mignon and Anna Shapiro; 3rd Place Winners: Jonathan Maresca, Caitlyn Sullivan, and Grace Cimaszewski; Honorable Mention: Amanda Sulz, Kyle O'Connor, and Jarryd Nelson
2010: 1st Place: Shannon Voelkel; 2nd Place: Griffin Clair; 3rd Place: Olivia Mignon; Honorable Mention: Jonathan Maresca and Holly Ziet