Skip Navigation
The 17th Essay Competition (2021-2022)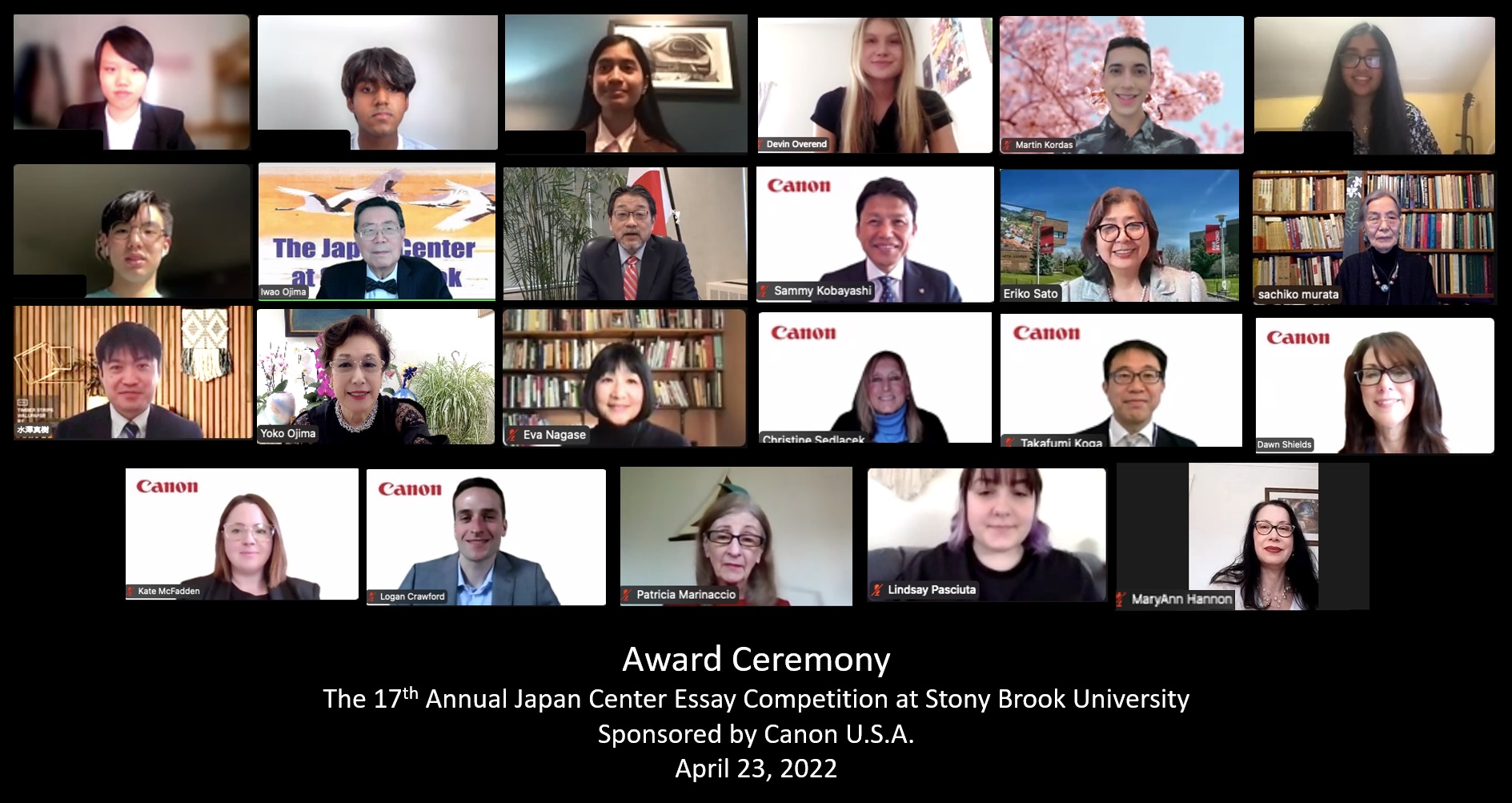 Media attention:  Bloomberg  ; Longview News-Journal ; Shukan NY Seikatsu ; SBU News 
Winners
High School Division Best Essay Award
1st Place Best Essay Award and Consul General of Japan Special Award
"Hitofude Ryuu: The Meaning Behind Tradition" by Sally Chen (Fiorello H. LaGuardia High School of Music & Art and Performing Arts)
2nd Place Best Essay Award
"Cabinet of Porcelain" by Mohammad Fahad (Deer Park High School)
3rd Place Best Essay Award
"Ichi-go Ichi-e, Once a Meeting" by Tara Isabel Lago (Staten Island Technical High School)
College Division Best Essay Award
None
Uchida Memorial Award
"The Tears We Shed" by Devin Overend (Stony Brook University)
Special Award
"Furoshiki: An Understanding of Japan, the World, and Self" by Martin Kordas (Stony Brook University)
"The Glass Half Full: A Story of Perseverance" by Ashlin Benny (New Hyde Park Memorial High School)
"The Magic of Yokai" by Nolan Jin (Paul J. Gelinas Junior High School)
Finalists
Grace Huang (Stony Brook University)
Steven Mendell (Deer Park High School)
Justin Neiman (James Madison High School)
Sarah Zhao (Townsend Harris High School) 
Semi-Finalists
Carolyn Cohen (Stony Brook University)
Ariana Borut (Horace Mann School)
Yulu Brown (Stony Brook University)
Shanice Dorzilor (Professional Performing Arts School)
Rina Hisajima (Cornell University)
Luka Koll (Winchester Thurston)
Sydney Koshy (Hicksville High School)
Shranaya Kumar (Townsend Harris High School)
Alice Liu (Stuyvesant High School)
Rajiv Singh (New Hyde Park Memorial High School)
Matthew Stanton (Stony Brook University)
Stone Wang (Stony Brook University)
Susan Wu (Stony Brook University)
Darcie Wu (LaGuardia High School)
Selina Zheng (Staten Island Technical High School)
Selected Essays
High School Division 1st Place Best Essay Award and Consul General of Japan Special Award
 "Hitofude Ryuu: The Meaning Behind Tradition"
 Sally Chen (Fiorello H. LaGuardia High School of Music & Art and Performing Arts)
I was startled when it rolled out from between worn notebooks and dropped with a clear "click" on the ground.
  As I picked my calligraphy brush off the floor and wiped the dust from its handle, my memory was brought back to the days when I used to practice traditional Chinese calligraphy at a Saturday school. I started by writing simple words in the regular script that takes fewer strokes to write. At first, the feeling of accomplishment that I got from my teacher's compliments fueled my desire to explore this art further. I dove deeper into calligraphy and began to slowly grasp how to use the movement of the hand to manipulate the ink across the page, guiding it into the formation of millions of unique, distinguishable words. It was at this point where my doubts emerged – I wasn't sure why I was writing calligraphy. Why am I learning an ancient method of writing, long abandoned by the majority and no longer needed in a society where typing on a computer or writing with a pen proves to be way more efficient? Slowly, grinding the ink stick became a tedious task and the supposed calming writing process began to irritate me more than ever. Unable and unwilling to understand the meaning behind writing calligraphy, I removed calligraphy from my life and never looked back.
             It was quite a surprise that the next time anything similar to Chinese calligraphy appeared in my life was a video of a Japanese artist painting a golden dragon in one stroke. The artist, Keisuke Teshima, was a renowned master of ippitsuryuu, also called hitofude ryuu, the one-stroke dragon. He took a giant brush, pressed it at the neck of the dragon, and began the process of creation. I watched mouth ajar at the magic flowing from the varying pressure of the brush that gradually pours out the torso of the dragon in glistering contrast to the midnight paper. Teshima maneuvers the brush in different positions, twisting the dragon's body and printing out rows of organized scales that do no less than add on to the vibrant vitality of the dragon. While I watched in awe, I couldn't help but notice the similarity between it and calligraphy. Not only are the materials similar, but both art also emphasizes the flow of the brushstroke where a true masterpiece is produced when the artist imparts the spirit into their creation. The finished result was indescribably breathtaking. The piercing eyes of the dragon glaze forward with a fiery passion, and for a moment, there's a part of me that compels me to strive forward just like the dragon.
  Then I was forced to pull myself back into reality. As magnificent as the painting was, the same questions that had been long boiling in my mind floated up, morphing into a tangled mess in my perplexed mind. Why?
            Why would someone dedicate their priceless time and effort to creating something that is no longer needed by the majority? And more importantly, what is the point?
  All it takes is a little bit of digging. Uncovering the history behind hitofude ryuu is like discovering a hidden gem, so rich in value, yet so deserted. So majestic, yet, so buried by the countless other colorful aspects of Japanese culture. Hidden within the dragon was a layer of cultural significance that provided comfort for many seeking good fortune and protection from a higher entity. There are always purposes for hitofude ryuu. It's a practical purpose that helps people combat their insecurities and gain reassurance. A cultural purpose that comes with the responsibility to preserve this form of art that finds its roots in sumi-e paintings in the Edo era.
The meaning behind traditional art never fades away over time. Instead, it is the golden fruit of age that gives traditional art its venerability and elegance. Both art forms are imbued with stories about their cultures, and it is the variety of cultures that influences us into who we are today. Teshima's brush not only created an animated dragon, but also continues the legacy of a nation with its own unique, vibrant culture that invites others to join through its intricate art.
Feeling inspired by the true meaning behind traditional art, I picked up my brush again.
©JCSB
Works Cited:
"Keisuke Teshima - One Stroke Dragon", YouTube, YouTube, 3 January 2017, https://www.youtube.com/watch?v=BCn6OAgxKOQ&t=152s.
"The Allure of the One-Stroke Dragon: Keisuke Teshima and the Art of Hitofude Ryu." Love Happens Magazine, KOKET, 20 Apr. 2020, https://www.lovehappensmag.com/blog/2018/08/14/one-stroke-dragon-keisuke-teshima-hitofude-ryu/.
High School Division 2nd Place Best Essay Award
 "Cabinet of Porcelain"
 Mohammad Fahad (Deer Park High School)
Smooth and gentle to the touch, shiny coat of glaze, adorned with stories and intricate floral designs: delicate Imari Japanese porcelain. Bought for hundreds of dollars with years of historical significance, just to be put on display in the china cupboard for the world to see but never use. Once broken, it is discarded –  the wears and tears, dents and scratches, discoloration and fading. Once a beautiful, delicate piece of art is now worthless. I am broken porcelain.
Imari is the style of porcelain named after a Japanese port and then shipped to the West at the beginning of the 17th century. The beautiful elaborate designs of flowers and koi fish with bright exuberant colors captivated Western audiences.
When I was five, my mom took me to a garage sale. She saw the beauty and practicality in used items, which all had a past and a story. My mom immigrated from Bangladesh after her arranged marriage to my father. In Bangladesh, my mom lived on a farm with a house lined with crumbling grey and red bricks, a ribbed, tin roof that caught the pour of rain, making it a sheer green after months, with mud floors and steel bars on windows isolating her from the outside world. From an early age, she realized the practicality of any item given to her, but here she was years later in the United States at a garage sale, eyes on porcelain she would never use, but rather see through the glass panes of the china cabinet while sipping her chai. My mom was in love.
            The American dream is what my mom wanted to achieve. The display of the china cupboard was her solace; it is the object that showed the world, her aunts, her uncles, her relatives, and friends that she is leading a successful life in America. While existing in the cupboard merely for the aesthetics, the porcelain carried a meaning behind it that was more financial; from being humiliated by my father through continuous evictions from our home, house after house, neighborhood after neighborhood, from missing rent payments. Wherever we go, the porcelain is still beautiful and intact, preserved. Juxtaposed with our family, this collection of ceramic porcelain is what stayed after every drop of blood and clamor. The slow fall in the middle of the night –  one by one, the porcelain my mom loved was shattered by the hands of my father. I began to crack.
"My heart is full of gold veins instead of cracks." Kintsugi is the art of repair, mending broken ceramics with lacquer and gold, putting back together something once beautiful and delicate as porcelain, highlighting the imperfections rather than concealing the cracks and scars left behind. I was broken with no lacquer and gold. I alone was left to mend the broken pieces, with no clue where to begin.
The path of healing was realizing I will never be complete: my need for perfection, always looking for a hidden meaning, making up excuses for myself. I was the one holding me back; I was not looking at the bigger picture. The philosophy of Wabi-Sabi was to look at life through a lens, acknowledge incompleteness, and find beauty in simplicity. I bought myself a pair of lenses and started picking up the pieces and slowly remodeling and creating the lacquer and gold through finding my self-worth.
            Polished cracks around the edges, shiny refurbish of glaze, adorned with cracks and intricate designs, gold gleaming through the crevices. Beautiful Imari Japanese porcelain. Displayed on the china cupboard for the world to see, revealing a story through the imperfections and cracks. Beautiful Porcelain. 
©JCSB
High School Division 3rd Place Best Essay Award
 "Ichi-go Ichi-e, Once a meeting"
 Tara Isabel Lago (Staten Island Technical High School)
Coffee table books belong on coffee tables just like little books of Zen belong on bathroom shelves, alongside a cubicle of pennies, a pillar candle, and a pyramid of rubber ducks. My younger self used to stand on her tiptoes on the toilet and ponder about this interior design choice. A bathroom wasn't a library yet here was this book. Surely, it had a story to tell. I smoothed out its wrinkles of dust while admiring the cover: a solitary mountain with smoke curling into a dragon's tail. Haikus. Koans. Sayings. it stated plainly. What was a haiku? A koan? The pennies in the square jar winked at me.
A discovery
of Zen, a new view of life,
the start of bonsai.
My family bought a bonsai tree once. It was the centerpiece of our dining table. It soaked up the sounds of the kitchen: erasers scratching paper, fire and pots clapping, children laughing, stories uttered in the midst of meal prepping. Like the bonsai, I listened. Like a human, I imitated the actions within the space, guided by my Lola, or grandma in Filipino, and her hands wrinkled with love. We made palitaw, which are soft, chewy rice patties. To cook them, we had to drop the dough into boiling water. But I was afraid of the heat. I watched my palitaw sink and break apart. But then, they would rise, as pleasantly misshapen ovals.
Our flaws rise to
the surface, revealing all.
How sweet the truth is!
The kitchen is vacant. The bonsai has been cleared away. I am much older than the girl in the beginning. I do not remember how to make palitaw. I do not dream beyond achieving good grades. My elementary school is closing. My best friend is distancing herself. My Lolo, or grandpa, is dead. I will have to graduate in a class of blank faces and mourn in a country I should know in my mother tongue. This time of my life is defined by gaman, enduring without complaint. I sacrificed my small joys–reading and writing–to focus on academics. I buried my feelings to avoid conflict. My hard work paid off with minor collateral damage: me.
Memory pushes
language, everything unknown.
Must I move with it?
When I followed gaman, I created a balance between my emotional and physical selves. There was neither harmony nor dissonance, only silence. But movement and freedom require sound. I think back to the palitaw, delicious despite its misshapeness. I recalled how the bonsai leaned to one side as if about to fall, though it never did, because it was an isosceles triangle, a shape that is stable even with unequal sides. I realized that balance and unity must coexist as a result of flaws, not the absence of them. I made my small joys bigger. I stumbled, even sprained my ankle, while running for my high school track team. I broke a string and a reed while learning how to play the clarinet and viola. I enrolled in a research elective and struggled with statistics and coding. I returned to writing and overcame the lack of inspiration by looking at the world around me. I animated my words into a lush still-life, scenes where things are not right but they were never quite wrong.
Real life is a gift
wrapped in furoshiki–I
choose how to unfold.
I am sixteen. I read that little book a long time ago. I might have been too young to understand Zen but that pocket of Japan was an undercurrent of my journey. It taught me haiku, led me to bonsai, brought me to gaman, and showed me the beauty of imperfection. Sometimes, I go to the bathroom and deliberately remove The Little Book of Zen from its sacred location. I brush my hand along the three-line stanzas, lessons, and proverbs, words softened by my familiar eyes. I smile and whisper, "natsukashii." It is my reminder that the past is more beautiful because it is unreachable. And it is also my sign to appreciate the impermanence of now.
Every moment
Is once, a meeting, for me
To treasure always.
©JCSB
Uchida Memorial Award  
 "The Tears We Shed"
 Devin Overend (Stony Brook University)
As a writer and poet myself, I am deeply touched by the work of others. Matsuo Bashō, an incredibly well-known Japanese poet, is one of these inspiring figures for me. Some call him the master of haiku and I believe he is. Haiku is a type of poem that is composed of five syllables in the first line, seven in the second and five in the last. Though these poems are short, the impact they can have on a reader is like no other. The simplest things are often what make us think more than the complex. Matsuo Bashō once said, "There is nothing you can see that is not a flower; there is nothing you can think that is not the moon". I took this to mean simple words can look like a dandelion or a rose but their meaning can be astronomical.
Like me, Bashō found the work of other poets to be just as extraordinary as his own. After leaving his birth place, feudal Kyoto, he moved to Edo (now a part of Tokyo) to pursue poetry. In love with the art form, he traveled through Japan to connect with other poets. On his journey, he composed a poem made up of the work of many poets he met on his travels. Many readers argue that this poem is some of his best work. Though all his collaborative poetry and solo work is quite marvelous, the one that brings the most tears to my eyes is:
Spring is passing.
The birds cry, and the fishes' eyes are
With tears.
            I remember the spring of 2012. It passed like any other spring for many. But, for me, the birds, the fish and my eyes were all with tears. This spring is why I resonate with Bashō. January 3, 2012, my father took his last breath after fighting Leukemia for five years. I was ten. It was as if I lost consciousness that winter. I remember nothing.  That Spring, I slowly found myself again. I realized life was poetry. It was quite the existential crisis for a ten year old to endure but as Bashō did, I connected with others and became observant of the world around me. That Spring,  if I looked hard enough at my angelfish, it looked like her eyes were glossy with tears. A red cardinal flew into my window every morning as if he were hungry for pain and wishing to weep. The flowers that bloomed were vibrant in color, but they were as bare as the moon because the person who planted them was no longer with us. The phrase "spring is passing," is often used as a metaphor to describe eternal parting. Every day, I felt as if I parted farther from my best friend.
After losing his home in a fire, Bashō began to study Zen Buddhism. This is where sabi, a word that means beauty in age, and wabi, a word that means simplicity and imperfection meet. Zen Buddhism accepts the world as it is and encourages followers to drop their egos and find peace in meditation. After the loss of my father, many told me to meditate and practice mindfulness. My young self didn't entirely understand how to do this. Still, I tried. I was always met with thoughts of my Dad and how wrong and how right it felt to hold his hand in his last moments. I had to be there but it was the hardest thing I have ever done. My memories with him are beautiful and that makes them so painful. How can all of these feelings coexist?
Well, if we think about wabi-sabi, there is beauty in the imperfect and like Zen Buddahism teaches, cracked porcelain tells more stories than the tea set kept in pristine condition. Slowly, I have learned to let all my emotions coexist the same way I have learned to coexist with nature. We are not all one, but we are composed of each other. My father lives on in me and somewhere in this vast universe, I live on in him. As Bashō would've done, I wrote a haiku to encapsulate how this feels:
I am the child
that weeps under the peach tree
but the fruit is sweet.
Bashō's dedication to poetry has fueled my fire to write, to learn and to practice the art myself. If I can inspire one person the way he has inspired me, I have done something right.
©JCSB
Works Cited:
"Basho." Poetry Foundation, Poetry Foundation, https://www.poetryfoundation.org/poets/basho.
Chiappa, J. Noel. Wabi, Sabi and Shibui, http://mercury.lcs.mit.edu/~jnc/nontech/wabisabi.html.
A.C, Tyger. "Homage to Matsuo Basho - the Flow Master." Medium, DharmaX, 15 May 2019, https://medium.com/dharmax/homage-to-matsuo-basho-the-flow-master-82b92d66fcf0.
Special Award (1)
 "Furoshiki: An Understanding of Japan, the World, and Self"
 Martin Kordas (Stony Brook University)
For many years anime and YouTube videos served as my window into Japanese culture, however, it wasn't until I received a formal education in Japanese studies at university that I began to comprehend the culture I was so often viewing. It was a moment in Fall 2018 that served as the catalyst for this comprehension.
One of the first events I had ever attended at university was a Furoshiki night hosted by the Japanese Student Organization. None of my friends were available to come so I ventured alone, motivated simply by my curiosity. I was given a very ordinary-looking cloth and some paint to make the cloth my own. We were instructed on how to wrap ordinary objects, such as a bottle, using our cloth. Four years later that same bottle is still wrapped in my cloth at home, serving as a testament to my ongoing interests in Japan. I was fascinated by the art of wrapping not only gifts, but also almost anything in my possession. What to most people seemed to be a simple cloth, I later realized symbolized a core aspect of Japanese society and culture.
            Japan has been described as having a "wrapping culture" (Hendry). I had heard this phrase before on many occasions while studying Japanese, however, it would take three years for everything to finally 'click'. I realized the cloth I used to wrap my bottle extended to many parts of life, but it took on different forms. The clothing we wear serves as an expression of ourselves, however, it also shields us from the outside world. The closer we are to someone the more comfortable we are in taking off each layer of clothing that wraps us. The fabrics that we layer on ourselves create distance between ourselves and the other person. Our purest state, our naked state, is not accepted in society and so we make ourselves more palatable by wrapping ourselves in fabrics. The clothes on my body served as the furoshiki cloth.
            The towering steel skyscrapers that penetrate the skylines of cities around the world are wrapped in a glass cloth which if peeled away would no longer grant the towering structures their beauty. The items sitting on shelves in cosmetics stores, shopping malls and markets are wrapped in plastic and cardboard cloth. Even Kawaii is a cloth. It serves as a veil that wraps around things that may not be suitable for the public to see in their rawest forms. Kawaii makes these things more palatable, and approachable. The kawaii cloth creates just enough distance and filters just enough material.
            The Japanese language has a cloth called honorifics, that typically lengthen a sentence with each increasing degree of formality and increase the intangible distance between speakers.
            The Furoshiki cloth was everywhere. The one I had painted 3 years ago and used to wrap my bottle was just a miniscule piece of a much greater puzzle, and it seemed as if this puzzle took on the shape of Japan.
I was looking at the world through a new set of lenses: a Japanese wrapping lens. Suddenly I was looking at everything as an example of wrapping, and it seemed to be everywhere. I stand wrapped in my clothes, amongst others who are also wrapped in theirs, who meander and weave through towers wrapped in glass that stand on an Earth wrapped by our atmosphere, which in turn is wrapped by space. My small cloth sparked a metaphysical re-evaluation of the world I live in. My understanding of my place in this world has changed because of furoshiki. I asked myself: Under all these layers, who am I?
I pondered how something so simple as a piece of cloth could hold so much meaning. It embodied so many things that make Japan unique. It seemed like the cornerstone of the grand stone bridge that is Japan.
            The ability for various branches of a culture to be connected by something so simple truly leaves me in awe. It is an absolutely wonderful and astonishing connection. I have yearned to step foot in Japan. It is a life dream of mine that I have no intent on giving up on. I want so badly to experience Japan. However, I realized that Japan has already touched all of us and entered our lives in many hidden ways. She has been ever present in our lives simply waiting to be discovered, just as I had 3 years ago from a simple painted cloth.
©JCSB
Works Cited:
Hendry, Joy. Wrapping Culture: Politeness, Presentation, and Power in Japan and Other Societies. Clarendon Press, 1997.
Special Award (2)
 "The Glass Half Full: A Story of Perseverance"
 Ashlin Benny (New Hyde Park Memorial High School)
The biggest inspiration in my life is and always has been my mom.
My mom was born on April 15th, 1970 as a twin to a family of 7 children. She survived most of her life conjoined at the hip of her twin sister, practically inseparable. Her mom had no time to baby them with the food preparation, house chores and work she had to complete. Life is tough was an understatement in that era. Every morning, each child woke up at 5 a.m. to complete their list of chores before wrapping up their homework and setting off to an hour walk to school. What about cars you ask? Those things were dreams in that time, mere dreams.
Everything she owned was either handed down or torn. Sandals were a luxury for them, you  either walked barefoot or took turns wearing them to the destination. They were depleted and exhausted by the time they each hit their stone mattresses every night. It was a struggle to endure each day but in order to survive, everyone had to play their part.
Her life continued to get more and more difficult as the years passed. She lost her dad and wasn't even able to say her parting goodbye. She worked day and night to eventually become a nurse and ultimately a married woman. Then she became an immigrant to the unknown lands of Britain, Virginia, Maryland and then finally home, New York. All along the way, life didn't fail to throw numerous tribulations her way, some of which seemed impossible to overcome. Constantly moving, caring for my brother and I, furthering her education and household chores all came with a price. Although, there is one thing my mother never did, and that was giving up.
My mom had one motto in her life that no matter what happened she abided by and that was "there's no harm in attempting something that seems impossible, just keep trying". My mom always taught me that when something scares me or seems unattainable, you only fail if you give up. So from the time I asked her if I should run for student council to when I cried on her shoulder about a bad grade, she simply encouraged me and pushed me forward.
As I contemplate the vast traditions and cultures of Japan, this lifestyle of perseverance or as they call it, Gaman, comes to mind. Gaman as defined in Japanese is a term that is used to describe the ability to endure struggle even when it seems to get unmanageably difficult. It is evident to me that just as my mom did, Japanese culture also strongly emphasizes a way of life that encourages individuals to get back up and keep going even when they fall. In the last 100 years alone, Japan's resilience as a nation has been displayed through their inability to be faltered as a community. In 1923, the nation endured the Great Kanto Earthquake which ultimately destroyed the pride of country, Tokyo, they suffered two nuclear bombs, in the regions of Nagasaki and Hiroshima in 1943, in 1995, the Kobe earthquake, followed by the Tokyo subway sarin gas attack barely 2 months later and in 2011 the trauma bound from a tsunami, earthquake, and nuclear meltdown in the Tohuko region (Gardiner, 2020). However, even after this tribulation, Japan never failed to rise up again and fight to become better and stronger day by day.
It amazes me how between the woven cracks of this land and the distant chaos of their city, there are numerous stories held by the nation in its heart. It emphasizes that an ideology of perseverance is difficult to utilize, you need to have a mindset of hope against hopelessness and the will to believe even when all else seems to fail. Just as a Japanese proverb says, "nana korobi ya oki", which  translates to the heart of the principle, "seven times down, eight times up"(Gardiner, 2020). Growing up, my mom always told me that the way of life is like the ocean, there are currents that will rise above the tide and attempt to rock you out of the boat, but it's up to you to decide to put up your sail and steer above the waves. If there is one thing I learned from both my mom and Japanese culture it's that in life you have two choices, the choice to endure and the choice to give up. Now which will you choose?
©JCSB
Work Cited:
Gardiner, K. (2020, July 1). Why are the Japanese so resilient? BBC Travel. Retrieved January 8, 2022, from https://www.bbc.com/travel/article/20200630-why-are-the-japanese-so-resilient
Special Award (3)
"The Magic of Yokai"
 Nolan Jin (Paul J. Gelinas Junior High School)
As an avid Pokemon fan, I discovered the world of Yokai and Japanese mythology in fourth grade in an attempt to find its origin. Yokai can be translated as monsters, spirits, or demons in English, but they are supernatural creatures stemming from Japanese beliefs, culture, and mythology. I developed this subject for a year-long independent research project at school in fourth grade. Beyond the Japanese popular culture of animation and manga, I have learned that Japanese society and culture consistently references Japanese folklore. There are many reimagined Yokai spirits for a contemporary audience. I came to understand that the origin of the Japanese flag design originated from the Sun and Moon spirits, and that Japanese people worship nature spirits to protect themselves from severe weather conditions. However, what fascinates me the most is everything has a spirit in Japan. From one-legged umbrella spirits created from an abandoned umbrella to an unclean bathroom spirit and your own shadow spirit who protects you at night by following you around, there is an infinite number of spirits in Japan– far beyond what I could imagine. I have been swept away into a wondrous Japanese Yokaiculture.
One of my favorite Yokaiis the Kitsune, an intelligent fox Yokai. Creating illusions and twisting people's minds, the kitsune has an innovative way of exploring the world. From transforming into humans, creating illusions, to playing tricks on greedy merchants, the kitsune has various ways of challenging difficulties and achieving their goals. The kitsune's adaptable and transformative character inspires me to face my own life challenges. I have adapted the kitsunes problem-solving methods into my own, and most importantly, Yokai's infinite power of imagination.
Japanese Yokai culture opens a world with the power of imagination. The Japanese Yokaihasbecome a source of my inspiration in many creative ways: from my daily life, school projects to my attitude and worldview. Thinking out of the box with imagination is the key to solving any problems. I realize that there isn't just one path to the desired solution. Japanese Yokai culture has shown me how easily they thrive from objects to spirits. The Japanese Yokai culture provides me an insight into how to care for and imagine things around me: my belongings, neighbors, town, friends, and family. Just like bringing a soul to a broken umbrella or your shadow, I have learned to better appreciate the non-living creatures around me and how to view the world in wholly different ways. For example, I imagine a "catch your breath Yokai" during my swimming meet, a "super protective armor Yokai" during my weekly kendo martial art practices, and super genius analytic math Yokai during my math class.
The kitsune and other Yokai I have encountered during my research have stayed with me and have led me along my way to challenge the world. By inviting the Japanese Yokai culture into my world, my imagination reveals to me multiple paths. I have learned that beyond my skills and talents, if I have the power of imagination, there is no world I can not travel to, no problem that I can not solve, and no disappointment that will break me.  The magical Yokai, embedded in Japanese culture, have improved my life and encouraged me to go beyond my limit. 
©JCSB