Skip Navigation
12th Japan Center Essay Competition (2016-2017)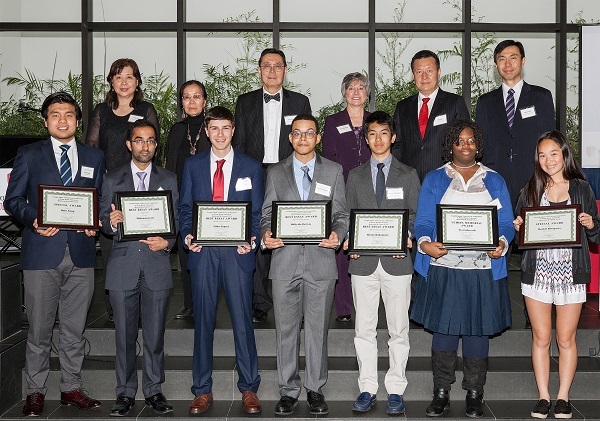 Award Ceremony at the Wang Center (April 22, 2017)
---
Winners
1st Place Best Essay Award in High School Division

 

& 
Consul General of Japan Special Award
"A Taiko Roar towards Self Discovery" by Wilfrido Batista (University Neighborhood High School)
2nd Place Best Essay Award in High School Division 
"A Buddhist Culture: Japan and the Monks" by Kazuo Nakamura (Northfield Mount Hermon School)
3rd Place Best Essay Award in High School Division 
"Samurai in the Outfield" by Colin Capece (Chaminade High School)
"Wrong." by Mohammed Ali (Stony Brook University)
Uchida Memorial Award 
"A Remedy for Loneliness" by Tia Culbreath (The Young Women's Leadership School of Brooklyn)
Special Award A 
Special Award B 
 "Track: The Mental Game" by Rachel Kitagawa (Syosset High School)
  Alexia Brown (Eleanor Roosevelt High School)
Chunchu Kim (Stony Brook University)
Nina Shepherd (Huron High School)
Anthony Solodkov (Stuyvesant High School)
Finalists
Eric Park (Hunter College High School)
Daphne Knouse (Bard High School Early College Manhattan)
Connor Middleton (Rocky Point High School)
Hannah Mirando (East Hampton High School)
Semi-Finalists
Madison Buchholtz (Huntington High School)
Isabella Cahill (Huntington High School)
Josephine Chai (Townsend Harris High School)
Kerwin Chen (Stuyvesant High School)
Katherine DeGennaro (Huntington High School)
Michelle Figueroa (Lynbrook High School)
Rina Hisajima (Hunter College High School)
Ryan Hoffmann (Huntington High School)
Erin Kim (Harvard University)
Karen Kohama (Paul D Schreiber High School)
Saeree Lee (Syosset High School)
Sophia Li (Hunter College High School)
Caroline Lin (Marymount School of New York)
Kevin Liu (Stuyvesant High School)
Annabella Matheus (Huntington High school)
Sydney Morris (Glen Cove High School)
Nayeli Pena (Walter G O'Connell Copiague High School)
Ryan Qin (Ward Melville High School)
Odeya Rosenband (Ward Melville High School)
Nina Theisen (Trinity School, NYC)
---
High School Division 1st Place Best Essay Award & Consul General of Japan Special Award
"A Taiko Roar towards Self Discovery"Wilfrido Batista (University Neighborhood High School)
On our last day in Iwate, Kamaishi, my corp, a group of teenagers brought together for the "Drums for Peace" cultural Immersion program in Japan, found ourselves at a scared site of the Japanese Meiji Revolution. As a break from the volunteering we've done that week in Kamaishi, I looked at my surroundings and truly felt grateful for the opportunity to have received this scholarship. Not only to give back, but to learn with a diverse group of people that I came to see as family. But most of all, this journey through Japan brought me back to my own roots in ways that will shape me forever.
After a scavenger hunt around the site, we made our way to a nearby shop for a traditional Japanese lunch, giving our formal greetings, "Yoroshiku onegaishamis" to the shop owner. We were excited and prepared to enjoy a meal that she was all too concerned we wouldn't like, being a group of students from across the world engaging in Japanese culture for the first time. But I had already fallen in love with meals like the bowl of freshly baked purple potatoes, and katsu during my three weeks there, although a far cry from my Dominican dishes made by my abuela back home. It reminded me of myself as a child, who was afraid to try new things, let alone venture across the world and immerse myself in them.
Growing up in West Harlem, I never imagined I would be experiencing the culture and community of Japan. I was not encouraged by my community or society to succeed in education. With my father absent from my life, and my mother unable to raise me herself due to how much she had to work to provide for us, being raised by my grandparents showed me the true meaning of appreciation. My mama and papa gave me all the warmth and care that I ever needed to believe in myself, and taught me to value education and my Dominican roots. Being under the wings of immigrants, I was able to synchronize my American identity with my Dominican heritage. This allowed me to have a deep empathy for my work in Japan, thanks to how they have nurtured me.
            We finished our lunch and dessert and left to explore a ravaged park on the outskirts of the historical site. The buildings were strewn with glass and sharp objects, with walls riddled with holes. What struck me was the destruction left by the earthquake and tsunami---there, and in regions I had visited all throughout Kamaishi; the once vibrant communities were reduced, in most places, to desolation. In that moment, I truly realized the importance of finding my place in rebuilding the world. This disaster in such a beautiful tranquil place will forever mark what sparked my passion for environmental advocacy moving forward.
After exploring the Meiji site and taking in its gravity, Andras San, our corps leader, suggested something not on the itinerary: to perform "Minori Uta" to thank the shop owner. We decided to do this as a sign of gratitude for her hospitality and kindness, especially as her community was still suffering from the impacts of the 2011 earthquake. "En yo ho eiya! Enyo ho ho ha!" boomed through the air. Tears began to flow down the shop owner's cheek, but also my own. I saw my grandparents through her at that moment; the love and care I'd received from them, with only the hope of my happiness and success asked in return. I felt the universal principles of my mission begin to solidify in my heart and mind.
The music we learned and played throughout Japan taught me the power of spreading positivity, as loud as a wadaiko drum roar. I vowed to practice spreading love and virtue when I returned back to the states, and always in my life.  At the end of the night, we left remarks in the shop owner's guestbook. "Arigatou gozaimasu," I wrote, showing my gratitude, hoping that peace could be returned to her life, as I finally, with new eyes, started to begin mine. 
© The Japan Center at Stony Brook
High School Division 2nd Place Best Essay Award
"A Buddhist Culture: Japan and the Monks"Kazuo Nakamura (Northfield Mount Hermon) 
I rested my head against the window as the train departed Tokyo Station. A temple, that is where I was going to be for the next eight days. My protests to my parents did not change anything, I had no choice but to go. Headed toward Kyoto, my long journey, reluctantly, began.
My life in the temple started on the next day. My parents encouraged that I train for discipline at temple for seven days with the monk and his wife. During my training, I would adopt a new Buddhist culture but I was not enthusiastic. Despite receiving the opportunity to learn about temple life, at the time, I only lamented being unable to meet my friends in Tokyo. However, my exposure to temple life changed my perspective on Japanese culture as a whole and would affect my life in Japan.
When I arrived at the temple, I was astonished. The temple I visited, called the   Kaifuku-in, was located among 45 other temples in a place called   Myoshin-ji.   Kaifuku-in  was surrounded by a white wall with a wooden entrance. As I entered the gate, I was greeted by trees that twisted and spun in every direction, a small dilapidated temple of a wood construction and a friendly elderly couple, the monk and his wife. They led me to the entrance, and I was surprised by the state of the temple. The ceiling seemed as if were about to collapse at any moment, the floor creaked for every step, and the balcony had a gaping hole. I walked up a narrow flight of stairs to the room I was going to stay. The summers in Japan are always very humid; moreover, the lack of fans made the room very hot. As I spoke with the monk, the sweat dried off my neck, and I could feel the rugged salt that it felt behind. The only means of cooling off was drinking hot tea. While I was skeptical at first, it seemed to work. In the blistering heat and on the hard floor, I, uncomfortably, underwent my first night at the temple.
The following morning began at 4:30 am when the monks rang a bell, called   Bonsho, which vibrated throughout   Myoshin-ji; the monk began praying as I washed the walls and floors throughout the temple with a wet rag. The labor was exhausting, and I was out of breath by breakfast. Before we began eating, the monk would recite a prayer, which I learned to memorize by the end of the week. After delivering the prayer, we were allowed to begin eating. Because of the monk's diet, my meal also lacked meat; the meal, called   Shojin Ryori, consisted of vegetables such as eggplants, mushrooms and tofu. The monk would talk about the history of Buddhism and his experience as a monk; the stories were entertaining and I enjoyed learning about the temple. At first I disliked eating; yet, as time passed, I began to eagerly await the meals.
My busy day continued after the fatiguing morning. I started to clean the graves outside the temple. As the sun's harsh rays pierced the back of my neck, I splashed cold water on the graves. Over two hundred graves were scattered across the temple grounds, and I replaced the flowers for each one. I worked for three hours in order to clean all the graves; the process was exhausting. It was then when I realized the importance of the monk's work for the Japanese people.
Every time my family visits Japan, I would go to the graves to pay respect for my ancestors. Frequently visiting, I would notice the graves were clean and free of dirt. Throughout my work at the temple, I realized that monks toil to condition the graves to be presentable. From the many stories I heard from the monk, I learned how Buddhism is deeply integrated in Japanese culture (i.e. the holiday   Obon, which celebrates dead ancestors); thus, it is imperative for monks to pass on the teachings. My experience at the   Kaifuku-in   taught me how monks humbly support the everyday life of Japanese people without much acclaim.         
© The Japan Center at Stony Brook                                         
High School Division 3rd Place Best Essay Award
"Samurai in the Outfield"Colin Capece (Chaminade High School)
My family is a baseball family.  Baseball fascinates us. Baseball enthralls us. Baseball brings us together. Our family vacations are spent visiting ballparks and opening day is a cause for celebration.  So it is no surprise that one of my family's favorite summer pastimes is to tune in for the Little League World Series.  Even though my three brothers and I are past our Little League baseball days, we still enjoy watching younger kids play in the annual tournament held in Williamsport, Pennsylvania. Year after year, we are mesmerized and our family conversation is dominated by the names and stories of the teams in that year's competition.
Only sixteen teams qualify for the Little League World Series, eight from the United States and eight from other regions of the world. As a kid, I always dreamed of one day playing in the Little League World Series.  Although my team was talented and dedicated, we were not able to make it to Williamsport. As a player, I admire the incredible devotion that each team must possess in order to reach it.  To earn one of those sixteen coveted spots, a team must spend an entire summer on the baseball diamond. The odds are stacked against any team, regardless of how good they are. 
In recent years, our family conversation has turned to the teams from Japan. The Japanese teams have come to dominate the tournament, winning an impressive four of the last seven Little League World Series titles. As we watched the tournament we noticed that the style of play of the Japanese teams is very different than that of the others. We found ourselves asking, how have the Japanese teams found so much success? Why are they so fascinating to watch?
Intrigued, I began to seek answers to our questions.  In the process, I learned quite a bit about Japanese history and culture, as the answer lies with a group of ancient Japanese warriors who existed more than one thousand years ago.
The philosophy of these teams draws its roots from the Bushido, or "way of the warrior", which was a code of conduct for the legendary samurai class. One of the pillars of the code is discipline, a virtue that is evident every time the Japanese Little League teams take the field.
Just as the samurai warriors trained hard to master important skills for combat, Little League teams in Japan spend hours practicing each week, honing skills that seem elementary, but are fundamental to the game. Masumi Omae, manager of a team from Tokyo, commented to a reporter about the grind his players endure each time they practice. "This is the Japanese way of doing sports," he said. "It emphasizes what we call   konjo,  or grit and tenacity. Repetition is important. You've got to repeat movements until you master them." Japanese little leaguers work tirelessly on basic skills like throwing and fielding until they become instinctive. The Japanese approach to learning and practicing the game has contributed to the nation's recent round of success in Williamsport. Teams representing Japan consistently play flawless defense and benefit from tremendous pitching.
The Bushido also stresses loyalty of the samurai to both themselves and their fellow comrades.  This virtue has contributed to Japan's Little League success. The Japanese use a strategy known as "small ball" to help them score runs. "Small ball" involves relying on skills like bunting and stealing bases to advance runners around the diamond, rather than relying on the home run. Many of the international and American teams have players that tower over those of the Japanese teams in stature. However, by using "small ball" tactics to combat brute force, Japanese teams win games. This approach requires a great deal of loyalty from the members of a team. Often times, it requires a hitter to sacrifice himself and make an out in order to advance a runner for the betterment of the team.  Japanese teams do not have stars.  When they play, baseball truly becomes a team game.
As a baseball fan, I love to watch the Japanese teams compete in Williamsport. They are a throwback to baseball's dead-ball era, when home runs were virtually nonexistent and "small ball" dominated the game. It's as if the game of baseball is being displayed in its purest form; the way in which it was meant to be played. Baseball may be America's favorite pastime, but it is the Japanese teams that have truly made it a world series.
Works Cited:
Kuhn, Anthony. "The Secret to Japan's Little League Success: 10-Hour Practices."   NPR. NPR, 28 Aug. 2015. Web. 08 Jan. 2017.
History.com Staff. "Samurai and Bushido."   History.com. A&E Television Networks, 2009. Web. 08 Jan. 2017.
© The Japan Center at Stony Brook
College Division Best Essay Award
"Wrong."Mohammed Ali (Stony Brook University)
Dogen reached enlightenment when he witnessed his sensei beating another student with a slipper. I started sniggering when Sensei mentioned this, breaking the silence in our class. Everyone glanced at me and then looked back at Sensei, apparently not having the same image as I did of a very serious teacher beating a cowering and repentant student, and Dogen, instead of feeling the gravity of this scene, rushing off to burn incense in his room. I could almost see the lightbulb over his head and hear him exclaiming, "Eureka!" as he rushed off in the culturally confused corridors of my imagination. I bit my lip to control my laughter but another thought sobered me up effectively. For monks to come to Mount Hiei to study under a sensei and voluntarily subject themselves to a relationship where it was possible for them to be physically beaten as a normal course of action to study Buddhism, enlightenment must be serious business indeed. Students sat at the feet and mercy of their masters simply for the possibility of enlightenment.
It was this story that came to me near the end of the semester when Sensei leaned forward, more animated than usual, and posed a question: if America were to launch a nuclear attack on Russia, destroying its entire population, should we feel responsible for the actions of our government? She asked us to raise our hands yes or no. For the first time in my life, I halfheartedly raised my hand between yes and no to give an opinion on a contentious topic. Yet I wasn't undecided. I was curiously distant from the idea of making a decision, as though it was above my pay grade to be making decisions such as this.
I was positive Sensei had asked us this question not for us to argue our personal opinions, but to hear what they were.  It wasn't that she didn't desire an explanation, but that she was waiting to see if we comprehended the proper way to understand a question such as this. 
Japanese Buddhism may be both Japanese and Buddhist but Sensei's implicit argument for the importance of this class was framed as two challenges rolled into one question, every single time and for every single person to whom she posed it. "And are you Buddha?" meant both "Are you Buddha now?" and "Are you Buddha yet?"
That it was a Japanese and Buddhist answer to the universal question: "What does it mean to be human?" was partly the point. People were too involved in their selfish egos to answer such a universal question. A culture that was rooted in urging people to transcend the ego, such as the   tariki   (other power) practices of Pure Land Buddhism, was the only way to gain the universal compassion to be able to understand and answer such an important question. Sensei stressed that understanding the concept of   Jinen Honi   in Pure Land was of chief importance. A seemingly circular concept,   Jinen Honi   stresses that Amida's compassion, which allows you to get   shinjin   or true entrusting in Her, proceeds naturally to the person without them calculating to get it. Having   shinjin   allows you to truly invoke Amida Buddha (or perform   nembutsu)   and when you do, you become Amida Buddha, able to have true, universal compassion, unfettered by egoic attachments. But in order to be uncalculating, you must truly believe in your evilness, until you feel your helplessness enough to have complete trust in none but Amida Buddha. It cannot be a ploy directed to get   shinjin. 
I realized that I had decided to metaphorically sit at the feet of Sensei and confess that I truly couldn't answer the question. Even when a lively discussion ensued that raised issues I felt strongly about, I didn't feel the urge to join in. I was rewarded when Sensei settled the question. It wasn't about protesting the government for nuking Russia, or realizing that Americans are, in fact, apathetic people. You should see everyone as your mother and father, she said, and realize that their evilness is a reflection of your own, and therefore, blame yourself. Satisfaction grew in my chest at my reticence to make a decision, and at understanding the nature of the question and then stopped cold.    Jinen Honi.   I realized I had been profoundly wrong.
© The Japan Center at Stony Brook
Uchida Memorial Award
"A Remedy for Loneliness"Tia Culbreath (The Young Women's Leadership School of Brooklyn)   
At a young age, I lost both of my parents. Of course, I was too young to fully understand what had happened to them, and why they stopped coming home after those fateful days. But a tiny, itty-bitty pit of loneliness began to form in me. I began to distance myself, making it harder to grow socially as I grew older. I didn't realize I was forming a barrier around myself, keeping people away when I needed them the most. That pit only grew more and more as I deserted my social needs and refused to socialize with other children. I lacked the tools I needed to express myself, to convey my feelings to the people around me. I was desperate for socialization, but allowed fear to keep my tongue still. No one could really understand me. In fact, I couldn't really understand myself at all.
Around the age of ten, my older brothers began pushing me to watch these shows with them. "Come on, Tia! You're gonna love this! Come sit and watch this with us!" they'd say. In the beginning, I refused them. Until one night, they dragged me into our living room, sat me down, and said, "Just watch one episode. If you don't like it, we won't bother you again."  I gave in begrudgingly, crossing my arms, I huffed, "Fine!"   Whatever it was, I told myself, I won't like it. I   refused  to like it. It ended up being the first episode to one of their favorite animated cartoons-  Bleach  by Tite Kubo.
I loved it.
After the first episode, I couldn't get enough. What was it that drew me in? Was it the beautifully crafted story? The surreal setting? Or the way the characters would move and talk to each other? Was it the music that played at the sad or climaxed parts? I didn't know, but it was beautiful.
The music spoke directly to my heart. Though I couldn't understand a word the singers sang, I could feel the intense emotions in their voices. And then there were those with no lyrics, just soft, sweet piano music. Songs like  Carousel of Life  and   Ichiban No Takaramono  brought tears to my eyes, while songs like   Flyers  and   Goya no Machiawase  made me feel excited for the episode I was going to watch. The music evoked emotions in me unlike any American show I had ever watched.
The characters in each show were amazing; I felt a connection to them. In fact, I could say my connection to these non-existent characters was stronger than most of my real-life relationships at the time. One such character was Haruhi Fujioka, from   Ouran High School Host Club. Not only did she lose a parent at a young age, but she was down-to-earth and analytical like me, yet very vulnerable at times. Characters in American cartoons were not as well-developed; the show seemed more focused on keeping the watcher's attention or getting a lesson across than building on their characters.
The artstyle was also beautiful. Everything seemed to move and act alive, even in the background. Trees swaying, cherry blossoms falling, the last rays of sunlight illuminating a building.   Watching My Neighbor Totoro, I literally imagined Mr. Miyazaki grabbing me by the shoulders, shaking me gently and yelling, "Nature is wonderful! Nature should be protected!" I developed a love for Shintoism thanks to his awesome movies and my wild imagination.
I begged for another episode. And another, and another. Soon, I was watching more than just   Bleach- Sailor Moon, One Piece, Durarara, the movies produced by Hayao Miyazaki and Studio Ghibli. I threw myself into the animations, jumping from show to show. That empty, ugly pit inside me began to become filled- not completely, but enough that I began to feel a bit confident.
I slowly began talking to other people about my interest in Japanese animation. There were some who didn't understand my love at first, like my grandmother. And there were some who completely understood, like my brothers. Either way, just talking about it gave me the chance to open up, even if it was for just one conversation. A new me was beginning to form, like a pupa finally cracking open its shell. On my first day of middle school, I introduced myself to my peers, not with silence or just a quick statement of my name. "My name is Tia, and I like anime," I said simply, praying there would be others who would understand and react. Thankfully, there were. I became a part of a group that could relate to each other, even with all of our differences. I began to talk about more than just my love for animation, finally breaking down the barrier that surrounded me.
© The Japan Center at Stony Brook
Special Award A
"Reflections on Japan"Hein Aung (Columbia University)
 "... it was as if he were watching a tableau in a dream — and that was no doubt the working of his strange mirror," Kawabata Yasunari opens his most famous novel,   Snow Country, with his protagonist peeping at a girl nursing  — what he assumes to be —  her sickly husband. Through his train car window, the protagonist, Shimamura, stares at the girl's reflection. Despite the perverseness of a description of a man staring at a girl intently, for hours, Shimamura's musings are not perverted. Offhand, one could take his actions as voyeuristic, but the pleasure he feels is not sexual, but, rather, sublime. The "unexplainable beauty" of the girl's face superimposed onto the moving mountainous landscape compels his chest to rise. The narrator describes the mirror having "unreal, otherworldly power". Shimamura seems to rejoice more in the unreal than the real. Hence, he is an expert in the art of Occidental dance, without ever having seen a single performance. Out of a dissatisfaction in the "old tradition," Shimamura scours pictures, programs, and posters of the art. Oddly enough, Shimamura's world vaguely resembles my perception of Japan — mirrored, yet inexplicably taking.
            Without context, this comparison may seem abstract, even out of place. Yet, the methodology in how we view a country, its people, and its culture is rarely ever a multidimensional understanding that can encompass all of its layers and complexities. Instead, it is more of a summation of knowledge, of both the subjective and objective, gained by history, personal experience, and more importantly, cultural and media products. The same way Shimamura comes to understands Swan Lake, we learn about Japan. And who can fault him or I? A typical American college student, such as myself, when asked "What is Japan?" will likely bring up what they find striking about it, such as anime or Ozu films or sumo wrestling. Certainly, the depth and breadth of knowledge is not the same for everyone, but the fact that its symbols come to stand in the place of the entire country remains. As superficial or trite these references may be, how else can an outsider perceive something as broad as an entire country? Of course, this is not unique to Japan. I imagine the same holds when you ask a Japanese college student, "What is America?"
            There is a risk of exoticism, or undue admiration purely because of its difference, of a country only through the consumption of purely cultural images. There is undoubtedly a great deal lost on us when we try to grasp something such as sumo — its traditions, history, etc. When viewing sumo in relation to Japan, there is yet even more missing in understanding. I do not contend that understanding Japan, or any country, is unattainable for outsiders, but, rather, rooted in the beautiful, perhaps if empty, projections it reflects onto the outside world.
In his Nobel lecture,   Japan the Beautiful and Myself,  Kawabata opens with poems by Doegen and Myoe, both only two lines long each. The brevity of Myoe even allows me to include it here: "The winter moon comes from the clouds to keep me company. The wind is piercing, the snow is cold." In the ensuing lines, Kawabata divulges on the context of Myoe's poem, revealing its detailed, lengthy origin. Kawabata's thrift in style also applies to expression. Instead of melodrama, Kawabata prefers the ambiguous. The novel opens the relationship between Shimamura and Komako en medias res; however, the fate of the two is not provided, even at the end. This ambiguity and thrift of Kawabata's words does not stop them from being emotive. In the same idea, the limited ways through which we can understand Japan—in short of living there— such as literature or film, can still be relevant, even profound. Perhaps it is the existence of these seemingly accessible mediums of Japan, or projections, that allow for further probing, exploration, and appreciation.
I once asked myself on how I could justify my own interest in Japan, as I have been interested in it for as long as I can remember. But I've come to ask instead, is such a reason needed? Japan, to me, is a topic of intellectual passion, a rare delight among so many topics of curiosity. A place real, but unreal in its beauty I see in it. It strokes the imagination, delivers my dreams and most importantly, exists as a home beyond my own.           
Works Cited:
Kawabata, Yasunari, and Edward Seidensticker.   Snow Country. New York: Vintage, 1996. Print.
"Yasunari Kawabata - Nobel Lecture."   Yasunari Kawabata - Nobel Lecture: Japan, the Beautiful and Mysel. N.p., n.d. Web. 08 Jan. 2017.
© The Japan Center at Stony Brook
Special Award B
"Track: The Mental Game"Rachel Kitagawa (Syosset High School)
"You have to run with your heart, not just for yourself, but for each other. When you feel like giving up, know that everyone else is facing the same pain, and they aren't giving up." I hear my coach say. 
Over the years, I realized the importance of playing sports in order to keep me fit, but cross country has taught me that you have to want it to achieve.  In high school, sports are viewed as a fun afterschool activity, but the five consecutive county championships are consequences of hard work, determination, and drive. 
"Not many other schools in the country train like you guys do.  Not just physically, but mentally.  You all are stronger psychologically, and that's why we continue to succeed."
I anticipate the race at the start line, holding my teammates hands, as my heart pounds out of my chest and chills crawl up my spine.  The adrenaline in my body speeds up as the sound of the gun goes off.  My radiant Saucony spikes dig into the dirt of trails at Bethpage Park.  I feel my throat beginning to dry up and I remember what my coach said, similarly to what my mom tells me before every race.  "The faster you run, the faster you're done.  Everyone else is in pain too.  Go out there and give it 110%."  Her teachings are from how her coaches taught her to play basketball in Japan. 
In Japan, high school sports are approached similarly to how my track coach mentors me.  "Supokon" is the combination of the words, sports and "konjo" (guts).  Japanese athletes in the Olympic Games are one of the most successful in sports of patience, focus, and self-control.  Martial arts such as karate, sumo, judo, and kendo, use the philosophy of "Supokon" to teach that losing is not an option.  Second place is the first to lose and that's why their drive is like no other.  Stereotypically, Japanese may not be the physically superior athletes due to their body type; however, their spiritual state of mind helps them get over that hindrance and still be a competitor. 
Arriving at Tin Can Alley, my legs begin to burn and my breathing becomes heavy.  The extra loop of the 5k trail was drawing near and I start to push the pace as I saw myself fly past some of my competitors.  I needed to stay focused and concentrate on my race.  I kept my head up looking ahead at the next girl to pass.  This was all part of "Supokon."  I learned that sports were another game to challenge my mind and mental state. The IQ of running is to be patient in the beginning, and then later on in the race go after it.  "Everyone else in the race is your biggest motivator and everyone else in front of you is another competitor you must overcome." I hear my coach say in my head.  When it gets hard, I remember an activity we did to help our mental game, visualization.  Fifteen minutes of my eyes closed, grass tickling my back, and the radio clip of a man from the Running School go through the motions from the thrill at the start till the very second you cross the finish line and fall to the ground is what helped my spirituality.  
I crawl out of the trails onto the polo field with about nothing left in my energy tank, about to run my last kilometer.  I recall watching some of the best Japanese runners compete in the past Summer Olympics held in Rio de Janeiro as I saw my friends shouting my name.  They aren't just my biggest competitors and motivators, but my best friends, my family.  I know that's how the Japanese Olympic athletes viewed their teammates.  In pain, I can see the finish line as I started to sprint the last straightaway.  The finish line was there, waiting for me, but I felt as if I was running in slow motion, not getting any closer.  Finally, crossing the finish line, my legs jello-like, I tightly grip the ropes with my hands as I almost lose my balance.  "What a race! It's a good day to be a Brave!" my coach says as I look down to my red, sweat concentrated Syosset Braves jersey.  Cross country has taught me something no other sport has, and the philosophy of "Supokon" performed in Japan is what has made me a better competitor in all sports I compete in. 
© The Japan Center at Stony Brook