Skip Navigation
Online Teaching & Learning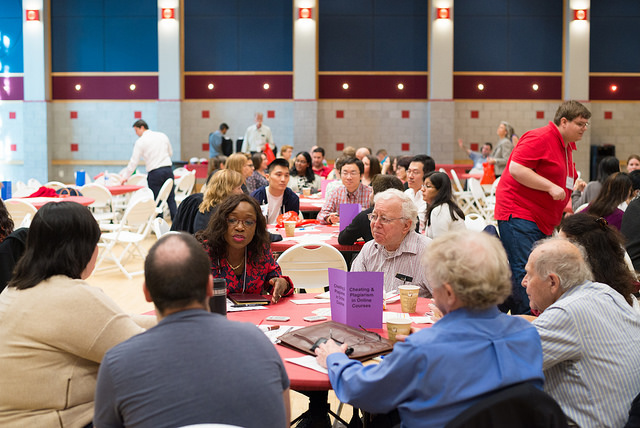 Getting Started

Getting started? Start early!

Faculty often question how an online course can preserve the personality and rigor of a traditional course. Our instructional design staff can collaborate with you to make your online course meet all the academic standards you strive for in your face-to-face classroom. Here's what to expect from a meeting with our staff:

We will ask you to describe how you currently teach the class, discuss your student learning outcomes, and determine which technologies you're most comfortable with. Sending your syllabus in advance will give us time to be more prepared to offer you constructive advice and guidance about transforming your course to an online setting. 
Why reinvent the wheel? We can help you locate re-usable materials (called "learning objects") in your discipline or, suggest options to create content. In addition, the library can point you to open educational resources (OER) that may benefit your class. 
Depending on your knowledge and comfort with distance learning technologies, we can also provide training on how to use Blackboard, VoiceThread, Zoom, and more.  
Teaching in a new medium and delivery mode is a process, so we'll also discuss the assessment and revision process that will follow your initial development. Just as in your face-to-face classes, there is a learning curve for developing, refining and tweaking a high-quality online/blended or technology-integrated course. 

We offer Online Teaching Certification (OTC) Courses multiple times

throughout

the year. The purpose of this workshop is to provide you with basic pedagogical, research-based practices for online teaching, and to assist you in planning instructional activities you will use in your course. Contact us to find out when the next course is running. We suggest taking this course one or more semesters prior to your course launch. 

Not sure how to label your course delivery model? Check out the Online Learning Consortium's updated list of course delivery definitions:

Making the Shift

Making the Shift

We know that your goal is to create the best possible educational experience for your students. Converting a class into an online format requires careful thought and preparation, and working with CELT will save you time – time developing, time reviewing, and time researching.

Ideally, you should convert a traditional class into an online class gradually: start by incorporating online elements into your traditional class using many tools available on Blackboard, such as announcements, discussion boards, Zoom desktop sharing, VoiceThread, quizzes, and the grade center. Taking time to learn these tools and how they impact instruction is the best place to begin.

A semester (or more) before class begins: 

Two weeks before the class begins:

Use the Date Restrictions tool to hide any materials you are not ready for your students to see, double-check all links.
Post a welcome video and announcement for your students, and create an orientation or icebreaker activity.

One week before the class begins:

Open your class to allow students time to familiarize themselves with the course.
Email your students a welcome letter and invite them to explore the course. Describe the course expectations and activities, as well as provide helpful links to the location of the course, the location of the syllabus, how to log in, what materials they need to purchase and where they can get them, and how to contact the Blackboard help desk. 

Research on best practices suggests that incorporating a variety of activities to promote cognitive and social engagement is critical to student learning. Discussion boards, student-led activities, videos, recorded lectures, and posted readings are all easily manageable in Blackboard's learning management system. 

Your first learning module should introduce the syllabus, provide tips for success, and orient the students to the course organization. Label course materials and learning modules clearly, and strive for consistency in how you present the materials. Blackboard allows you to use "Date Restrictions" to hide items from student view until you want them to become visible, so do yourself a favor and get everything posted in advance. You won't regret it!

Creating a Syllabus

Creating a Syllabus

Creating your first online syllabus – or your tenth – can be a more of a task than you may realize. 

Since you may not see some (or any) of your students in person, your syllabus will need to be more comprehensive and articulate than usual. A well-crafted syllabus not only ensures that students understand your expectations, but also provides you with blueprint for building your Blackboard site. 
Standardized templates can help you cover areas specific to online learning communities. You can download and modify these templates for your own course design. Look through the comments in our syllabus template to start building your syllabus. 

Courses and Workshops

Best Practices

Research-Informed Best Practices 

CELT endorses quality online course design through both  Open SUNY's Online Course Quality Rubric (OSCQR) and Quality Matters (QM).

Open SUNY's Online Course Quality Rubric (OSCQR) is a research-based review instrument for revising and guiding the design quality of courses in addition to conducting internal peer reviews.

Quality Matters (QM) is a leader in quality assurance for online education and has received national recognition for its peer-based approach to the continuous improvement in online education. Stony Brook is a QM subscriber campus and CELT can provide faculty with training on how to use the QM rubric and advice on how to build an online course using QM Best Practices. Please note that Quality Matters is a proprietary rubric and cannot be shared outside of our campus. 

Want to Know More?

Chico's Quality Learning and Teaching (QLT) Instrument is another rubric used to create and/or evaluate online and blended courses. This site also offers the option to view exemplary courses in which instructors have implemented the rubric.

Assessing Students Online - Review information about strategies and challenges when assessing students online. 

Course Refresh

Reflect and Refresh

Once you've taught your online class, or even once the class starts rolling and you are seeing how the design and activities are performing, you will begin the process of refining and improving your course.

Evaluate Early and Often

The cornerstone of course improvement is student evaluations, and thus it is extremely important that you use the evaluation process to solicit the kind of feedback needed to improve your course. Just like the students in your class, getting feedback - early and often - is the key to improvement.

Additionally, include mid-semester evaluations: updating your course to see if new or additional material is needed, responding to enrollment and student demographic changes, and correcting any problems encountered along the way. You might consider keeping a journal while the course is in session, which you can use to assist yourself with revisions before you teach the course again.

At term-end, take advantage of Stony Brook's Course Evaluation tools by adding questions specific to online learners.

Assess Yourself

Contact us if you would like to participate in a review using a OSCQR or QM! 

 

Research and Resources

Research and Resources

Explore our whitepapers and past events!