Skip Navigation
Academic Assessment 
Whether you're designing assignments, grappling with formative and summative assessment techniques, or looking to design course-level assessments that actually measure the skills you are trying to teach, CELT has staff to help you navigate your choices. Great teaching is a journey, and building up your assessment game is part of the path.
What is assessment? 
At the end of the day, when we talk about student assessment, we are talking about how we evaluate student learning and performance. Assessments are important for both the students and the instructor to monitor academic progress. At CELT, we can help you redefine your assessments to make measuring student progress faster, more effective, and more fun. Our workshops and individual consultations cover topics such as designing assessment rubrics; writing effective multiple choice questions, designing course objectives that align with the skills you actually want to measure; how to scaffold and motivate active student discussions and engaged learning; and more. Request a consultation with one of our pedagogy or assessment experts and start planning your assessment success trategy today!
If you're looking for University or Program Assessment resources, visit Stony Brook University's Institutional Assessment homepage.
"Assessment is an ongoing process aimed at understanding and improving student learning. It involves making our expectations explicit and public; setting appropriate criteria and high standards for learning quality; systematically gathering, analyzing, and interpreting evidence to determine how well performance matches those expectations and standards; and using the resulting information to document, explain, and improve performance. When it is embedded effectively within larger institutional systems, assessment can help us focus our collective attention, examine our assumptions, and create a shared academic culture dedicated to assuring and improving the quality of higher education" (Thomas Angelo). 
What are the benefits of assessment? 
What do we really want to know about our students? The questions you ask will vary from program to program, whether they deal with students learning specific content, skills or attitudes or perhaps issues of student motivation and ability to monitor their own learning. Our assumption is that the key assessment questions are best known by the program faculty themselves, for they are the ones who encounter students on a daily basis, whether in their classes or outside. But finding ways to answer these questions is key to our success.
Academic assessment seeks to answer the broad question, "What and how well do our students learn what we are attempting to teach them?"  As such, it is primarily designed to evaluate individual programs as a whole, such as academic majors or interdisciplinary programs, and to determine where the programs might be strengthened in order to improve the students' abilities to learn. The primary audience for academic assessments is not administrators or accrediting agencies, but, rather, the program faculty themselves.
An assessment program is essentially a way of making implicit and informal discussions, concerns, and questions that faculty have about their classes and their students explicit in ways that are meaningful to the faculty, programs and the institution.  
Academic assessments work best when they are designed and carried out by the academic faculty themselves, supported by appropriate support units in the University. Therefore, it is essential that all faculty in our programs ask themselves such key questions as, "What should a graduate of our program know, be able to do, and/or value?" and "How do our courses provide students with opportunities to develop their knowledge, skills, and values?" The answers to such questions provide the basis for beginning the assessment process.
At what levels does assessment occur? 
There are many levels at which assessment in higher education can take place.
Assessment can have a scope as broad as assessing a group of institutions (such as in a consortium of one's peers), and as narrow as the individual student.
The resources on this website are focused on the department/program and course/group level.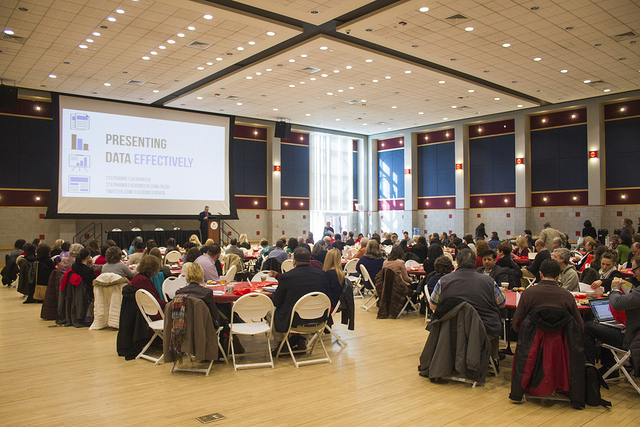 Assessment Symposium, 2016