COLOR GUIDELINES
Questions? Please contact Karen Leibowitz, Art Director, Communications & Marketing: Karen.Leibowitz@stonybrook.edu
---
These guidelines outline the information you'll need to properly express the University brand colors. We have provided a series of color formulas to ensure that each brand color is rendered appropriately and consistently across digital and printed media.
When creating and viewing files on your computer, set your application and screen to the sRGB color space.
When matching official brand colors, start by reviewing the Pantone Matching System (PMS) chip from a current Pantone color book. This is the only reliable guide for how the official color should appear.
When printing a brand color, be sure to compare a test print to the approved PMS chip as different printers will render color differently. Adjustments to your design's CMYK values may be needed to calibrate your printed output in order to achieve the intended result of matching the Pantone chip. When rendering a brand color digitally, use the HEX value as your primary formula. We've provided a RGB value for instances where that is not an option.
Remember: the PMS chip from a current Pantone color book is the only official version of each color. The following guidelines intend to provide the tools to best simulate that color in a variety of media, but your final work should always be adjusted to match the official PMS chip.
---
PRIMARY COLORS
Stony Brook Red and Stony Brook Black are the primary brand colors and should be clearly featured when color is used. These are also the colors used in the primary University logo.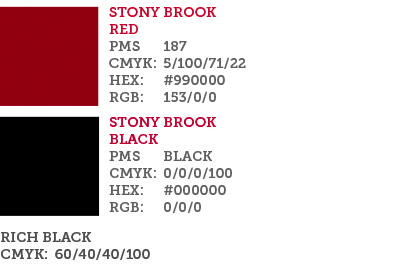 ---
SECONDARY COLORS
Secondary colors are used to add variation and dimension to your designs but must always be used in support of the primary colors. These may be combined with each other (next to, overlaying/multiplying) in order to achieve a layered and textured appearance.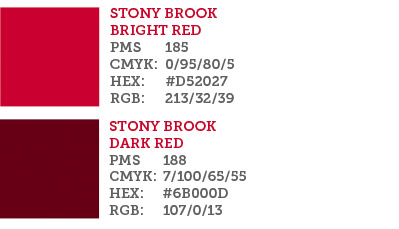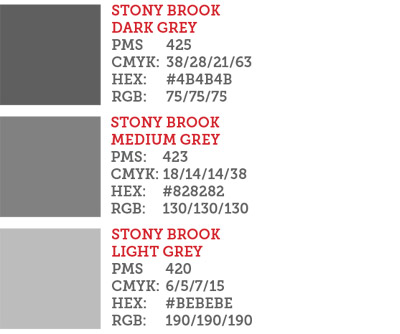 ---
ADVANCEMENT & SPECIAL EVENTS
The color guidelines for Advancement and Special Events include an additional metallic color. If this metallic color is not available for your project, substitute Stony Brook Red or Black. Alternatively, you may use a metallic tone that is between silver and gold (but not pure silver or gold.) A glossy spot varnish can be used to provide sophistication.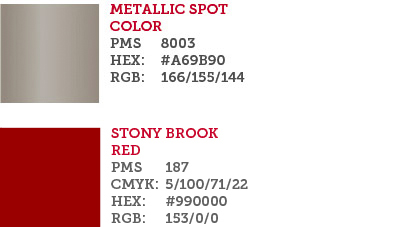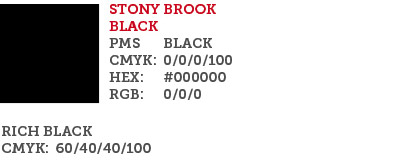 ---
COLORS AND RAYS
ALL BRAND REDS OVERLAYING/MULTIPLYING EACH OTHER WITH THE BRIGHT RED BACKGROUND
Stony Brook Red and secondary reds over Bright Red (overprint/multiplying and normal)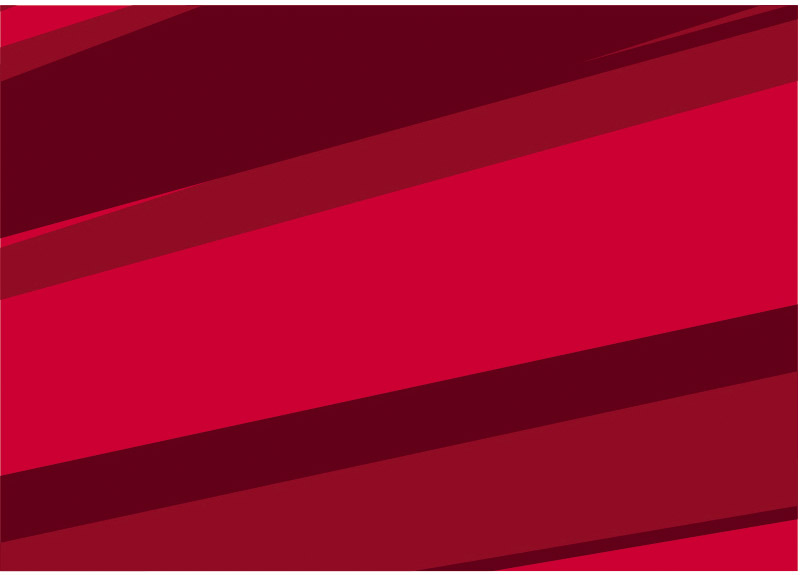 ---