Skip Navigation
President Maurie McInnis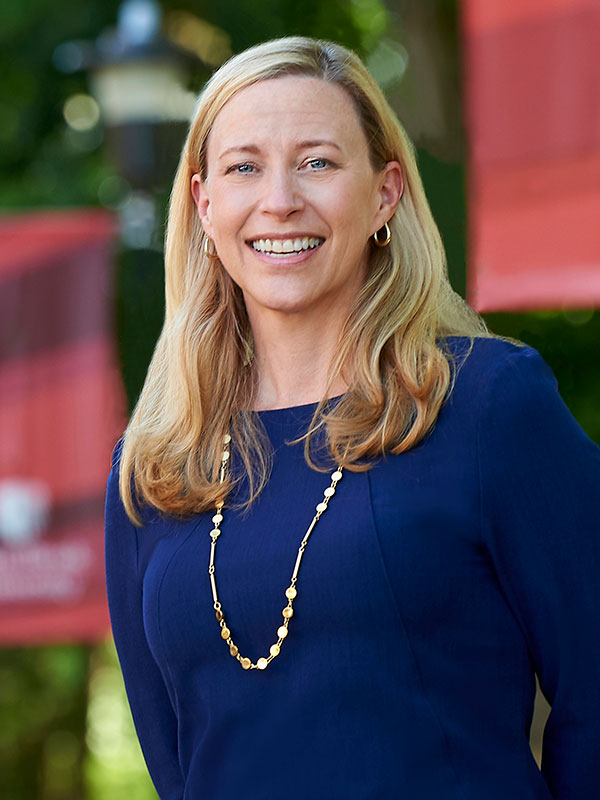 Dr. Maurie McInnis is the sixth President of Stony Brook University, one of America's leading public universities and an internationally recognized research institution. As chief executive for Stony Brook, Dr. McInnis also oversees Stony Brook Medicine, Long Island's premier academic medical center, encompassing five health sciences schools, four hospitals, and  200 community-based healthcare settings. She plays a key role in economic development on Long Island and in Stony Brook's role as a co-manager of Brookhaven National Laboratory.
McInnis most recently served as the executive vice president and provost for the University of Texas at Austin, a top public research university serving more than 50,000 students. A renowned cultural historian and author, McInnis' academic scholarship has focused on race, slavery, and power in the American South.
As the chief academic officer at UT Austin, Dr. McInnis led strategic planning for the university's academic mission, which included academic programs and initiatives across 18 colleges and schools.
Dr. McInnis made significant advancements and investments in equity, diversity and inclusion initiatives. She created the new position of Vice Provost for Diversity and spearheaded efforts to create school- and college-based diversity and inclusion committees and chief diversity officers.
Previously, she spent nearly 20 years at the University of Virginia, ultimately as the vice provost for academic affairs. Her academic scholarship has focused on the cultural history of the American south. She has published extensively on American art history, including five books on the subject.  Slaves Waiting for Sale: Abolitionist Art and the American Slave Trade  (University of Chicago, 2011) was awarded the Charles C. Eldredge Book Prize from the Smithsonian American Art Museum for outstanding scholarship in American Art. She recently published, with Louis P. Nelson,   Educated in Tyranny: Slavery at Thomas Jefferson's University   (University of Virginia Press, 2019).
She earned her bachelor's degree with highest distinction in art history from University of Virginia, and received her master's degree and PhD in art history from Yale University. Dr. McInnis is married with two children.
Authored Publications and Commentaries
Books
Educated in Tyranny: Slavery at Thomas Jefferson's University 
by Maurie D. McInnis , Kirt von von Daacke, et al.
Published August 13, 2019
In Educated in Tyranny, Maurie McInnis, Louis Nelson, and a group of contributing authors tell the largely unknown story of slavery at the University of Virginia. While UVA has long been celebrated as fulfilling Jefferson's desire to educate citizens to lead and govern, McInnis and Nelson document the burgeoning political rift over slavery as Jefferson tried to protect southern men from anti-slavery ideas in northern institutions. In uncovering this history, Educated in Tyranny changes how we see the university during its first fifty years and understand its history hereafter.

Slaves Waiting for Sale: Abolitionist Art and the American Slave Trade 
by Maurie D. McInnis
Published April 11, 2013
In 1853, Eyre Crowe, a young British artist, visited a slave auction in Richmond, Virginia. Harrowed by what he witnessed, he captured the scene in sketches that he would later develop into a series of illustrations and paintings, including the culminating painting, Slaves Waiting for Sale, Richmond, Virginia. This innovative book uses Crowe's paintings to explore the texture of the slave trade in Richmond, Charleston, and New Orleans, the evolving iconography of abolitionist art, and the role of visual culture in the transatlantic world of abolitionism. Tracing Crowe's trajectory from Richmond across the American South and back to London—where his paintings were exhibited just a few weeks after the start of the Civil War—Maurie D. McInnis illuminates not only how his abolitionist art was inspired and made, but also how it influenced the international public's grasp of slavery in America. With almost 140 illustrations, Slaves Waiting for Sale brings a fresh perspective to the American slave trade and abolitionism as we enter the sesquicentennial of the Civil War.

Shaping the Body Politic: Art and Political Formation in Early America (Thomas Jefferson Foundation Distinguished Lecture Series)
by Maurie D. McInnis (Editor), Louis P. Nelson (Editor)
Published May 20, 2011
Traditional narratives imply that art in early America was severely limited in scope. By contrast, these essays collectively argue that visual arts played a critical role in shaping an early American understanding of the body politic. American artists in the late colonial and early national periods enlisted the arts to explore and exploit their visions of the relationship of the American colonies to the mother country and, later, to give material shape to the ideals of modern republican nationhood. Taking a uniquely broad view of both politics and art, Shaping the Body Politic ranges in topic from national politics to the politics of national identity, and from presidential portraits to the architectures of the ordinary.

The Politics of Taste in Antebellum Charleston 
by Maurie Dee McInnis
Published June 27, 2005 - textbook
At the close of the American Revolution, Charleston, South Carolina, was the wealthiest city in the new nation, with the highest per-capita wealth among whites and the largest number of enslaved residents. Maurie D. McInnis explores the social, political, and material culture of the city to learn how--and at what human cost--Charleston came to be regarded as one of the most refined cities in antebellum America.

In Pursuit of Refinement: Charlestonians Abroad, 1740-1860 
by Maurie Dee McInnis (Author, Editor)
Published January 1, 1999
An illustrated art catalogue, exemplifying the Charlestonians' fascination with European culture. It focuses on the portraits, paintings, decorative arts and other artifacts that document this allure, and delves into the issues surrounding American patronage.
Contributor and Co-Editor
A Jeffersonian Ideal: Selections from the Dr. and Mrs. Henry C. Landon III Collection of Fine and Decorative Arts
January 1, 2005, by Jill Hartz
Other Publications
Slate Magazine: " Richmond Reoccupied by the Men Who Wore the Gray," July 1, 2015

Slate Magazine:  " The First Attack on Charleston's AME Church," June 19, 2015

New York Times: (Opinion Pages): " How the Slave Trade Built America," April 3, 2015

Dictionary of American History: American in the World, 1776 to the Present: encyclopedia entry: "Eyre Crowe," 2015 (supplement)

American Material Culture and the Texas Experience: The David B. Warren Symposium, Volume 2 : "Tara, Gone with the Wind, and the Southern Landscape Tradition," for Museum of Fine Arts, Houston, January 6, 2011.

World of a Slave:  encyclopedia entry, "Slave Markets/Jails/Pens," 2010

Grove Dictionary of American Art: "Thomas Coram," and "Henry Benbridge" encyclopedia entries, 2011.

What Should I Read Next? 70 University Professors Recommend Readings in History, Politics, Literature, Math, Science, Technology, the Arts, and More : "American Art and Material Culture," 2008.

The Magazine Antiques 171.1: "Transatlantic Currents: Paintings at MESDA," (Jan. 2007), pages 176-83.
The Colonial Williamsburg Collection: "Review of Southern Furniture 1680-1830" (1999), pages 65-70.

The Vernacular Architecture of Charleston and the Lowcountry, 1670-1990: Selected entries, 1994
Articles in Peer Reviewed Journals, Edited Volumes, and Exhibition Catalogs
"The Liberty and Tyranny of Jefferson's Academical Village," in The Founding of Mr. Jefferson's University, edited by John A. Ragosta, Peter S. Onuf, and Andrew  J. O'Shaughnessy, Charlottesville:    University of Virginia Press, 2019

'To Strike Terror': Equestrian Monuments and Southern Power," The Civil War in Art and Memory, edited by Kirk Savage (Center for the Advanced Study of the Visual Arts; Yale University Press), 2016

" Mapping the Slave Trade in Richmond and New Orleans," Buildings and Landscape 20.2, Fall 2013, pages 102-125

"George Washington: Cincinnatus or Marcus Aurelius?" in Thomas Jefferson, The Classical World, and Early America, edited by Peter S. Onuf, Charlottesville: University of Virginia Press, 2011

"Raphaelle Peale's Still Life with Oranges: Status, Ritual, and the Illusion of Mastery," in Material World in Anglo-America: Regional Identity and Urbanity in the Tidewater, Lowcountry, and Caribbean , edited by Davis S. Shields, Columbia: University of South Carolina Press, 2009

"The Most Famous Plantation of All: The Politics of Painting Mount Vernon," in Landscape of Slavery: The Plantation in American Art, edited by Angela D. Mack and Stephen G. Hoffius. Columbia: University of South Carolina Press, 2008. Mary Ellen LoPresti Book Award, Art Libraries Society of North America, Southeast Chapter

" Little of Artistic Merit? The Problem and Promise of Southern Art History," American Art 19.2, Summer 2005, pages 11-18

"Conflating Past and Present in the Reconstruction of Charleston's St. Philip's Church," in Landscape of Slavery: The Plantation in American Art, Alison K. Hoagland and Kenneth A. Breisch, eds. Knoxville: University of Tennessee Press, 2003

" Cultural Politics, Colonial Crisis, and Ancient Metaphor in John Singleton Copley's Mr. and Mrs. Ralph Izard ," Winterthur Portfolio 34., 1999, pages 85-108

" 'An Idea of Grandeur': Furnishing the Classical Interior in Charleston, 1815-1840," Historical Archeology 33.3, 1999, pages 32-47

"Beautiful Specimens, Elegant Patterns: New York Furniture for the Charleston Market, 1815-1840." Co-authored with Robert Leath. American Furniture 4, 1996, page 137-174

"Allegorizing on Their Own Hooks: The Book Illustrations of Dante Gabriel Rossetti and Arthur Hughes," in Pocket Cathedrals: Pre-Raphaelite Book Illustration. Susan Casteras, ed. New Haven: Yale Center for British Art, 1991