Skip Navigation
Congratulations Seawolves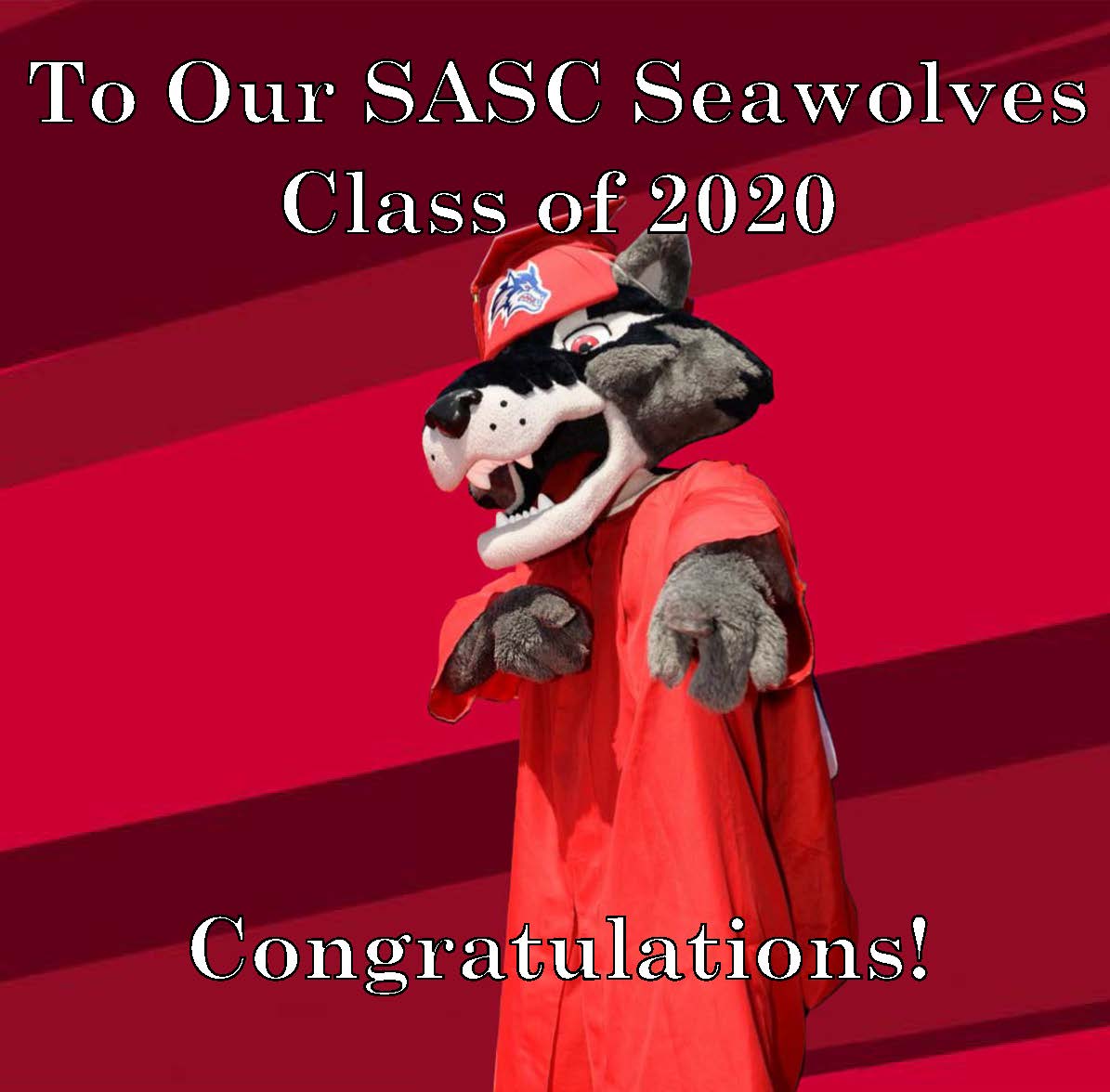 SASC would like to congratulate all the Seawolves in the Stony Brook University Class of 2020.
You have all worked hard to get here. Remember that SBU and SASC are here to support you in all your future endeavors.
 Are You a New Seawolf?
Sign up for Academic Community Engagement (ACE) Mentoring! This program will pair you with an upperclassman who will serve as your own personal mentor to guide you through the first year at SBU. 

Access a text version of the ACE Mentee Flier here
For more information and to sign up, please call us at 631-632-6748 or email us at SASC_ACE_Mentoring@stonybrook.edu.
---
Are You A SASC Artist?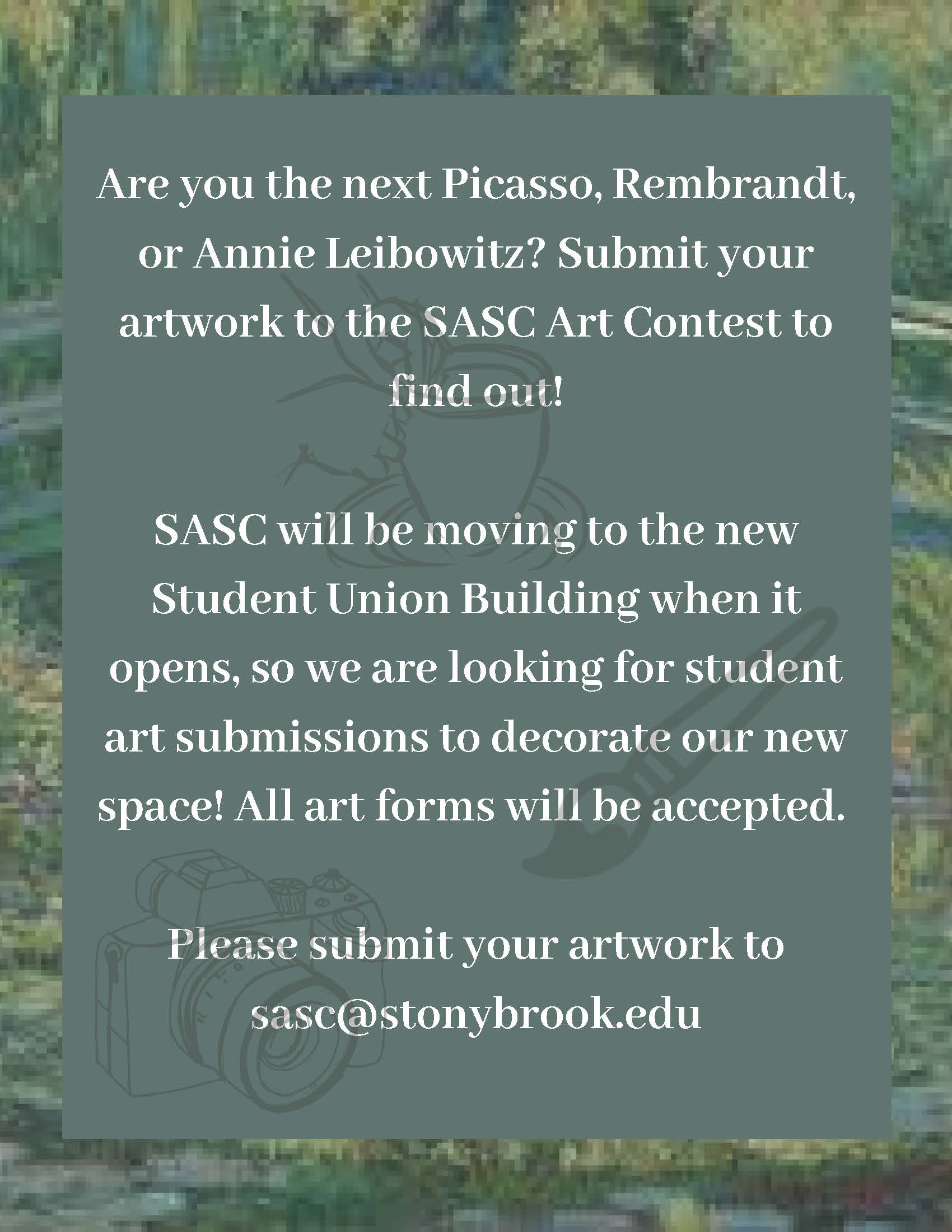 Are you the next Picasso, Rembrandt, or Annie Leibowitz? Submit your artowrk to the SASC       Art       Contest    to find out!
SASC will be moving to the new Student Union Building when it opens, so we are looking for student       art    submissions to decorate our new space! All       art    forms will be accepted. 
Please submit your artwork to       SASC@stonybrook.edu
SASC in the Summer
If you are a new or visiting student for the Summer 2020 who needs accommodation SASC can help you put them in place. Find out more about registering for services  here.
You can contact us at SASC@stonybrook.edu or 631-632-6748. 
Welcome to Stony Brook!
---
Hours and Availability
In order to help maintain the health and safety of the Stony Brook community, the    SASC is still operating Monday – Friday, 9  a.m. - 4 p.m.    All appointments and services will be conducted via phone or virtually until further notice. 
Please call 631-632-6748 or email    SASC@stonybrook.edu    for assistance. For emergencies, please call Campus Police at 631-632-3333.
---
Covid-19 Update
For information about the 2019 Novel Coronavirus, please   CLICK HERE.
---
Information for Students
Students with questions about accommodations and accessibility for the Spring 2020 semester can visit the SASC Student FAQ   here   .
---
Information for Faculty
SASC Exam Services will not be proctoring exams while distant learning is in place at Stony Brook University.
Faculty with questions about providing accommodations during the Spring 2020 semester or remote learning can visit the SASC Faculty FAQ at  here.
Placement Exams
For general information on placement exams, please visit  Student Orientation and Family Programs. 
If you need accommodaitons for Placement Exams, you can register with SASC with the information  here.
---
Congratulations Abbie and Emma
SASC would like to congratulate our student leaders, Abbie Maher (Graduate Student Coordinator) and Emma Morse (Undergraduate Student Coordinator) for being recognized at the SBU Student Employee Award 2020. Abbie is the Second Runner Up for Graduate Student Employee of the Year and Emma is Undergraduate Student Employee of the Year. Thank you both for all of your hard work, dedication, and enthusiasm.
CONTACT US
Student Accessibility Support Center is  located in the   ECC building ,
directly behind the Psych A buildingand diagonally across the back parking lot of the SAC.
There are automatic door buttons outside the front door and inside the Vestibule.
Office Hours: 8:30 a.m. to 5:00 p.m. 
Phone:  (631) 632-6748
Fax:  (631) 632-6747
Email:   sasc@stonybrook.edu