Skip Navigation
COVID-19 Pool Testing
Updated Feb. 9, 2021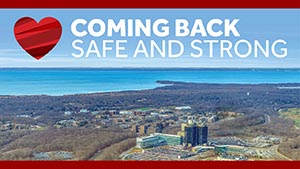 Convenient, free COVID-19 saliva tests will take place on the Southampton campus in the Student Center events room on Tuesdays and Thursdays from 8:30 am to 2:00 pm.  for the remainder of the spring semester.

Testing at Southampton is open to employees and faculty, as well as resident and commuter students.

For the most up-to-date information about COVID-19, visit Stony Brook's Coming Back Safe and Strong website.
Registering for Your COVID-19 Saliva Test
For your required saliva test, please register at least two hours before you go for your test.
To register, click  HERE.
If this is your first time using the registration site, choose "Register." Enter your SBU email (

example@stonybrook.edu

) and create a new password that meets the minimum criteria. DO NOT use your SBU password.
To complete the online registration form:
ONLY enter your name, email address, phone number, SBU ID# and date of birth on the registration form even though it asks for or "requires" additional information.
Do not enter health insurance information. It is not needed.
Do not enter SSN.
If the form prevents you from proceeding without completing a field enter 0 (zeros) for digits and NA for words.
Please note that your test kit will be given to you at the testing site.
Please remember to complete your daily self-screening via the #CampusClear  app. You will be required to show a "cleared" screen when you take your test.
Test Scheduler Tool
We have opened reservations for pooled testing, no longer requiring you to first receive an email invitation designating a specific testing day and time.
The Saliva Pooled Test  COVID-19 Scheduler Tool  enables employees to:
View and reserve a convenient appointment time and select the most convenient of three locations.
Identify appointment times when the testing schedule may be less busy.
Receive a reminder email indicating appointment time and location.
Simply choose a new date/time if there's a need to reschedule.
How to Access the COVID-19 Scheduler Tool
Effective immediately, all West Campus, HSC, Renaissance SOM (non-clinicians) and Stony Brook Southampton Campus State and RF employees are able to use their NetID/NetID Password to access the  COVID-19 Scheduler Tool  and reserve a testing location, date and time.
Employees should schedule tests frequently, with every other week being our current best practice.
If you have any questions about your COVID-19 saliva test or the testing process, please refer to these  FAQs  for more information or contact the Health Information Line (HIL) at (631) 632-5000, Option #1. Be sure to also visit this page for current updates.
You may also view the FAQ page on Health Screening and Testing on the ' Coming Back Safe and Strong' website.