Skip Navigation
Stacy Jaffee Gropack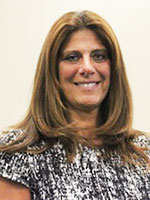 Dean, School of Health Technology and Management
Stacy Jaffee Gropack was the Dean of the School of Health Professions at LIU Brooklyn. Prior to her appointment to Dean at LIU Brooklyn, she served as Dean of the School of Health Professions and Nursing at LIU Post and Associate Dean of the School of Health Professions at LIU Brooklyn. She was a tenured Professor in the Department of Physical Therapy at LIU Brooklyn and had been a member of the LIU community for over 30 years.
She holds a Ph.D. from New York University in Higher Education and Administration. Her Bachelor of Science and Masters of Science degrees were awarded by Long Island University in Physical Therapy. Her primary clinical experience is in pediatric physical therapy where she has provided physical therapy services and consultation to children with developmental delay. She is a Fellow in The Association of Schools of Allied Health Professions (ASAHP), and was named as the ASAHP representative to the Interprofessional Education Collaborative (IPEC); a national organization created to advance substantive interprofessional learning experiences to help prepare future health professionals for enhanced team-based care of patients and improved population health outcomes.
Her current research interests include innovative pedagogical approaches, interprofessional education and practice, use of technology for student engagement, and intervention for children with autism. She has been invited to speak on these topics nationally. She has taught courses related to the psycho-social issues and education in physical therapy, as well as introductory courses in the health sciences.  As an administrator in higher education she has maintained oversight of over 20 different health professional programs, including one doctoral program. She had led the charge for LIU in interprofessional education, participated in accreditation on the program and University levels, and has created faculty development programs.
Her passion is to create and maintain a diverse student-centered environment for learning that encompass all aspects of the University and School's mission and values, and assures quality education for all students. Dr. Gropack resides in Merrick, NY, with her daughter, Sydney.
CONTACT:
Jessica Rotolo
Executive Assistant
Phone: 631.444.6870
HSC, Level 2, Room 400
Stony Brook, NY 11794