Skip Navigation
Judith B. Greiman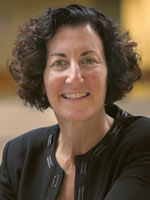 Senior Vice President for Government and Community Relations/
Chief Deputy to the President
Judith B. Greiman is Chief Deputy to the President of Stony Brook University and the Senior Vice President for Government and Community Relations. As Chief Deputy, Greiman acts on behalf of the University President, manages high level relationships with internal and external constituencies and provides day-to-day assistance and guidance, serves as a chair of key committees, responds to faculty and student matters, chairs the Vice President Council, staffs the Stony Brook Council and interfaces with various campus constituencies. In addition, she oversees the government and community relations efforts of the institution and supervises several units and initiatives including the Office of Institutional Diversity and Equity, Conferences and Special Events, the Ombuds Office, Title IX matters, the campus diversity plan implementation, and the campus wellness initiative.

Greiman was president of the Connecticut Conference of Independent Colleges (CCIC) from 1998 through 2015 and was responsible for research, public policy development, government and public relations, and purchasing coordination work on behalf of the 16 member colleges and universities. Prior to her appointment at CCIC, Greiman served as Chief Administrative Officer for the Connecticut State University System Office. Earlier, she worked at the Connecticut State Office of Policy and Management where she served in a variety of positions that ranged from Counsel to Deputy Secretary. She has also served as Counsel for the Connecticut House of Representatives, Majority Office and as hearing officer for the Illinois Local Labor Relations Board.

Greiman received her BA in Social Work from the University of Wisconsin-Madison and her Juris Doctor from DePaul University-College of Law.
CONTACT:
Rachel Cavanagh
Executive Assistant
631.632.6538
310 Administration Bldg.
Stony Brook, NY 11794-0701