Skip Navigation
Welcome from President Maurie McInnis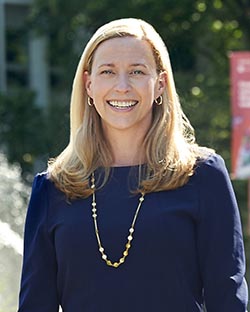 I am filled with tremendous pride as I join the Stony Brook University community as your sixth President. I've long admired Stony Brook's values, which mirror my own. Your deep commitment to research that's helping to make the world a better place; to diversity, equity, and inclusion, values that are central to our future; and to affording every student the opportunity and tools they need to move forward and excel. 
This is a time in history, and in higher education, that looks like no other. And while acknowledging all of the challenges at hand, I am excited to work through them together. I'm looking forward to collaborating with faculty, staff, students, and alumni, to hear about our challenges, explore our opportunities, and envision our future.
 I'm also eager to draw upon the unparalleled expertise we have in so many areas of academia and medicine which make us uniquely qualified to tackle some of society's biggest issues, including fighting COVID-19. With these capabilities, and the incredible passion I have witnessed all across campus, 
I know we will come back safe and strong from the pandemic. And we will continue to battle any forms of racism or inequality as we raise awareness and build upon our dedication to equity. I firmly believe that, through our resilience, adaptability, and fortitude, we will come out even stronger. And I can't wait to learn alongside all of you as we pursue a greater future together, Stony Brook Strong.

Maurie McInnis, Ph.D