Skip Navigation
Workshops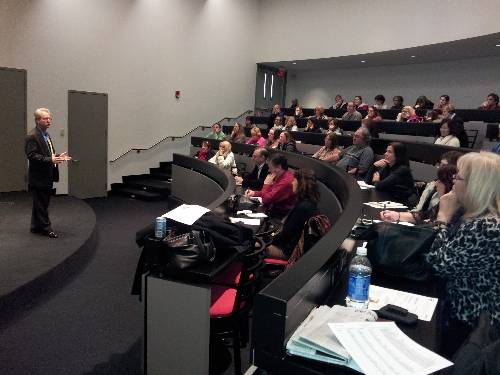 COMMUNICATING ACROSS GENERATIONS

In today's workplace, it is likely one will have co-workers of varying ages, from Baby Boomers to Millennials to more recently Generation Z.  This presentation will highlight the historical context, values, and preferred methods of communication, while providing you with the knowledge, tools, and techniques to successfully communicate with people of all generations.

October 22, Tuesday, 12-1 pm, Frey Hall, Rm. 226 (West Campus)

November 6, Wednesday, 12-1 pm, Health Sciences Center (HSC/East Campus), Level 2, Rm. 232

MANAGING UP – How to improve your relationship with your boss

Would you like to manage your relationship with your boss?  In most cases you can.  Reduce unnecessary conflict or miscommunication.  Listen, watch and learn about your boss's work style, expectations, priorities, pressures, plus strengths and weaknesses.  We will discuss strategies to adjust your style when appropriate and to use your strengths to complement your boss and together work as a team. 

October 18, Friday, 12-1 pm, Frey Hall, Rm. 317 (West Campus)

October 30, Wednesday, 12-1 pm, Health Sciences Center (HSC/East Campus), Level 3, Rm. 152

MODES OF COMMUNICATION & WHEN TO USE THEM

Chances are that when you have something to say you may not always think about when and how to most effectively communicate.  This workshop will identify the various modes of communication, describe the types of communication and when it is most appropriate to use them.  Additionally, you'll learn about the key elements of empathic communication and be able to practice them.  

October 25, Friday, 12-1 pm, Frey Hall, Rm. 205 (West Campus)

November 5, Tuesday, 12-1 pm, Health Sciences Center (HSC/East Campus) Level 3, Rm. 155
A FEW REMINDERS WHEN WORKSHOPS ARE POSTED:
Click on the date of the workshop that you wish to attend. 
Reminders are sent out closer to the workshop date. 
If you cannot access the registration form, try another browser or contact the Ombuds Office.

LIST OF WORKSHOPS:
Upon request workshops will be customized for your department, class or work group.
Change & Transition
Change & Transition - Navigating New Waters
Communication
Communicating Across Generations
Communication Tool Kit - I Hear You
Enhancing Communication
Modes of Communication & When to Use Them
What's Your Communication Style?
Having Respectful & Effective Conversations
Managing Difficult Conversations - A Training for Supervisors
Conflict
High Conflict Behavior - What Is It & What Can You Do About It
Negotiating Conflict (Conflict Management Style)
Understanding Conflict
Tools for Resolving Conflict
Test Your Knowledge About Conflict - Take the Conflict Awareness Quiz
Creating a Positive Environment
Management
Resilience
Team Building
Working Effectively Together
Ombuds Office Orientations about the office's role & services for:
Faculty & Staff 
Supervisors/Management
Students