Skip Navigation
Areas of Focus
Individual Onsite Wastewater Treatment Systems
There are approximately 30 million individual onsite systems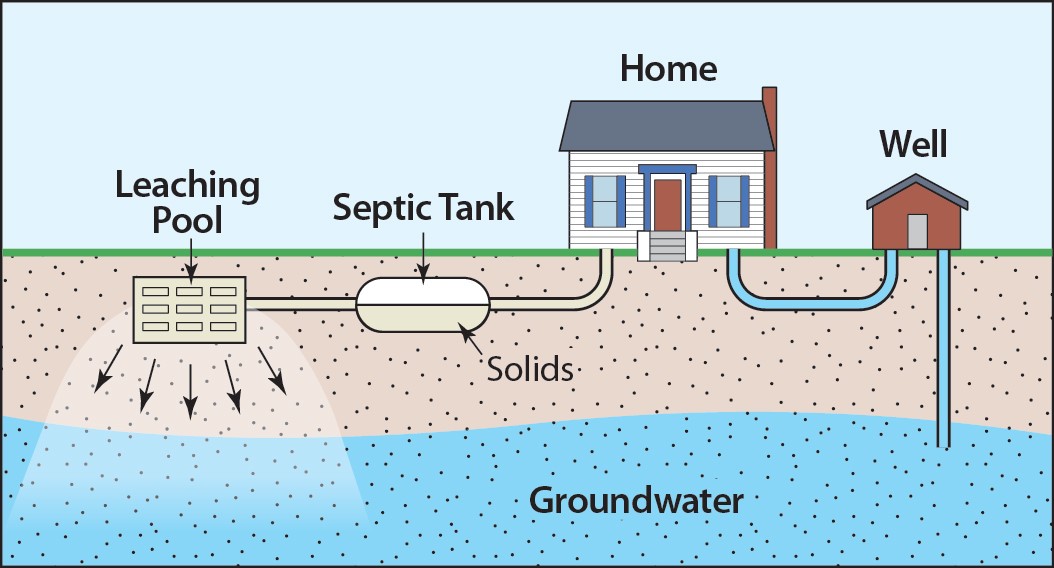 nation-wide servicing roughly one-quarter of the country's households (US Census Bureau).  These systems typically range from antiquated cesspools, to septic systems -- a combination of a septic tank and leaching pits or drainfields. 
While effective at protecting people and animals from the pathogens present in wastewater, these options are not designed to remove nutrients, pharmaceuticals, or other personal care products that pass through them.    
On Long Island, as in many other developed areas that rely on individual onsite wastewater management, the nitrogen/nutrient-laden effluent that emanates from these systems has been linked directly to the degradation of ground and surface water quality, and to the proliferation of harmful algal blooms (HABs) like the red, brown and rust tides that have caused devastation of once bountiful marine populations and habitats.
In a region where natural assets like the beaches and bays are widely recognized as the engine of the local economy, the threat to water quality is an issue of widespread public concern that has been identified by the public and their representatives as a serious threat that must be addressed.
While a large-scale upgrade of existing wastewater management infrastructure is needed to restore regional water quality, existing technology suffers from critical-shortcomings that inhibit large-scale adoption. One of our goals toward developing a relatively inexpensive, passive, non-proprietary Innovative and Alternative Onsite Wastewater Treatment System (I/A OWTS) centers around partnering with private and public businesses who share our vision of protecting our ground and surface waters. We look to material suppliers, engineering and architectural firms, equipment vendors, system installers, I/A OWTS manufacturers, and operation and maintenance service providers to explore synergistic relationships with the NYS Center for Clean Water Technology at Stony Brook University (CCWT).
We have always recognized that general use of our Nitrogen Removing Biofilters (NRB) will rely on our ability to share our research findings with the onsite wastewater treatment system market sector. This collaborative effort is anticipated to foster innovation and new ideas that progresses the systematic and global replacement of older septic systems and cesspools. To this end, we also seek to commercialize NRB and the NRB installation process and to create a competitive business environment that, we believe, will drive the overall cost of the NRB process even lower and more affordable for residential and commercial applications.
Emerging Contaminants in Drinking Water 
In addition to septic system leakage degrading our groundwater quality, historic human activities and industrial practices have contaminated Long Island's aquifers with toxic chemicals. The Center has begun researching the development and evaluation of methods to remove such toxic chemicals from drinking water supplies, with an initial focus on 1,4-dioxane.
According to the US EPA, 1,4-Dioxane is a probable human carcinogen and a widespread contaminant in Long Island water supplies, with some of the nation's highest concentrations detected here (up to 34 μg L-1). Toward this end, the center has initiated a pilot program to test the effectiveness and feasibility of advanced/alternative water treatment technologies (e.g. Advanced Oxidation Processes (AOP) such as UV/H2O2 treatment) to remove 1,4-dioxane from public drinking water supplies. In addition to the pilot program, research is being conducted to (i) understand the fate and transformation of 1,4-dioxane, and formation of other toxic reaction byproducts during AOP treatment, and (ii) test combination of other treatment techniques with AOP (e.g. Granular Activated Carbon (GAC), Biological Activated Carbon (BAC) etc.) to enhance the removal of 1,4-dioxane and their byproducts.
1,4-Dioxane is just one example of the hundreds of toxic chemicals that may be present in NYS's water supplies. The environmental fate and risks associated with many of these toxic chemicals are unknown leading to incomplete chemical risk assessments and unknown effectiveness of existing drinking water treatment systems. In response to this need, the Center is initiating research to target the removal of contaminants of emerging concern from our drinking water supplies. The next-phase of Center's work will focus on addressing the emerging contamination of NYS drinking water sources by poly- and perfluoroalkyl substances (PFAS) contamination.  CCWT will specifically address this issue by (i) establishing a testing facility to monitor a wide suite of PFAS, and (ii) evaluating the effectiveness of existing and alternative treatment technologies.
The Center actively collaborates with water utilities, NYS officials, engineering firms, and other academic institutions to build a research program to address concerns regarding such emerging contaminants and to accelerate the pace of innovation in water technology. Although designed to solve regional problems, the solutions the Center develops are applicable to a broader market, spurring the creation of a new industry in water technology that can serve communities around the state, nation and beyond facing water quality challenges.
Long Island: A Major Market = Major Opportunity
Long Island is an ideal location for cultivating the development of water protection technologies -- in particular enhanced individual onsite treatment -- because its needs are so great.
In Suffolk County, an area 2,373 square miles in size, there are approximately 350,000 individual onsite systems, of which 260,000 have already been identified by Suffolk County to be in need of upgrading.  In neighboring Nassau County, an area 453 square miles in size, there are up to 150,00 systems.
Importantly, public and political support for water protection and restoration efforts on Long Island is very strong.  In 2014, the Suffolk County Executive, Steve Bellone, announced the "Reclaim Our Waters" Initiate, a comprehensive, multi-phased, infrastructure plan to reverse decades of nitrogen pollution in Long Island waterways.  Further, Bellone declared nitrogen "public water enemy number one" for Suffolk County in his  2014 State of the County address.
In both Suffolk and Nassau Counties, the regulatory authority for wastewater regulations rests with the respective county health departments, rather than the towns or villages, creating the largest market opportunity in the country.