Skip Navigation
Welcome to Undergraduate Biology
Stony Brook University is one of the nation's top public research universities, and our biological sciences departments are among the best in the country. There are exciting opportunities for Biology Majors at Stony Brook. The mission of the Undergraduate Biology Program is to work with faculty from the life sciences departments to provide a rigorous, engaging curriculum that develops an interdisciplinary understanding of the living world and links learning to the excitement of discovery.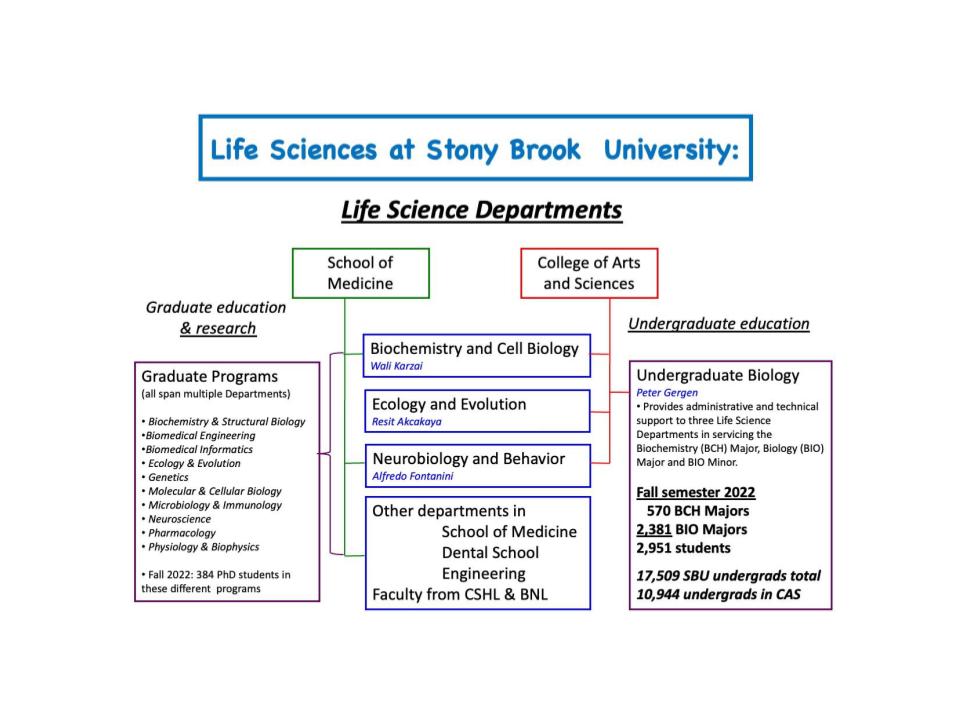 Program in Undergraduate Biology: The faculty in the Undergraduate Biology Program develop and deliver the Introductory Biology Laboratory courses taken by approximately 2,000 students per year. The Biology Advisors offer advising to Biology and Biochemistry majors through individual appointments, presentations to different student groups, maintenance of the Biology Program website and regular communications. In addition to the Introductory Biology Laboratory courses, the Instructional Support Staff in Biology provide technical support for more than 15 different upper division BIO laboratory courses offering approximately 1,000 seats per year. The Administrative Staff oversee scheduling and registration for all BIO courses and support faculty in the Biology Program and the three different Life Sciences Departments in delivering a curriculum that serves approximately 14,000 student registrants per year. This interdepartmental effort is guided by an Executive Committee comprising two faculty members from each of the Life Science Departments that serve in an advisory role and have responsibility for curriculum review.
Facilities: Stony Brook Biology is housed in a state-of-the-art facility, the Biology Learning Laboratories (BLL). This undergraduate facility is linked structurally and thematically to the research laboratories in the Centers for Molecular Medicine and the Life Sciences buildings. The BLL houses instructional laboratories, fully equipped support facilities, and advising and administrative offices. The 15 instructional laboratories in the BLL offer research-grade equipment and close proximity to scientists working to solve important and exciting questions in Life Sciences. 
Research Opportunities: Stony Brook undergraduates benefit from being able to work one-on-one with leading scholars and research scientists. Many of the Life Sciences students engage in research in the Centers for Molecular Medicine, the Life Sciences departments, the School of Medicine, and even at sites off campus.