Skip Navigation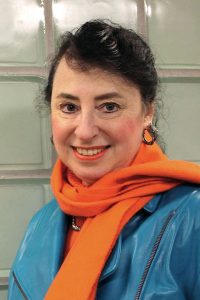 Toby Buonagurio
Professor
Areas of Specialization: Ceramic Sculpture, Drawing and Conceptual Drawing
M.A. City College of New York
Email: Toby.Buonagurio@stonybrook.edu
Office: Staller Center for the Arts #4210
Web:http://scgp.stonybrook.edu/archives/1334 
Toby Buonagurio is a lifetime resident of New York City. She is best known for her colorful, offbeat, tongue-in-cheek, ceramic sculpture, inspired by extensive international travel, and an unapologetic affection for Popular Culture, American and otherwise. She has exhibited her ceramic sculpture in 27 solo shows in museums and art galleries throughout the United States and Japan. Her work has been featured in almost 300 international shows, and has been written about extensively in national periodicals, professional publications, books, monographs, exhibition catalogues and featured in television documentaries on the arts, internationally. Her work is represented in numerous private and public collections in the US and abroad.
In 1997 she was an invited guest artist at the Shigaraki Ceramic Cultural Park, in Japan, where she created artwork and later traveled throughout the country for two months.
"Times Square Times: 35 Times", her most public artwork, consists of thirty –five, unique, glazed ceramic relief sculptures commissioned by MTA Arts and Design. In 2005, the work was permanently installed, in custom illuminated boxes, throughout the glass block walls at Times Square -42 Street Subway Station …the cross roads of the world. "Times Square Times: 35 Times" is viewed by nearly half a million subway riders daily, and is on display to the public 24 x 7. http://www.tobytimessquare.com
"Earth, Air, Fire, Water", was commissioned in 2010 for the new, high-tech Simons Center for Geometry and Physics, located on the Stony Brook University campus. Known as the "Butterfly Wall", it is comprised of eleven enormous, glazed, ceramic butterflies that span the two story central lobby wall. Imagery of the iconic elements of physics : earth, air, fire and water are integrated into the configuration of each butterfly.
http://scgp.stonybrook.edu/archives/1334
Her latest, most extreme approach to ceramic sculpture, the result of more than a year's labor intensive research, utilizes high octane, brilliantly colored, reflective surfaces that appear to physically activate her work.
Since 1976, Toby Buonagurio has been Head of Ceramics in the Art Department at Stony Brook University.
More information:
Times Square-42nd Street
http://web.mta.info/mta/aft/permanentart/permart.html?agency=NYCT&line=A&station=5&artist=3
Times Square-42nd Street
https://youtu.be/HV60vj_3SBM