Skip Navigation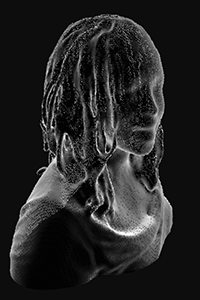 Stephanie Dinkins
Associate Professor
2019 Creative Capital Grantee, 2018/19 Soros Equality Fellow
Areas of Specialization:  Artificial Intelligence and Socially Engaged Practice in the context of Race, Gender and Future Histories; Digital Media: particularly lens-based and interactive practices; Video; Photography; Installation Art

Digital Arts Minor Program Director
M.F.A. Maryland Institute College of Art
Email:  Stephanie.Dinkins@stonybrook.edu
Office:  Staller Center for the Arts #4287
Associate Professor, Stephanie Dinkins is a transmedia artist who creates platforms for dialog about artificial intelligence (AI) as it intersects race, gender, aging, and our future histories. She is particularly driven to work with communities of color to co-create more inclusive, fair and ethical artificially intelligent ecosystems. Investigations of the contradictory histories,  knowledge(s) and stories that form/in-form society underpin her thought and art production. Dinkins employs lens-based practices, emerging technologies and community engagement to confront questions of bias in AI, consciousness, data sovereignty and social equity. Dedication to the dissemination of these ideas has expanded her art practice to include public speaking and writing.  Through her work, Dinkins is a connector of art, tech, social justice, and academic communities. 
Dinkins earned an MFA from the Maryland Institute College of Art and is an alumna of the Whitney Independent Studies Program. She exhibits and publicly advocates for equitable AI internationally.  Dinkins is a 2019 Creative Capital Grantee, 2018/19 Soros Equality Fellow. Past fellowships and residencies include Sundance New Frontiers Story Lab, Data & Society, Pioneer Works Tech Lab, NEW INC, Blue Mountain Center, The Laundromat Project, and Art/Omi. 
The New York Times featured Dinkins in its pages as an AI influencer. Apple Inc recognized Dinkins' research and community-centered efforts by featuring her in their "Behind the Mac" ad campaign. Wired, Art In America, Artsy, Art21, Hyperallergic, the BBC, Wilson Quarterly and many popular podcasts have featured Dinkins' art and ideas.