Skip Navigation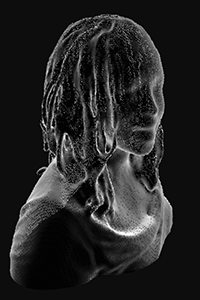 Stephanie Dinkins
Professor
2019 Creative Capital Grantee, 2018/19 Soros Equality Fellow
Areas of Specialization: Emerging Technologies as they intersect ideas of race, aging gender & our future histories.

Digital Arts Minor Program Director
M.F.A. Maryland Institute College of Art
Email: Stephanie.Dinkins@stonybrook.edu
Office: Staller Center for the Arts #4287
Stephanie Dinkins is a transmedia artist who creates platforms for dialog about race, gender, aging, and our future histories. Their art practice employs emerging technologies, documentary practices, and social collaboration toward equity and community sovereignty.

Dinkins is a professor of art at Stony Brook University where she founded the Future Histories Studio and holds the Kusama Endowed Professor in Art.

Dinkins' art practice has been generously supported by United States Artist, Knight Foundation, Berggruen Institute, Onassis Foundation, Stanford Institute for Human-Centered Artificial Intelligence, Creative Capital, Soros Foundation, Sundance New Frontiers Story Lab, Eyebeam, Pioneerworks, NEW INC, Nokia Bell Labs, Blue Mountain Center; The Laundromat Project; Santa Fe Art Institute and Art/Omi.