Skip Navigation
SBU Clubs & Internships
Below you will find some clubs and internship opportunities at Stony Brook University that may be of interest to you. For a complete listing of clubs at Stony Brook please visit Student Activities.
Clubs
AED Honor Society: Aed.sbu@gmail.com
Alternative Spring Break Outreach: Asbosbu@gmail.com
American Red Cross at SB: sburedcross@gmail.com
Biomedical Engineering Society: stonybrookbmes@gmail.com
C-CERT: Campus Community Emergency Response Team: sbccert@gmail.com
SBU Circle K International: SBUCIRCLEK.PRES@GMAIL.COM
Community Service club: cscsbu@gmail.com
Global Brigades
Habitat for Humanity
SBVAC: Stony Brook Volunteer Ambulance Corps: office@sbvac.org
MAPS: Minority Association of Pre-Medical Students: Maps.premed4sbu@gmail.com
Minorities in Medicine: mimsbu@gmail.com
Pre-Dental Society: SBPreDental@gmail.com
Pre-Med Society: sbpremed@gmail.com
Pre-Physcian Assistant Club: prepasbu@yahoo.com
Pre-Physical Therapy: preptclubsbu@gmail.com
Sigma Beta Honor Society: sigmabetasbu@gmail.com
Undergraduate Biochemistry Society: ugradbiochemistry@gmail.com
Undergraduate Pharmacology Society: undergradpharm@gmail.com  
Internships
Opportunities for Students
Student Health Advisory Committee (SHAC) 
Stony Brook University's award-winning SHAC has played an integ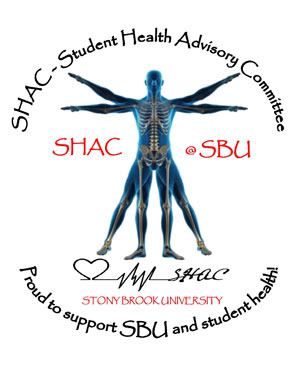 ral role in supporting and enhancing the services offered at Counseling and Psychological Services (CAPS) and Student Health Services (SHS). Members of SHAC are actively involved in reviewing the Student Health Fee budget and recommending programs, services and initiatives to meet the needs of the student body. This club is open to all Stony Brook Students. For more information, or to join SHAC, check out the SHAC website, read the SHAC brochure or complete the membership form. 
Active Minds
Active Minds is a national organization that seeks to change the perception of mental illness on college campuses. Student members work to destigmatize mental illness and connect students who are struggling with appropriate treatment. Stony Brook's chapter of Active Minds was established in 2009, and has been nationally recognized. To learn more, or to connect with e-board, visit their club page. 
Peer Education Internships
Undergraduate students have the opportunity to participate credit-bearing, upper division (488) internships.  Interns participate in experiential learning and engage with the campus through the support of health professionals at CAPS and Student Health Services. Students can enroll for one or two semesters (up to 6 credits), as approved by their academic department.
CHILL (488 Internship credit, EXP+ or EXT, as approved by academic department) 
The Chill Peer Education Internship is an experiential learning opportunity supporting student mental health. Chill Interns receive training, assessment and mentorship opportunities designed to engage peers in the conversation about mental health. To apply, complete the Chill/Choice Application.
Women's and Gender Studies Internship (WST 488,  EXP+ or EXT)
This internship focuses on gender issues that impact student mental and physical health. Learn more about the WST Internship here. 
CHOICE: Choosing Healthy Options In the College Environment (488 Internship credit,  EXP+ or EXT, supported by Academic Department) 

Interns support healthy choices in the college environment through outreach efforts and engagement. They seek to heighten awareness on issues frequently impacting their peers. To apply, complete the Chill/Choice Application.
QPR Gatekeeper Training
Are you interested in learning how to recognize and respond to suicidal crisis? QPR stands for Question, Persuade and Refer-- the 3 simple steps anyone can learn to help prevent a suicide. People trained in QPR learn about the causes of suicidal behavior, how to recognize the warning signs of a suicide crisis, and how to question, persuade and refer someone to help. QPR also instructs participants on how to get help for themselves. Register for a training here.
AIDS Peer Education
AIDS Peer Education (Campus Residences): AIDS Peer Education addresses issues of HIV transmission and risk reduction, including identifying opportunities to discuss risk and promote risk reduction, and supporting the process of behavior change.  The core of the preparation is a two-course, two semester sequence for which students earn a total of six credits. As a result of being an AIDS Peer Educator, students will learn skills that will help them speak with their peers about risk reduction.