Skip Navigation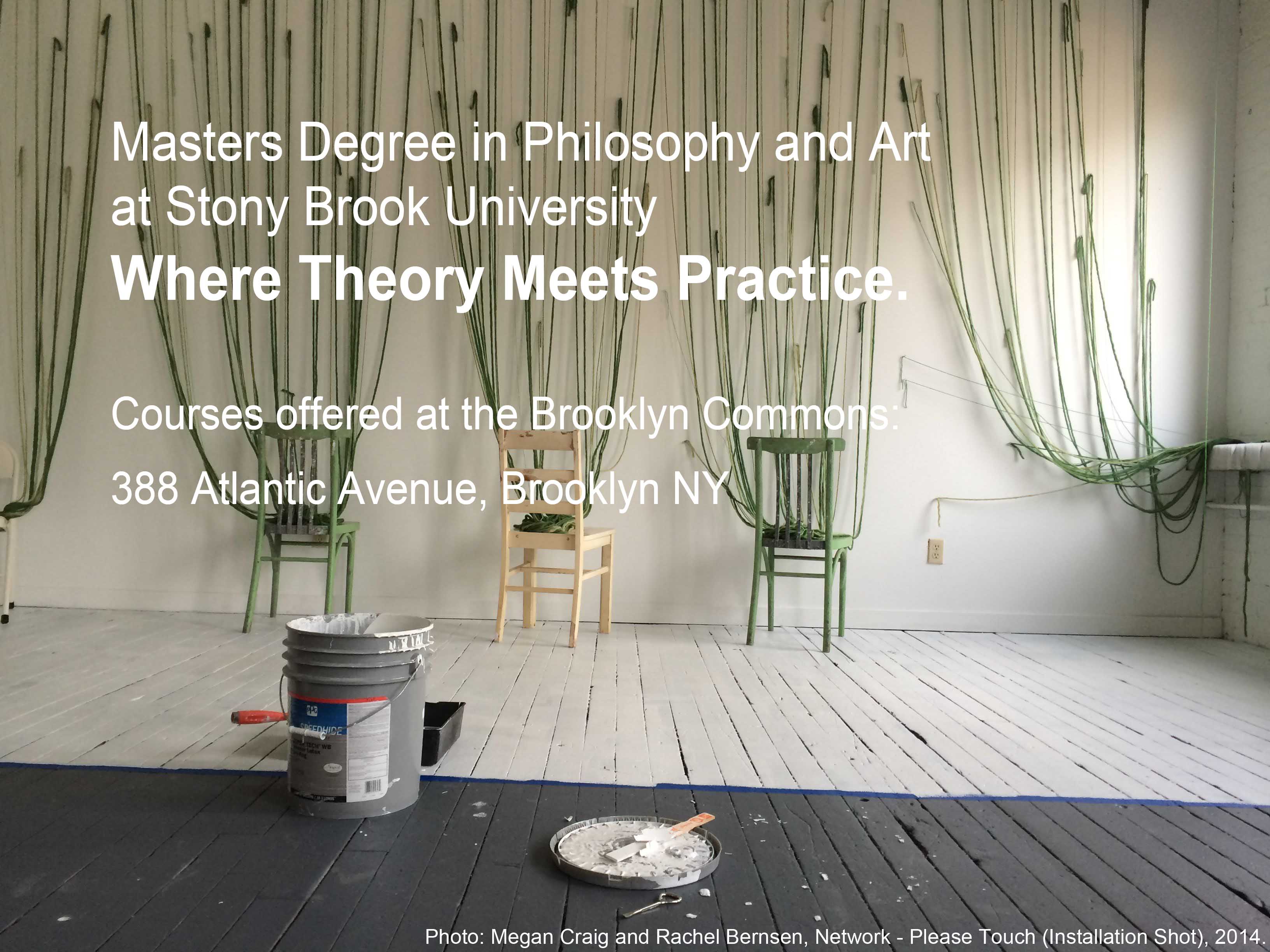 Founded in 2005, the Master's Degree in Philosophy and the Arts at Stony Brook University (SUNY) explores the intersections between philosophy and the arts. This program especially welcomes students of philosophy, practicing artists, and critics and theorists of art.
Our seminars are characterized by close attention to specific texts in the history of philosophy and in contemporary continental thought as well as by innovative approaches to traditional and contemporary art, drawing on arts venues and resources in Brooklyn, Manhattan, and the greater New York area. Philosophy department faculty who specialize in or have strong research interests in aesthetics, phenomenology, the history of philosophy, psychoanalysis, critical theory, and the social and political dimensions of art teach seminars, with additional faculty support from relevant departments. The program also attracts renowned visiting scholars and artists to teach courses and give lectures.
Every semester features a thematic focus that acts to link the diverse courses offered in the program. For this coming fall, public art is center stage: this is art that not only is present in public spaces but also is intended to be appreciated by whole populations. Early in the fall we will hear guest presentations by philosophers and artists who have specialized in this area, including and especially an event led by renowned public artist Nobuho Nagasawa.
Classes and guest presentations take place at the historic Brooklyn Commons on Atlantic Ave., a congenial space that houses its own café as well as the seminar room where our classes meet, and while in-person classes have been on hiatus during the COVID-19 global pandemic, we look forward to returning in person to the Brooklyn Commons this fall, pending CDC guidelines.
The Philosophy Department at Stony Brook University is internationally recognized for its focus on continental philosophy and for its interdisciplinary, pluralist orientation. To those interested in pursuing a rigorous and rewarding post-graduate degree, our M.A. Program in Philosophy and the Arts offers courses, mentoring, and other resources from distinguished faculty as well as a track record of excellent placement in philosophy doctoral programs and in arts-related employment (e.g., curatorial work in galleries and museums, etc.).
Our program was recently ranked #3 among the 50 Most Affordable Master's Programs in Philosophy by Great Value Colleges. Stony Brook was selected not only for the program's affordability but also for the institution's overall outstanding reputation and for its faculty's excellence as well as their strong commitment to providing students a high-quality education and to offering guidance in achieving future career goals. Our program was additionally ranked #8 in the nation in quality of curriculum by Best Value Schools as recently as March 2021. We include the text here for ease of access:
The Masters in Philosophy and the Arts program offered at Stony Brook University gives students the opportunity to explore a wide range of philosophical courses covering the fundamentals required to succeed in a PhD program in the future. The material covered in this program gives students the flexibility to custom create their own Masters degree with several elective course offerings. The overall focus of the program is on the relationship between philosophy and art, in addition to a broad selection of courses. Classes are offered at the Brooklyn Commons, in close proximity to the New York art world.
The program emphasizes contemporary continental philosophy and prides itself on its distinguished faculty and staff. The small enrollment class sizes can guarantee that students get plenty of opportunity to work one-on-one with faculty and staff throughout their studies.
To stay connected with us and for student perspectives on everyday life in the program, check out our Instagram page @StonyBrookPhilArt.
We review applications and admit candidates on a rolling basis through May 15, so apply today!