Skip Navigation
Master of Arts in Philosophy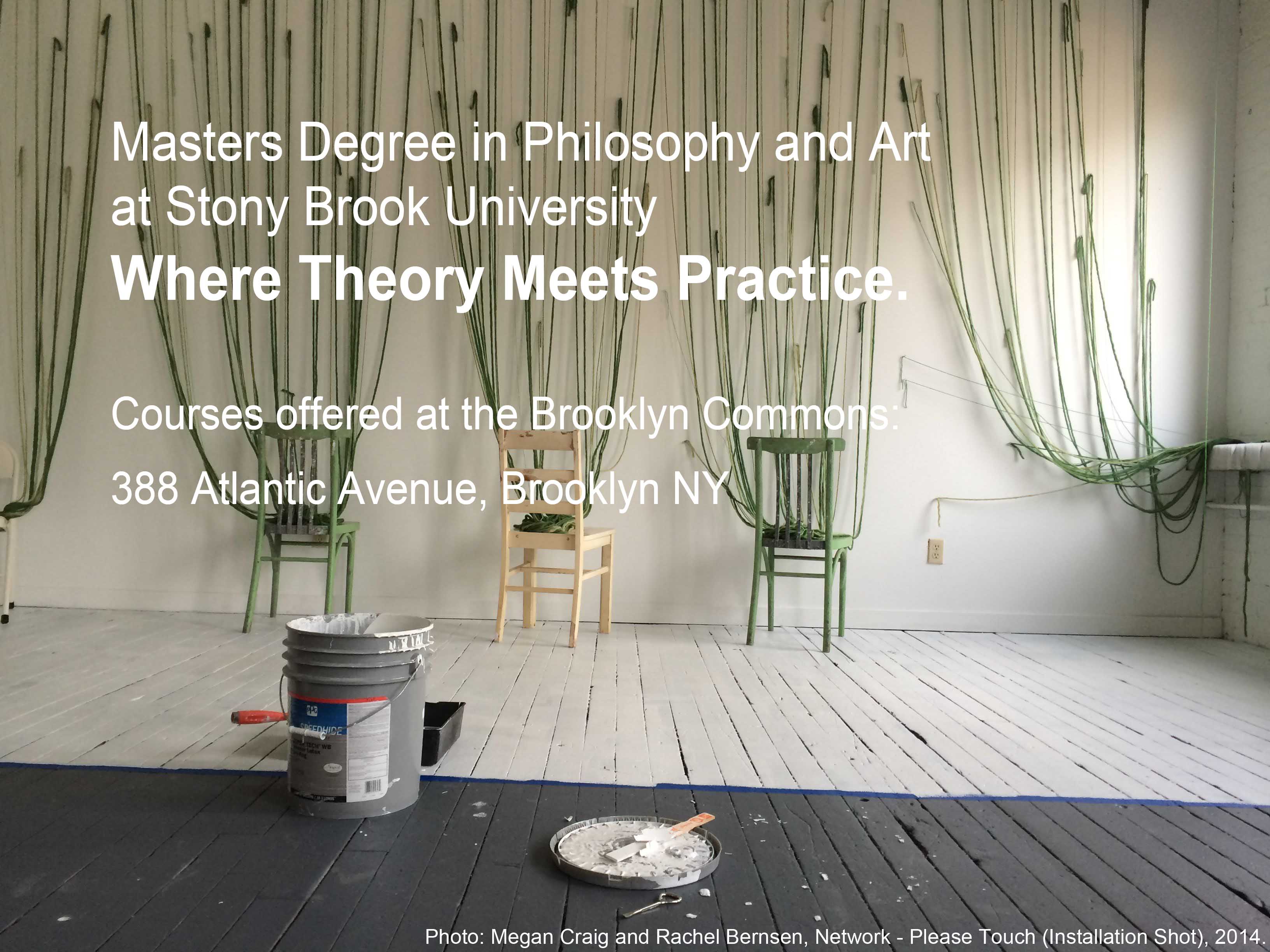 Classes held at The Brooklyn Commons
on Atlantic Avenue: 
388 Atlantic Avenue
Brooklyn, NY 11217
347-987-4966
Founded in 2005, the Masters Degree in Philosophy  and the Arts at Stony Brook University  explores the intersections between philosophy and art, offering a terminal MA to students of philosophy, practicing artists, critics, and those with an interest in the philosophical implications of art as well as  contemporary artistic practices.

No other program with a comparable emphasis exists in the New York area.

Our seminars are characterized by close attention to specific texts in the history of philosophy and innovative approaches to traditional and contemporary art, drawing on arts venues and resources in New York City and Brooklyn. Stony Brook philosophy department faculty who specialize in or have strong research interests in aesthetics, phenomenology, the history of philosophy, psychoanalysis, and technoscience teach M.A. seminars, with additional faculty support from relevant departments. The program also attracts renowned visiting scholars and artists to teach courses and give lectures.
The Philosophy Department of Stony Brook University has been internationally recognized for its focus on contemporary European philosophy and its interdisciplinary, pluralist orientation. To those interested in pursuing a rigorous and rewarding post-graduate degree, a Master of Arts in Philosophy at Stony Brook University offers courses, resources, and mentoring from distinguished faculty as well as a track record of excellent placement in Philosophy PhD programs and arts-related employment (e.g. curatorial work in galleries and museums, etc.) for our graduating students.
Click on  Admissions for more detailed information and to start your application.
We'd love to hear from you!
Department of Philosophy.
Stony Brook University/SUNY
Harriman Hall 213
Stony Brook, NY 11794-3750.
Tel: (631) 632-7570
Fax: (631) 632-7522



Assistant to the Chair
Alissa Betz
Harriman Hall 213
(631) 632-7590
Alissa.Betz@stonybrook.edu 

 
Edward S. Casey
www.escasey.com


Director of the M.A. Program
Distinguished Professor  
Ph.D. 1967 
Northwestern University    


(631) 632-7570

Megan Craig
www.megancraig.com

Recent Director
Associate Professor  
Ph.D. 2007
The New School for Social Research   

(631) 632-7570

Robert Crease
www.robertpcrease.com


Department Chair   &  Professor  
Ph.D. 1987,  
Columbia University

(631) 632-7570

Anne O' Byrne

Doctoral Program Director
Associate Professor  
Ph.D. 1999 
Vanderbilt University    


(631) 632-7570