Skip Navigation
Technology to Help Older Adults Age in Place
A group of forward looking faculty and students at Stony Brook, including Prof. Fan Ye of the Electrical and Computer Engineering department, is developing an almost magic like sensing technology that can revolutionize the way the health conditions of older adults at home are monitored.  
Professor Fan Ye
The technology can sense the vital signs and physical activities of multiple people in a room/home using different types of sensors, customized hardware and advanced algorithms.  The system is completely non-touch (no wearables such as wrist bands or watches).   Deployed in a home, it could detect changes in the residents' health and provide data and notifications to doctors, nurses, family members and even 911.  Thus it can enable the early detection of disease onset and early intervention to prevent severe deterioration.  This translates into aging in place with dignity and quality of life.
Adults 65+ will comprise over 20% of the Long Island population by 2035.  This "silver tsunami" which is developing in many nations will severely strain the limited resources of healthcare, economic and social systems.  This research, if successful, will have a huge impact in aging and the treatment and care of many other diseases and health conditions.  Though such vision has been presented before in "precision healthcare," the missing link has been the unavailability of an enabling foundation of streamed, multi-modality (i.e. multiple types of physiological and physical) data.
When asked what is the most surprising thing about this research problem, Prof. Ye replied  "How relatable the problem is to whomever I talk to – not just to people with technology or academic backgrounds but almost all walks of life.  We have loved ones who are at a stage of life where they can use more help to have quality and dignity as they age, and technology happens to be something helpful here."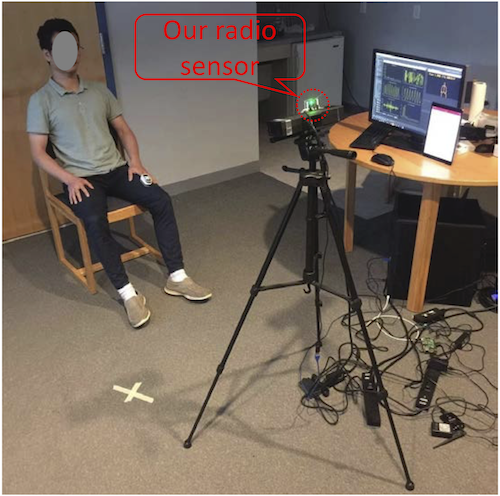 Dr. Ye notes that Stony Brook University has very strong and comprehensive research in many areas so he has been able to work across disciplines with many people.  This project is a joint collaboration with Elinor Schoenfeld from the Medical School, Erek Zadok from the Computer Science department, Patricia Bruckenthal from the School of Nursing and Jacqueline Mondros from the School of Social Welfare.   The sensing prototype has been developed with the help of students including Bing Zhou (who has graduated and is now a Research Staff Member at IBM Research) and current students Zongxing Xie and Xi Cheng.   Funding for the project comes from the Smart and Connected Communities program of the National Science Foundation.
Prof. Ye has been working on sensor systems and applications for two decades.  He says the problem domain of aging made him realize how important suitable sensing technology is.  The fact that it is still missing amazes him and also makes this project a great research opportunity.