Skip Navigation

Hands-on science to sustain Madagascar's resources and people
Centre ValBio, Main Campus
Centre ValBio is a state-of-the art research station located adjacent to Ranomafana National Park in the southeastern part of Madagascar. The park consists of tropical rainforest that lies approximately 90 kilometers west of the Indian Ocean on the east-facing escarpment of Madagascar's central high plateau. Madagascar's capital city, Antananarivo, has a major international airport.
Upon arrival in Antananarivo, researchers and visitors coordinate with Stony Brook University Institute for the Conservation of Tropical Environments' (ICTE) in-country office, MICET. MICET arranges travel by car to Centre ValBio, which is located 400 kilometers southeast of the national capital of Antananarivo. A charter flight may also be arranged from Antananarivo to a small airport near Fianarantsoa, the provincial capital, which is 60 kilometers, or a one-hour drive, from Ranomafana National Park (RNP). 
Access to Centre ValBio and Ranomafana National Park is straightforward, reliable and, upon arrival in Madagascar, can be completed in fewer than 10 hours. Major shopping for special supplies and banking is recommended in either Antananarivo or Fianarantsoa. While the quaint village of Ranomafana is developing quickly, these are currently not available.
Centre ValBio's campus is located near the RNP Talatakely trail entrance, 7 kilometers west of Ranomafana Village, where you can find a post office, an internet café, local market and stores, Madagascar National Parks main office, governmental offices and many other local attractions (see below). Getting between CVB and Ranomafana is about an hour walk or 15 minute car ride. Local transportation can be arranged through Centre ValBio's logistics department.
As a researcher, student, scientific tourist or volunteer you will be staying in our modern accommodations within Namanabe Hall. Namanabe was inaugurated in 2012 and features private, semi private, and dorm accommodations. Most researchers will stay in in quad or six bed dorm accommodations with detached common shower and bathroom facilities. Professors and VIP will have preference to lodge in our private rooms with en-suite facilities. Please contact CVB if you have specific questions regarding lodging or accommodations for your stay. During high season (July-Dec) CVB does book out quickly. We ask that you make reservations as soon as possible to ensure a bed.
For researchers, students and volunteers, arrangements can be made in advance through ICTE and Centre ValBio to accommodate any specific or special needs during your stay (see also for researchers section).
Group visits can be arranged in advance and we offer many special tours and activities to suit any group's objectives. In addition to guided tours of the campus, lecture options, and trips to the park, we offer many experience-based tours to our outreach areas allowing groups to take part in activities. Please contact Centre ValBio to arrange a tour in advance by e-mail (visit@valb.io) or by phone when in-country, +261 34 13 581 71.
 Communication
Phone:  Three different carriers (Telma, Air Tel and Orange) provide mobile services that work extremely well within Ranomafana and its surrounding area and recharge cards are readily available in town for purchase. It is recommended you purchase a SIM card and  some credit before arriving at CVB. A good rule of thumb is 5000Mga/day/person for phone credit. Note that phone coverage outside of RNF Town is extremely limited. Signals can be received in Talatakely, and a small portion of Mangevo only. No other research areas have phone coverage.
Internet:  CVB offers Wi-Fi throughout the campus to all visiting researchers and paying guests. Simply register your devices at the front desk when you arrive, or anytime after, then sign on to ValBio_WIFI to gain access when near the campus. The speed of service varys by number of people on campus, and outdoor weather. The system works well for video skype, but we do ask researchers to refrain from streaming of movies or music during office hours. After work hours you may do as you wish. 
Health concerns

Centre ValBio has a basic "First Aid Kit" that can be used in case of an emergency, including some basic medication such as anti-diuretic, anti inflammatory medicine, pain killers, and basic treatment of small cuts (bandages, alcohol, etc.). In case an illness or injury is more serious, health professionals and medical doctors can also be contacted and are located in Ranomafana village, Fianarantsoa and Antananarivo depending on your needs. CVB and MICET are ready to assist you, accompany you and provide a vehicle if an emergency trip is needed at any hour. It is highly recommended to bring malaria prophylactic, paracetamol/ibuprofen, cipro, flagyl, allergy medication, anti-gas over the counter medicine and a basic first-aid kit with you from your home country. Basic pharmacies are available in Ranomafana and most medicine is readily available in larger cities (Antananarivo and Fianarantsoa). In case of any medical emergency or natural disaster, our staff will be sure to inform any researchers or students on how to proceed. CVB, MICET and ICTE/Stony Brook University have an emergency evacuation protocol in order and are ready to assist in case immediate evacuation from Madagascar is needed for any reason.


Money
Malagasy Currency & Conversion Rates: The Malagasy currency is in Malagasy Ariary (MGA). 1 MGA = 5 FMG (old Malagasy money designation) and $1 varies from 2,900-3,700 MGA depending on the exchange rate (currently approximately $1 to 3,500 MGA and 1 Euro to 3,900 MGA). Please consult the accounting office for the latest currency exchange rates as these fluctuate daily.
Exchanging Money & ATM Withdrawals: We recommend that short-term visitors bring or exchange money at the airport upon arrival in Antananarivo. Please note that only bills dated as of 2006 will be accepted to change. Longer-termed researchers and students can wire money to the CVB account in advance (funds made available upon your arrival). However, if you need to exchange foreign money during your stay, you will need to go to Fianarantsoa, where the nearest banks are located (e.g., BFV, BMOI, and BNI). If you wish to use credit cards for monetary withdrawals, please note that most of the banks in Fianarantsoa may only accept "Visa" credit cards. ATM machines are also available in Fianarantsoa to get cash in 400,000 MGA (ca. $120) increments for several withdrawals within a day up to 1,200,000 MGA (ca. $600). In 2020 an ATM was installed in the Hotel Thermal, but it is infrequently serviced with new money. We ask all visitors wishing to use it to withdraw no more than 400,000 per week, as the town relies on this one machine. Almost all banks in Madagascar only accept $50 and $100 bills, they will not accept bills that are torn or look old. 
Climate/Weather
Ranomafana National Park (RNP) is located in the eastern moist forest climate and is hot and subtropical for much of the year. November through March is considered to be the rainy season. Although the dry season extends from April to November, the northeast and central eastern regions have no months (or weeks) that are completely without rain. It can be cold in RNP from April through November, so bring a fleece and long johns if you are coming during that time period. Torrential rain and cyclones can occur in January, February and March. Annual rainfall ranges from 1500-4000 mm of rain.
Thus, raingear is essential in the forest, especially during the rainy season.
Note that the humidity is very high in this area, so make sure that your field materials and equipment (such as cameras, binoculars, etc.) are protected or waterproof. Some people have found storing equipment with silica (which is not readily available in Madagascar) helps ensure the shelf life of equipment in humid environments.
Planning fieldwork and expeditions may sometimes depend on the weather conditions. You can get information on local weather (temperature and precipitation) through the logistics department.  The 'Tele Centre' or Internet cafe in the village of Ranomafana can also be useful to check out the regional/national weather.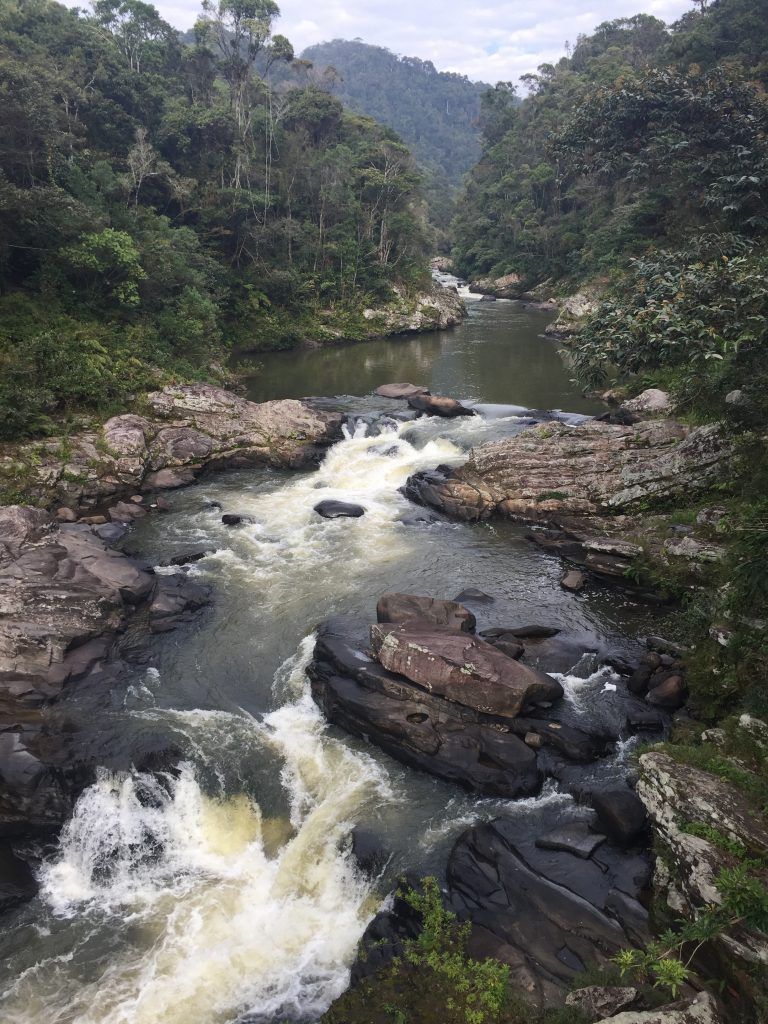 Ranomafana National Park and Surrounding Villages
Centre ValBio urges you to utilize your time in Madagascar to gain a full experience exploring both local biodiversity and culture. Thus, we would like to give you a brief introduction to the villages and the areas surrounding Ranomafana National Park. Centre ValBio's education department can assist you in providing information on the people, culture, biodiversity, conservation, and education.


Ranomafana National Park
Centre ValBio is located 500 meters from the entrance to Ranomafana National Park (RNP). RNP is one of the World Heritage Sites in Madagascar.  Not only will you enjoy the amazing biodiversity of Madagascar's southeastern rainforest, but you will also experience the freshness and calm of the forest. This 41,600 ha protected rainforest run by the Madagascar National Parks system contains an incredible and unique variety of flora and fauna.  Tourist and research trails have been made to facilitate hiking and walking in the forest. The most visited areas of the park include the waterfall, old village sites, historical monuments, Bellevue (overlook), old trails and tombs. While hiking through the forest and along streams, you can also learn about traditional beliefs and cultures. Note that you must hire or be with a guide to hike in the forest.


Around Ranomafana
Centre ValBio is located about 7 km from the Ranomafana village. The name 'Ranomafana' (hot water) came from the presence of a hot spring. In Ranomafana village, thermal baths and a communal swimming pool is open to the public for a small entrance fee to relax and/or to get health treatments. 
The mixed culture of Antanala and Betsileo increases the cultural richness of Ranomafana.  The "Antanala" (the forest people) cannot live without the forest; and the Betsileo are the best rice growers in Madagascar. Villagers continue to practice different kinds of traditional ceremonial and religious rituals during family events. You can experience traditional culture, dance, and local music by inviting local musicians and dancers or arranging a performance by local artists. These groups can perform shows upon request using traditional instruments, song and dance. A small contribution is greatly appreciated. 
In Ranomafana village, you can find several markets that sell local products, such as fresh fruits, vegetables, and local handcrafts.  Sunday is the market day in Ranomafana village and usually runs from 8:30-15:00, where many people from the surrounding rural villages come to socialize and sell their products. Remember, you may discuss or negotiate the prices on some local products! After the opening of an artisanal market in 2011, local handicrafts and many other souvenirs are readily available for purchase. A local women's group (FAMIOVA) located in the old museum, produces high-quality handmade scarves. This woman's group will produce scarves given your specific preferences (material, style, color, etc.) upon request – so place your orders early! Hand-woven baskets are available from another women's association (MAEVA) from Sahavendronina (western part of the park) and unique embroidered items and natural food products (peanut butter, juice and honey) are available from Soa Fianarana Association based at Le Palmarie hotel in Ranomafana village. Handmade stuffed lemurs, frogs and chameleons can be purchased at the small store near Kianja Maitso and special orders can be made for your favorite lemur if not available on the spot!
There are also several project demonstration sites in and near Ranomafana.  For example, you can enjoy visiting the medicinal plantation (Mahatsarabe), located three kilometers past Ranomafana center following the national road east. This site is run by an association of local traditional healers and kings (Ampanjaka) and supported by Centre ValBio. Just before Mahatsarabe is the arboretum, a demonstration site of saplings planted over 20 years ago on degraded lands. There is also Centre ValBio's demonstration site at Kianja Maitso where you can see our endemic and fruit tree nurseries and learn, for example, about some of our project techniques such as vegetable gardening and composting. There is also the "KajaAla" station at Kianja Maitso, an educational area run jointly by Centre ValBio and Madagascar National Parks, where news and information about Ranomafana National Park and conservation activities are also available. 
Additional excursions to local waterfalls, bat caves, as well as canoeing adventures are also available locally. Centre ValBio can also provide recommendations on further exploration east and west of Ranomafana.