Skip Navigation

Hands-on science to sustain Madagascar's resources and people
Stony Brook University President Maurie McInnis and U.S. Ambassador to Madagascar Visit Centre ValBio
By Johanna Mitra, CVB/ICTE Communications Officer; January 20, 2023
This past January, Centre ValBio was honored by the visit of Stony Brook University President Maurie McInnis, her husband Dean Johnson, Stony Brook Vice President for Advancement Justin Fincher, and CEO of the Turkana Basin Institute Dr. Dino Martins. Accompanying the Stony Brook team were the Ambassador to Madagascar and the Comoros Claire A. Pierangelo and Julianna Kim, Chief of the Political and Economic Section at the Embassy.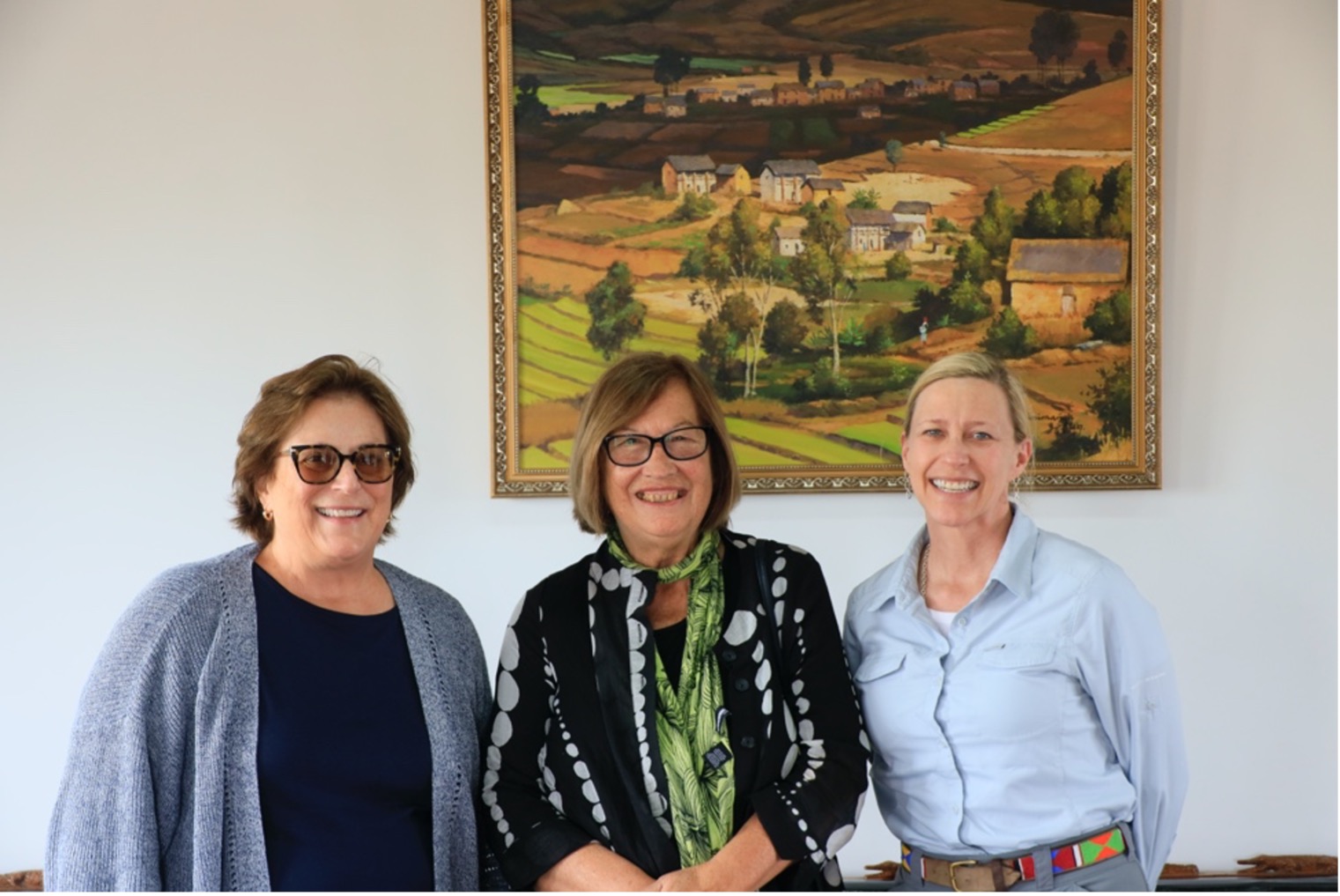 Ambassador Claire A. Pierangelo, CVB Executive Director and Founder Dr. Patricia Wright, and President Maurie McInnis
Over four days, the Ambassador and President met with CVB's staff to learn about the ongoing projects carried out by the research station's health, reforestation, education, and research teams. They also watched 20 Stony Brook study abroad students from the 2023 Winter session conduct independent research projects in and around Ranomafana National Park. During their visits to the rainforest, they saw five species of lemur and countless other species of birds, insects, and amphibians.
One particularly memorable sight was Simone, who, at the time, was the last remaining greater bamboo lemur in the park and the driving force behind a translocation effort by Dr. Patricia Wright and Madagascar National Parks. "I so admire Dr. Wright's ability to work on the [translocation] year after year," President McInnis recalled. "What a testimony to decades and decades of a lifetime of commitment to the animals and to the conservation of habitats that enable not only the lemurs but many hundreds or thousands of species that live out there to survive."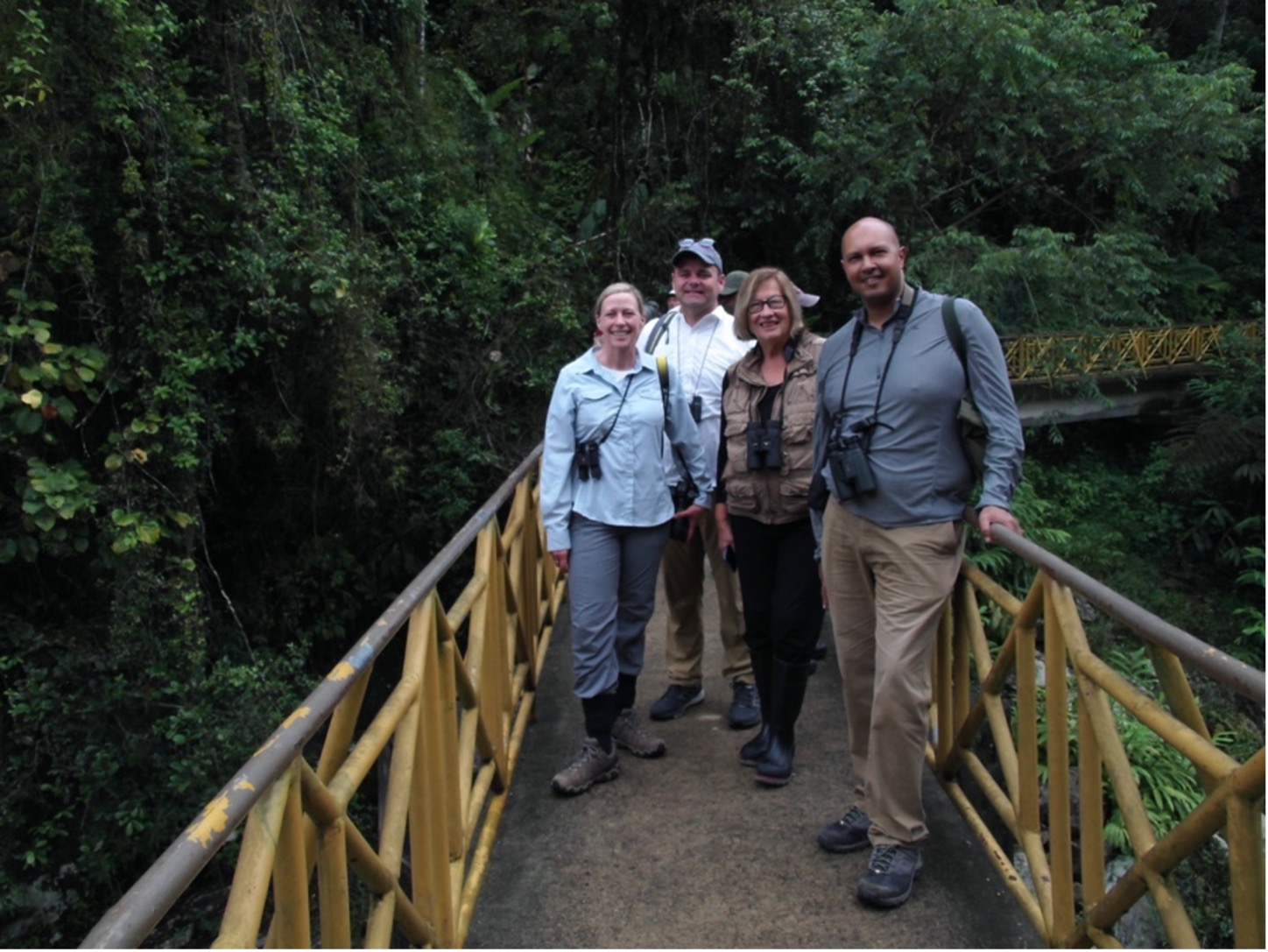 President McInnis, Justin Fincher, Dr. Patricia Wright, and Dr. Dino Martins on the bridge leading to Ranomafana National Park
For Dr. Dino Martins, an entomologist, CVB's Insectarium was of particular interest. "I was very excited to see the insect collection and to meet Emile [Rajeriarison], one of the researchers from this community who has just the most tremendous knowledge about this ecosystem. To see him combining that knowledge with understanding insect diversity...will also add to the value of the conservation and protection of the forest," Dr. Martins said. As CEO of the Turkana Basin Institute in Kenya, Dr. Martins also hosts Stony Brook study abroad programs at their field schools. "We are looking forward to building a collaboration between the Turkana Basin Institute and Centre ValBio because we have a very different set of opportunities and landscapes," Dr. Martins says. "[In Kenya,] it is very hot and very dry. We have big animals and mostly pastoralist communities. [In Madagascar,] you have rainforest, biodiversity, and small-scale farming, so I think there are huge opportunities to exchange and give students a truly global perspective."
Emile Rajeriarison, CVB's leading insect expert, shows Dr. Dino Martins, Justin Fincher, and President McInnis the CVB insect collection.
On the last day of their visit, the Embassy and Stony Brook teams traveled to the University of Fianarantsoa to meet with the university's president, Dr. Hajalalaina Aimé Richard. They discussed their recent memorandum of understanding and future collaborations between Stony Brook University and the University of Fianarantsoa.
The CVB farewell party included the Mayor of Ranomafana, representatives from Catholic Relief Services and Madagascar National Parks, and Mission Green engineers, who will construct Madagascar's first canopy walkway in Ranomafana National Park in 2023.
As an international research station, CVB works to protect Madagascar's unique and biologically diverse ecosystems through conservation science and projects that directly benefit the local people. Ambassador Pierangelo and President McInnis praised CVB's conservation work and expressed how much they enjoyed their first visit to Ranomafana National Park.
Photos by Johanna Mitra, 2023