Skip Navigation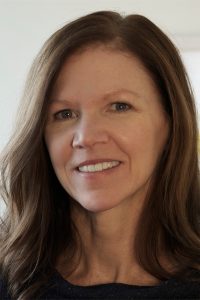 Lorraine Walsh
Visiting Associate Professor of Art 
Art Director and Curator of The Simons Center for Geometry and Physics
Areas of Specialization: Art and Science, Digital/New Media Art, Drawing and Fine Art Animation
M.F.A. University of Pennsylvania
Email: lwalsh@scgp.stonybrook.edu
Office: Staller Center for the Arts #2224 & SCGP #312
Web: http://scgp.stonybrook.edu/art
Lorraine Walsh is an interdisciplinary new media artist, printmaker, and curator with a lifelong passion for discovery at the nexus of art and science. Walsh's research, inspired by the sciences, nature, and the environment, is located in the rich possibilities of the interplay, shared structure, and aesthetic expression intrinsic in natural and creative processes.
Walsh has exhibited her work internationally in venues that include the State Museum of Contemporary Art, Thessaloniki, Greece Biennale; The Museum Ludwig, Cologne, Germany; and the José Martí National Library, Havana, Cuba. She is the recipient of numerous grants and fellowships, including a National Science Foundation grant for the data visualization and animation of the radio sky, an e-MobiLArt Euro grant (European Mobile Lab for Interactive Media Artists Collaborative Project) tailored for the collaborative creation of new media interactive installation art, and an Andrew W. Mellon Foundation Fellowship Award. Additionally, her writing and work has been featured in The New York Times, the Leonardo Journal/The International Society for the Arts, Sciences and Technology, MIT Press and SciArt Magazine. 
Walsh's academic appointments include Chair and Associate Professor of New Media at the University of North Carolina Asheville, where she created a new pedagogy and curriculum with her colleagues. Previously, she taught at Pratt Institute and worked at The Brodsky Center for Printmaking and Papermaking at Rutgers University. Other academic appointments and guest artist invitations/presentations include the University of Athens Greece, Drew University, Lafayette College, University of Lapland, Parsons Paris, Rutgers University, Vassar College, Wellesley College, Western Carolina University, and the University of Applied Arts Vienna. Walsh received her BFA from Parsons The New School for Design and MFA from the University of Pennsylvania.