Skip Navigation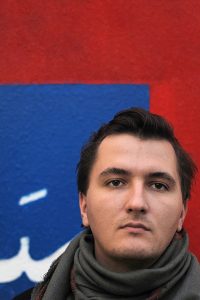 Isak Berbic
Associate Professor
Graduate Program Director in Studio Art
Areas of Specialization: Photography and Media Art, Experimental Documentary, Limits of Representation, Social and Contested Histories.
M.F.A. University of Illinois at Chicago
Email: Isak.Berbic@stonybrook.edu
Office: Staller Center for the Arts #4281 
Web: http://isakberbic.com

 Isak Berbic works with photography, moving image and performance. His recent projects reimagine social narratives to unearth contested histories, while investigating ideas around photographic representation, politics, geographies, economies, ecologies, archaeologies, exchange, and transformation.
In the 1990's when Yugoslavia disintegrated and Sarajevo was under siege, Isak Berbic and his family escaped the war, lived in a refugee camp in Denmark, and sought political asylum in the United States. In Chicago Berbic was involved in publishing and community organizing within the Bosnian War diaspora. He studied art at the Malmö Art Academy, Sweden, and at University of Illinois at Chicago, where he completed his MFA. 
Berbic uses fiction and documents, found and primary material, the image and the literary, in the construction of his artworks. His projects takes on various forms of presentation, including photography-text-object installations, films and videos, performance and actions, cooking, speeches, texts and publications. He has has exhibited internationally including the Havana Biennial 2019, Marrakech Biennial 2016, BRIC Biennial in Brooklyn 2014, Helsinki Photomedia 2014, Dojima Biennale 2008, Singapore Biennale 2008. Isak is currently based in Brooklyn, New York. At the moment he is working with saguaro cactus, hippopotamus fossils, fossil fuels, tomatoes, juju beans, lapis, shrapnel and meteorites.