Skip Navigation
Researchers of the Month
May 2018
Here are just some of the graduating seniors we will miss. ... We wish them all well with their future endeavors and pursuits!
---
Simone Boyd - Psychology & Sociology majors - Mentors: Dr. Alice Powers and Dr. Anne Moyer, Psychology

Justin Cheung - Chemical and Molecular Engineering major - Mentor: Dr. Tadanori Koga, Materials Science & Chemical Engineering

Abigail Higgins - Biology major - Mentor: Dr. Heather Lynch, Ecology & Evolution, Dr. Sharon Pochron, School of Marine & Atmospheric Sciences, and Dr. Ivan Chase, Sociology
Sean Jeffas - Physics & Mathematics majors - Mentor: Dr. Abhay Deshpande and Dr. Nils Feege, Physics & Astronomy

Mirna Kheir - Biomedical Engineering major- Mentor: Dr. Gabor Balazsi, Biomedical Engineering

Anne McNulty - Linguistics major - Mentors: Dr. Eriko Sato & Dr. Jiwon Hwang, Asian & Asian American Studies

Kevin Shan - Biochemistry major - Mentor: Dr. Jason Barabas, Political Science

Leon Yang - Biochemistry major - Mentor: Dr. Maricedes Acosta-Martinez, Physiology & Biophysics

Omar Zainul - Pharmacology major - Mentor: Dr. Scott Laughlin, Chemistry

Alexandra Zigomalas - Art History & History majors - Mentors: Dr. Ned Landsman, History; Dr. Karen Lloyd, Art
---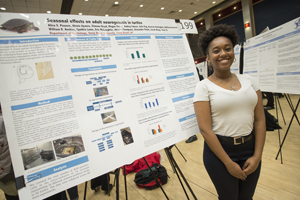 Simone Boyd is a Psychology and Sociology double major with a minor in Creative Writing and Literature.  After taking a functional neuroanatomy course with Dr. Alice Powers, she became interested in the field of neuroscience and began to work in Dr. Powers' turtle neurogenesis lab.  She recently presented a poster at the URECA symposium titled: "Seasonal Effects on Adult Neurogenesis in Turtles." She has also served as a teaching assistant for the Sociology department and is a Research Assistant in Dr. Anne Moyer's lab. Last summer, Simone participated in the Children's Hospital of Philadelphia Research Institute for Summer Scholars Program. She is a member of the National Society for Collegiate Scholars and a recipient of the Academic Excellence Award.  Simone is also a campus tour guide and a coordinator for the Visit a Class Program for the Undergraduate Admissions Office. After graduation, Simone will be continuing on as a graduate student at Stony Brook in the Master's in Psychology program.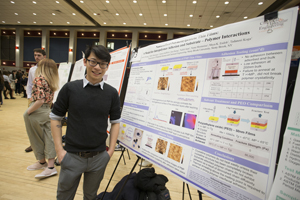 Justin Cheung is a CME major and a member of the Honors College- Scholars for Medicine (BS/MD) Program. He has conducted research with Dr. Tadanori Koga for the past four years on the dynamics of nanoconfined polymer thin films. He also completed summer research fellowships at the National Institutes of Health's Vaccine Research Center (NIH VRC) where his research focused on vaccine adjuvants for cancer immunotherapy, as well as at Memorial Sloan Kettering Cancer Center where his research focused on the development of a drug screening nanosensor. In addition, he has given on talks on his research at four American Physical Society (APS) Meetings and has also given presentations at American Chemical Society (ACS) and American Association of Cancer for Cancer Research (AACR) conferences. He is currently coauthor on five peer reviewed publications in journals such as Soft Matter, ACS Macro Letters, and Macromolecular Chemistry and Physics, and the Taiwan Journal of Public Health. Justin was the winner of the 2017 Columbia University Undergraduate Science Journal Poster Competition and received the Rubin and Sarah Shaps Scholar Award through his work at Memorial Sloan Kettering. In 2018 he was the recipient of the Provost's Award for Academic Excellence. In addition to science research, he is also a contributing staff writer for the International Affairs Forum, a non-partisan foreign policy think tank, and has had work published in The Diplomat. Justin is one of the Editors-in-Chief of the Journal of Undergraduate Chemical Engineering Research (JUCER). In fall 2018, he will be attending Stony Brook School of Medicine.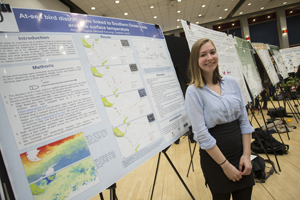 Abigail Higgins is a Biology major with a minor in Ecosystems and Human Impact from upstate New York.  She has always been interested in the way plants and animals interact with their environment and this has carried over into the research she has been a part of here at Stony Brook. Her interest in research began when she decided to take an Entering Research Workshop offered here at Stony Brook the spring of her sophomore year, and in the fall, she joined Dr. Ivan Chase's lab.  While being a part of this lab, she has aided in experiments on dominance behaviors in African Cichlid. This past summer, she also took part in an experiment looking at the morphology of local hermit crabs. Last summer, Abigail also joined Dr. Heather Lynch's lab and has been analyzing at-sea bird distributions in the Southern Ocean with her mentor Michael Schrimpf. This semester Abigail took a class on research in ecotoxicology in Dr. Sharon Pochron's lab. She presented her research project from the Lynch lab and a group project from Dr. Pochron's lab at the 2018 URECA Symposium.  Outside of performing research, Abigail loves to be outdoors and has been a part of the Stony Brook Sierra Club for the past two years, currently serving as secretary. After graduation, she plans on taking a gap year before attending graduate school to continue to pursue research in ecology. This summer she will be working at Old Westbury Gardens as an Environmental Education Intern.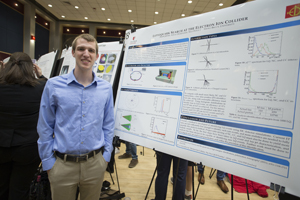 Sean Jeffas is a Physics and Mathematics double major in the University Scholars Program, from Secaucus, New Jersey.  He has been doing research with Dr. Abhay Deshpande since freshman year on projects relating to the proposed Electron-Ion Collider (EIC). His work has mainly focused on searches for leptoquarks, a theoretical particle outside of the Standard Model, at the EIC using simulations. Sean also participated in two summer research programs working on superconducting radio frequency cavities at Cornell University and studying the effects of the Quark Gluon Plasma at Lehigh University. In the fall he will be pursuing a PhD in physics at the University of Virginia. Sean is also an active member of the SBU running club.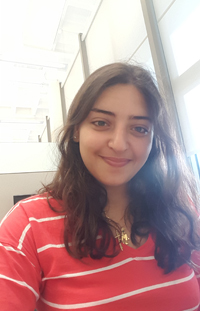 Mirna Kheir has been involved in research in Dr. Balazsi lab since the summer of 2015: after working with Dr. Harold Bien, a Post Doc who studies the expression regulation and spatial pattern of the KRAS protein, she was given the opportunity to work on an independent project for her honors thesis, studying the evolutionary dynamics of a synthetic gene circuit built in the lab. Previously, Mirna participated in research experiences with Dr. Yizhi Meng in the Department of Materials Science & Chemical Engineering; and with Dr. David Krause in the Department of Anatomical Sciences. She was also a member of the 2015 iGEM team that received a Silver Medal in the iGEM Giant Jamboree competition. Mirna has served as a Teaching Assistant for Biomechanics, and for General Chemistry. She has been active as a Manager for Foreign and Native Speakers; in Stony Brook's Alpha Eta Mu Beta Biomedical Engineering Honor Society; and as a member of the Blood Drive Committee. After graduation, Mirna plans on working in research for a year or two before going to graduate school to earn a Ph.D.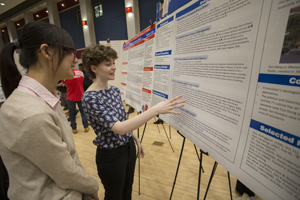 Anne McNulty
is a member of the Honors College, majoring in Linguistics and minoring in Korean Studies and Asian and Asian American Studies. She presented her research project "Translating the Voice of a Resistance" at the 2018 URECA Symposium. This research focused on analyzing how translators' ideologies effect their translations. She began this research in the Fall 2017 semester under the mentorship of Dr. Eriko Sato and Dr. Jiwon Hwang from the Department of Asian and Asian American Studies. She is also involved in the campus community, serving as the president of the Undergraduate Linguistics Club. She is also a recipient of the 2018 Provost's Award for Academic Excellence. After graduation, she will be participating in the JET Program by working as an English teacher in Japan.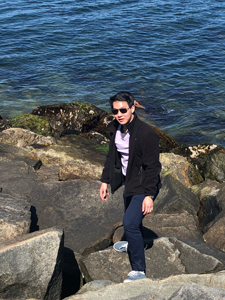 Kevin Shan is a Biochemistry major and Chemistry minor in the Honors College. His first exposure to research was working with murine stem cells in the Summer of 2016 at the School of Dental Medicine. Kevin started working with Professor Jason Barabas in the Department of Political Science in the Spring of 2017 in preparation for his Honors College senior thesis, which looks at the role that analogies play in public policy attitudes and opinions. The research project was supported by the Blum-URECA Summer Research Award in 2017. Kevin presented the project at the Undergraduate Panel of the New York State Political Science Association Conference and at the URECA Symposium in April 2018. Kevin has also served as a head teaching assistant for the Molecular Science courses. He will be attending dental school at the University of Florida in the Fall of 2018.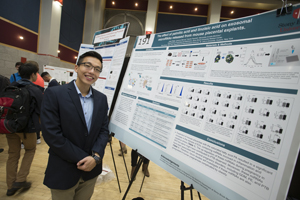 Leon Yang is a Biochemistry major from Brooklyn, NY. He started his undergraduate research during his second year under the mentorship of Dr. Maricedes Acosta-Martinez, working on understanding how metabolic pathways interact with the reproductive axis. His work in reproductive physiology helped him obtain the 2016 Endocrine Society Summer Research Fellowship, in addition to, a co-authored publication. His senior thesis focuses on identifying exosomal microRNAs as potential biomarkers to detect for pregnancy disorders. Leon is also a member of the University Scholar's program and is a committed student leader on campus, working as a Resident Assistant for three years and serving as President of the Health and Nutrition Club. Following graduation, he will be taking a gap year before applying to medical school programs.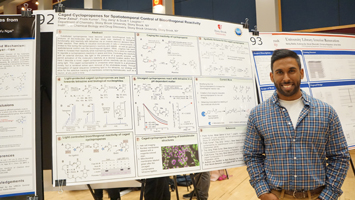 Omar Zainul is a Pharmacology major who started doing research towards the end of his sophomore year under the mentorship of Dr. Scott Laughlin. He was a recipient of the 2017 URECA summer research award  and presented his research at the Ureca Research Symposium in April of 2018, as well as a few other American Chemical Society-hosted conferences.  His senior thesis, titled "Caged Cyclopropenes for spatiotemporal control of Bioorthagonal Reactivity" is centered around the development of small organic molecules that have the ability to label and image any membrane containing biomolecular structure. He one day hopes to use these molecules to selectively track neural circuits in the brain in order to create a physical map of the brain's neural connectome. Omar has worked in this lab for two years and is co-first author on two publications. After graduation, he will be taking a year off before starting a 3-year medical program with a specialty in neurology.  Omar was one of the founders for the habitat for humanity's chapter at Stony Brook. He was one of two students to be award a Sigma Xi Undergraduate Research Award (URECA symposium, 2018), and is a recipient of the Chancellor's Award for Student Excellence.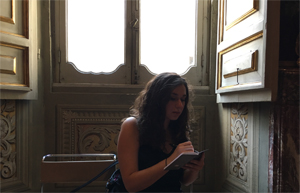 Alexandra Zigomalas is a double major in History and Art History with a minor in Writing. Throughout her past four years at Stony Brook, she has worked at the Writing Center, the Paul W. Zuccaire Gallery, and has been a member of the Women's Leadership Council. Alexandra has written two honors theses for each of her majors. Her art history project is titled, "Paying a Prince: Gian Lorenzo Bernini and The Payment of Sculptors in Seventeenth-Century Rome,"and was advised by Dr. Karen Lloyd in the fall of 2017. Alexandra received funding through the Women's Leadership Council to study abroad in Rome in order to do research for this project. Her second thesis titled, "'The Figure Before the Booke': The Image of the Mystic Massacre in John Underhill's Newes from America, 1638," explores the potential meanings behind and purposes of an image in John Underhill's seventeenth-century narrative of the Pequot War. Dr. Ned Landsman in the history department advised this project, and Alexandra presented it at this year's URECA symposium. She also presented a paper at the 2017 URECA symposium titled, "La Danse et Les Dames du Ballet: Edgar Degas and The Representation of Movement through the Belle Époque Ballerina." Kevin Clouther in the Program in Writing and Rhetoric advised this project. Alexandra is a five-time recipient of the Academic Achievement Award that honors students with a 4.0-semester GPA and a recipient of the Undergraduate Recognition Award for Academic Excellence. She has enjoyed working closely with all of her faculty advisors and mentors, and will miss them this upcoming fall when she will be pursuing her PhD in Art History at Emory University.
---
Karen. How has doing research prepared you for your future career? 
Omar. Research is something I would highly recommend to all undergraduate students. Research has allowed me to see the world from a different perspective. Throughout undergrad, you are constantly learning various facts that other people have discovered which have been verified by other people in the field. Research will allow you to fully understand the amount of work that goes into discovering this knowledge. When it comes to your career, research will boost your credibility as an applicant substantially in any field. Conducting quality research will show that you are genuinely interested and have a true passion for what you study. Personally, every single interview that I have been on, I have been asked and had discussions about my research. It has helped tremendously in opening doors I never knew existed. 
Karen. What's your favorite aspect of doing research?

Kevin. I like communicating the results. What's the impact of your findings, and why are your findings important for others? Science can be sensationalized, especially by the media, so it's important for researchers to communicate findings in a way that interests, but does not mislead their peers, colleagues, and the public. I also like that I was able to apply the concepts I learned in lectures in the real world. For instance, I learned about cell culture and transgenic mice in Cancer Biology, then worked on growing and studying stem cells in the lab last year. For my Senior Thesis, which deals with public opinion towards health care policy, I sat in on a PhD-level statistical methods course taught by Prof. Barabas, and we were able to apply many of the analytical techniques in our project. 
Alexandra. The best part of doing research is getting to work closely with professors. Without my professors' guidance, encouragement, and constructive criticism, I would not have been able to grow as writer.
Karen. How did being involved in research enhance your education?
Justin. Doing research has taught me to think critically about the problems I face and has trained me to be innovative about the ways I go about addressing these problems. Most importantly, research has taught me about the "intellectual pipeline" and how ideas and solutions can be translated from just a written thought into tangible benefits.

Abigail. I think that taking part in research has taught me to think about things in a different way than I have been used to doing in the past.  It has been a perfect complement to the classes I have taken. For years I have had all this information stored in my head and doing research allows me to apply all that I know to the project I'm working on, which is extremely valuable.
Sean. The classroom can only teach physics to a certain extent, but research taught me about how physics is actually applied and done today. It is also the best opportunity to get a hands on experience of the field. Research taught me about the work people do outside of the classroom and by helped me find that I really enjoyed the work myself.

Karen. What advice about research do you have for other undergrads?
Mirna. Pick a PI or a supervisor who is a good mentor. A good mentor guides you but also sees the potential in you and encourages you to be more independent over time. This, in my opinion, can make or break your research experience.

Leon. It is never too early to find research, and it is certainly never too late either! When you explore your interest in whatever discipline of your choosing, commit yourself and you will discover extraordinary things about the topic and even of your own capabilities.

Simone. I would tell other undergraduate students to get involved in research, even if they do not know much about the field at first.  If you are interested in learning more about a subject, research is a perfect way for you to learn more about that subject area while contributing new information to a field.

Anne.  My advice for undergrads is to get involved in research as early as possible in your undergraduate career, to make connections with and reach out to your professors, and to always be aware of what you are passionate about. Conducting research is a unique opportunity for both academic and personal growth, and could lead you to find new areas of interest, so don't skip over research opportunities!