Skip Navigation
Researcher of the Month
June 2018
Terence Thomas
Biology major, Class of 2018
Research Mentor:  Dr. Erin Vasudevan, Neurobiology & Behavior;  Additional mentor: Dr. Lawrence Gulotta, Orthopedic Surgeon-Hospital for Special Surgery
---
Terence Thomas is a Biology major who conducts research under the mentorship of Dr. Erin Vasudevan (Neurobiology & Behavior) in the Rehabilitation Research and Movement Performance/RRAMP Laboratory. He was recently awarded the 2018 American Heart Association (AHA) Founders Affiliate Undergraduate Student Summer Fellowship to support his work on the Gait Propulsion Trainer (GPT), a novel rehabilitation device for people with hemiparesis due to stroke. This past April, Terence presented a poster at the annual URECA symposium on the preliminary phase of the project which aimed to test proof-of-concept of the GPT in healthy young adults before commencing testing in people with stroke. As an aspiring orthopedic surgeon, with an academic background and interests in exercise science and kinesiology,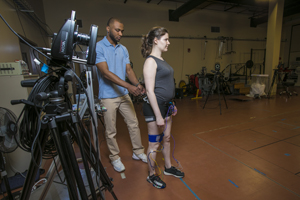 Terence describes the research he is involved with as "the perfect opportunity for me. It was something that fit exactly with my personality, fit with what I wanted to do …If I was in a different lab, I might not have had the opportunity to get an AHA fellowship, or to present at URECA.  Her lab was a place where I'm able to really grow." Being involved in research under the guidance of Dr. Vasudevan also helped him to develop his skills in MATLAB programming and data analysis.
Terence transferred to Stony Brook in Spring 2016 from The College of Brockport SUNY where he was a member of the Basketball Team. He has been working in his current lab for a little over a year, and also has done physician shadowing in summers 2016 and 2017, including collaborating on shoulder tendinitis research with Dr. Lawrence Gulotta and co-authoring the chapter "Rotator Cuff Pathology" in Management of Tendinopathy: Non-operative and operative management (in press, Springer Publishing). At Stony Brook, Terence has also been involved as Vice President and Public Relations Coordinator of the Stony Brook Pre-Medical Society, is a member of Neuroscience Axis, and volunteers for Fit Kids for Life, a Stony Brook University Medicine and Physical Therapy program that helps promote exercise and a healthy lifestyle for children and teens. He is also a certified Personal Trainer and Strength Coach, and maintains a relationship as a coach, trainer and mentor with his former high school's varsity basketball team at Connetquot High School. Below are excerpts from his interview with Karen Kernan, URECA Director.


---
The Interview:
Karen. Tell me about your research.
Terence. What the lab does is really different than many other labs. It isn't bench work…it involves working with people. The main project that I'm currently working on is our "Gait Propulsion Trainer." A main focus of our lab is developing gait rehabilitation for people post-stroke. When you have a stroke, a common consequence is hemiparesis (one sided leg weakness). What that does is cause those post-stroke patients with hemiparesis to overcompensate with their stronger leg leading to an asymmetric gait, which can lead to other serious issues-- further cardiovascular issues, or second strokes… or even depression, and isolation from one's family or environment. We have developed a device that uses a stationary, spooled cable where the end of the cable is attached to a waist-worn belt. A novel aspect of the GPT is the timing mechanism which applies resistance selectively when the paretic (weaker) leg pushes the body forward, which we predict will lead to focused strengthening of the paretic leg.  We have 4 sensitive resistors on the foot of the person and we can time it so that during their propulsion phase or when they're pushing off with that weaker leg…they're only training unilaterally, one leg at a time, so we aim to isolate and strengthen solely the weaker leg. 
How did you first become involved with your research group?
I was looking for lab opportunities when I transferred here from SUNY Brockport. Initially, I was kind of putting research off to the side, thinking: would I want to do it or not? But I decided this was something I really wanted to do. So I emailed a bunch of professors, met with a few people who gave me referrals, and I eventually found Dr. Vasudevan. ... Even the first time when I went to speak with her, it didn't feel like an interview. She was very welcoming, and when she told me about the research she was doing, she said she just wanted to make sure the work would be something I would enjoy, something I would really love. I liked that it would be something that will make an impact. And it has truly worked out great for me. I've been in the lab a little over a year now, and I really enjoy it. I enjoy the process of troubleshooting, fixing things that are broken, making things run smoothly, and working as a team.
What kind of learning curve have you had since joining the lab?
I was lucky enough that I had an exercise science and kinesiology background to assist me when learning new things. A lot of what we do in the lab is based on walking mechanics, movement mechanics, and physiology—a lot of which was new to me, but which I picked up fairly quickly because of my previous academic background. Plus I am a personal trainer, so I have knowledge of anatomy and movement from that. The biggest learning curve for me was learning to write programs, to use MATLAB, and learning all the things that we have to do to analyze data. We have kinematic data done on a camera system that can show how long the steps are, the difference between step lengths, the angles between their limbs, on top of EMG and Force data – all data that we analyze to get the best outcomes. For the study I'm doing – I had to create my own program. I never did any programming in the past. So just learning how to analyze data and work with the different programs was the biggest challenge. This summer, I want to continue to be better at coding, to be better at making programs for data analysis.
For your project, did you work one on one with human subjects?
For my URECA poster/project, I ran 3 subjects and I was pretty much the lead. I had to practice consenting human subjects. That's a big part of the skills you develop through this type of work-- developing the skill of talking to people, making sure people feel comfortable in the lab. We have them in a vulnerable position (wearing tight clothing, EMG markers/electrodes, having wires connected to them when they're walking), so making sure that the subjects are comfortable at all times, and putting the subject first is a priority. I've been able to test around 10 subjects so far in the studies I've worked on.
What will be the main focus of your work this coming summer?
For my URECA poster/project, we started with the proof of concept of our device. A novel aspect of our device is that we're able to train unilaterally one leg vs the other. We wanted to make sure that we can alter the gait and the propulsion forces in somebody that doesn't have stroke, and confirm that it works properly. For the coming summer, we will be able to test stroke subjects. We plan to test 10 stroke subjects to see: Does our protocol work? How effective will our device be?
That's exciting. What do you enjoy most about being involved in research?
I think the best thing is working with everybody in the lab. The teamwork is great. The device I'm working on is the actually a dissertation project for Krista Fjeld, a PhD student. We work together really well. And there are other undergrads who all work together and help one another. When you see the results, you know that everybody came together and put in hard work to make the final project. I think everybody that's there wants to be there – and everybody there enjoys being there, enjoys the research. So it makes it less strenuous when you have everybody putting their heads together and doing something that they enjoy.
Sounds like a nice environment. 
It's really great! The way Dr. Vasudevan set it up – she allows you to grow. You're in a position where she guides you in the right direction and  gives you more responsibility as you advance and you develop. Over the year, I've been able to put in more and more effort and she sees that and she recognizes that and she gives me more responsibility. It has allowed me to grow and to be successful.
Do you have regular lab meetings?
That's another thing that I enjoy about the research: being able to practice public speaking. We meet every week and we rotate presenting papers during those lab meetings. We try to pick papers that apply to what we're doing in the lab. So you get to learn more science and how that science is applied to what we're doing.  Everybody has the opportunity to present.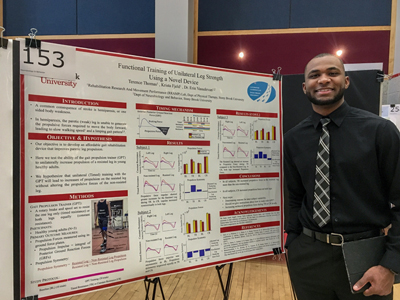 Did you enjoy presenting a poster at URECA?  
I felt a little bit nervous at first but at the same time I was ready. I had practiced with Dr. Vasudevan and the grad students. And it was nice to see that other people seemed willing to listen to the things you have to say. I enjoyed being able to see everybody else's work too. I was also able to co-present with my graduate student, Krista, at another event that same week on a Friday. That was a good experience too, and I got some helpful feedback from professors I talked with.
What's the biggest challenge?
I think the biggest challenge is also the most fun part – which is figuring out the issues and troubleshooting the problems. The biggest frustration can be when you have a participant coming in, donating their time to us...and things go wrong during the experiment. You have to be quick on your feet to be able to see what the problem is and to figure out a way to make an adjustment and adapt to make everything run smoothly. We have a really good team and an engineer, Joe, who is super quick and can solve problems. And we're at a point right now where everything is running smoothly. We feel comfortable bringing in stroke patients for the next phase of the project.
How does research complement your education?
I find that research is a nice break from regular classes which are a lot of memorization, taking in a lot of information. Research has allowed me to take in information and also apply it – to see the application of science, see how science is turned into experiments where you analyze the research and publish. It's also a nice break to go into the lab where you get to run experiments and to be more part of a collective team with your peers vs. being an individual in the classroom.
What's the most valuable thing you've learned from your mentor?
Probably patience; patience and consistency. You have to have patience when it comes to things not working. You might run a code and get an error – which, when you're analyzing data, is the worst thing ever (… you have to go through entire code and debug the code, figure out what's the issue). Even when things come up with the research, I've never seen my mentor in a state of panic or craze. Seeing her stay patient and consistent throughout the entire year, and knowing that if you keep putting in the time that there's a light at the end of the tunnel--that helps you maintain focus on the long-term project goals.
What advice do you have for other students?
The most important thing is finding something you enjoy. Where I ended up in Dr. Vasudevan's lab was the perfect opportunity for me. It was something that fit exactly with my personality, fit with what I wanted to do …If I was in a different lab, I might not have had the opportunity to get an AHA fellowship, or to present at URECA.  Her lab was a place where I'm able to really grow.  ... Also don't give up. I emailed 10-15 different people to find a lab. Being able to talk about my interest in science, and not being afraid to try to make that connection was important in finding the right research environment for me.
What are your future plans?
I want to be an orthopedic surgeon. I've enjoyed shadowing orthopedic surgeons in the past – and I always wanted to be close to athletics and sports. I also want to do research as a physician. I never thought I would want to do research when I was first starting off. But I really enjoy it. The kind of research I'm doing now is a field that ties together cardiovascular science, physics, neurobiology all together into one and it's something that is really interesting and I'm really grateful for.
What was your main reason for transferring to Stony Brook?
I was in athletic training and I was playing basketball at Brockport. I liked the science behind athletic training and exercise kinesiology, but I didn't see myself having that as a career. Medicine was always in the back of my mind. So I decided to go after that dream of being a physician. ... I'm from Long Island so I knew Stony Brook. I had friends that were here. I was comfortable here, it was familiar to me. And I knew the strength of Stony Brook as a school – I knew it would challenge me, I knew it would make me a better student. The research opportunities, the opportunities to network with people in the medical field--this was something I really looked forward to as far as being at Stony Brook, and was something that kind of pushed me toward being at Stony.