Skip Navigation
Researcher of the Month

November 2015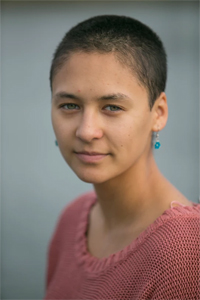 Priscilla Moley 

Biology major (Environmental Science specialization), Class of 2016

Research Mentor: Dr.Stephen Baines, Ecology & Evolution
---
Priscilla Moley was one of 6 students to be selected in spring 2015 for the URECA-UG Bio Alumni award to support her summer research under the mentorship of Dr. Stephen Baines (Ecology & Evolution) on: "Seasonal effects of plants on the removal of the pollutant nitrate by denitrifying bacteria." Her project builds on a related wetland denitrification project that she participated in the previous summer, working with graduate student Mary Alldred. Spending time both in the field (taking samples at West Meadow, Indian Island, and Smith Point) as well as the laboratory, Priscilla found her research experiences to be vital to setting her current goal of a Ph.D. in science: "I definitely know for sure that this is what I want to do. It's exciting and fun. And it's always different and I love that."
It wasn't all that long ago that Priscilla had contemplated dropping out of Stony Brook, to work full time in her family's contracting business: "I thought maybe school isn't for me . . .and then I by chance—I got involved and that kind of changed everything." Taking BIO386: Ecosystem Ecology in the Global Environment turned out to be pivotal to Priscilla's realization of her passion for wetlands ecology, and to providing her with the opportunity to interact with her future mentors in research.
A first generation, self-supporting student from Melville, Long Island, Priscilla is currently a senior majoring in Biology, with a specialization in Environmental Science. Her energy and enthusiasm for her field of study made her ideally suited as a tour guide for the CAS Pre-College Summer Institute and as a panelist for Transfer Orientation (summer 2015). Priscilla also served as a Teaching Assistant for BIO204, and has presented her research in the Baines lab at the URECA campus symposium: "As much as fun as it was presenting, I also had so much fun going around and asking other people about their projects and seeing all of the research that's happening at SB. It's impressive!"  Below are excerpts of her interview with Karen Kernan, URECA Director.
---
The Interview:
Karen. Tell me about your current research.
Priscilla. This summer, my research involved looking at wetland plants and their association with denitrifying bacteria. Denitrifying bacteria are really important because they filter out nitrogenous waste before it gets to aquatic ecosystems where it can cause a lot of damage…I previously worked with PhD student, Mary Alldred on a project that looks at plant traits as a proxy for determining how denitrification is happening. My project for this past summer was to see how denitrification varies over the course of the plant growing season.   I had 3 sites: West Meadow, Indian Island, Smith Point (chosen so that we could sample along the salinity gradient).  I would go to each site, take plant measurements (plant height, stem density), and also take a core (mud) sample and then come back to lab, and the very next day start processing the sediments.
Did you find anything surprising?
Yes. We thought the peak in denitrification might correlate to the end of the growing season but it happens a lot earlier – which was exciting to see.
Was it valuable being able to devote a summer to research?
Having a summer to dedicate to this project was absolutely amazing. I would have had to work if not for this grant. And during the semester, I was only able to give 6 hours a week or so to volunteer in the lab…but it was such a great opportunity to have the whole summer to spend the time on the project. And it was such an awesome opportunity to work independently. I was entrusted with a lot of responsibility where I had to make my own schedule, coordinate and plan how the project would proceed. I learned a lot about data analysis. I also had to learn how to use R (a statistical program).
Do you enjoy the lab environment as well as the fieldwork?
It's amazing. There's tons of awesome support. It's such a great environment. When I have questions about my research, I am able to bring it up at lab meetings, and ask for advice for how I can move forward. Everyone is very helpful. When I was starting to think about grad school, I got advice on how to apply from the grad students. My mentor is amazing too, and always gives me good advice.  
What did you learn anything about process of doing research?
Things are not as straightforward as you think. I think that initially I was very naïve when I first started doing work. Sometimes unexpected things happen in the lab. Equipment isn't working just right – or you accidentally mess up a step and have to go back. There were days where I had to go back out and get new samples, and spend another 6 hours processing. (Yes, I basically lived in the lab)…But I learned so much. As hectic as it was, and sometimes stressful . . I definitely know for sure that this is what I want to do. It's exciting and fun. And it's always different and I love that.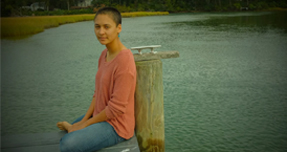 What advice do you have about research for other students?
When you get involved, it is hard initially when you're first getting used to the equipment, procedures…and you may feel discouraged. Just wait, give it time and persevere. You will get through it. Before you know it, you will realize you can do this. It gets easier. My second piece of advice is: Go to West Meadow while you're at SB, and check out the wetlands!
Was science something you always wanted to do?
I started at Fordham as a Women's studies major. Then I tried a bio class- something I was always interested in. I didn't think I had what it took. I didn't think I'd be successful. But I got an A, and thought, "can I maybe do science?" . . .   
Sounds like your experiences with research also really had an effect on you.
I feel like it's the best thing I've ever done. Before I worked in lab, I had no clear direction on what to do. I didn't want to be a doctor. I was actually going to drop out of SB . I thought maybe school isn't for me …and then I by chance—I got involved and that kind of changed everything.