Skip Navigation
Researcher of the Month
July 2015

Ioana Soaita
 
Biomedical Engineering major; Honors College, Class of 2017

Research Mentor: Dr. David Rubenstein, Biomedical Engineering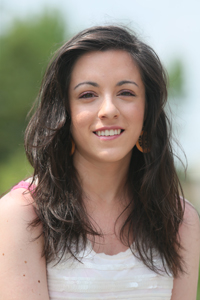 ---
Ioana Soaita is the recipient of this year's Chhabra-URECA Fellowship, an award which annually recognizes an undergraduate researcher with tremendous potential who has a passion and talent for science. Ioana was selected from among 125 applicants to the 2015 URECA summer research program; and is a rising junior in the Honors College who majors in Biomedical Engineering and is mentored by Dr. David Rubenstein of the Department of Biomedical Engineering. Although Ioana had never so much as held a pipette before volunteering as an undergraduate research trainee in Dr. Rubenstein's lab in summer 2014, she came in with a strong motivation to learn about the impact of diabetes on cardiovascular disease with regard to platelet clotting. Since she started, Ioana has become skilled at numerous laboratory techniques, including running aggregation and flow cytometry experiments to determine the effect of reversibly and irreversibly glycated albumin (commonly present in the cardiovascular system of patients suffering from diabetes) on platelet activation and aggregation. In spring of this year, Ioana presented her data at the Experimental Biology 2015 research poster symposium in Boston, with support from a URECA travel grant. Ioana will be developing her senior thesis for the Honors College from her current research. Further down the road, she plans to complete a Ph.D. in the field of biomedical engineering. 
Ioana is committed to a research career, to furthering her knowledge of cardiovascular disease progression and to learning. Her advice to others starting out in research is: "Don't be scared to make mistakes and definitely don't be scared to ask questions. That's one of the most important things I learned in research. You're the one person who knows exactly what you don't know. If you don't actively seek answers to those things, then you're not going to move forward. "
Born in Bucharest, Romania, Ioana moved to the US at age 7 and graduated from East Lyme HS, Connecticut. Her hobbies include ballroom dancing and piano. At SB, Ioana also became involved in her freshman year as a tutor for the Academic and Success Tutoring Center, work she finds to be very fulfilling and important having herself been the beneficiary of great mentoring in the Rubenstein lab. Below are excerpts of her interview with Karen Kernan, URECA Director.
---
The Interview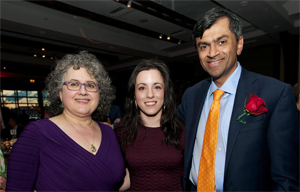 Karen. What's your research about?
Ioana. The Rubenstein lab is a cardiovascular disease research lab with a focus on platelet coagulation. The effects of advanced glycation end products (AGEs) on platelet functions are largely unknown.  So the major goal I have for my summer project is to gather data that will give us the ability to characterize the surface protein profile of platelets after exposure to reversibly and irreversibly glycated albumin. That data provides us with essential information on understanding the changes in internal signaling cascade within platelets. And understanding how the signaling cascade is altered will allow us to determine how diabetic conditions are linked with cardiovascular disease progress, and then give us insight to develop potential therapeutic targets for cardiovascular disease interventions.
How did you find this particular lab?
Chronic diseases including diabetes have affected my family for generations. When I was looking around and gathering information about different lab opportunities, I was intrigued that Dr. Rubenstein's research focused on platelet coagulation, which is a crucial trigger of heart disease, and that he studied the connection between heart disease and diabetes.  I was interested right away.
When did you start? What kind of background in research did you have?
I started last summer. And I went in as someone who had never held a pipette before. I had never even seen one, so my experience was absolutely zero. But I discovered that I like doing research a lot. And a lot of it is because of how great a mentor Dr. Rubenstein has been. He creates a type of light-hearted, friendly atmosphere, and so we've all become good friends in the lab– the undergrads, the graduate students. And Dr. Rubenstein is so approachable that there's also a sense of trust in the lab, so you know you can just ask somebody when you need help. And it creates a productive feel – when you feel comfortable, it shows in your work. I really like what I do. And there's so much to learn. I can't even begin to wrap my head around how much more I have to learn. … But so far it's been fascinating!
What your long-term goals?
My immediate goals are to keep working on this project and take it as far as I can in the next 2 years. After that, I plan to go on to grad school and to continue with research – which will probably involve getting a PhD. To just keep learning, that's the main goal. I want to become knowledgeable and have a deep knowledge of what it means to do research …I find it fascinating that you can sit in a lab and  mimic disease conditions – that's a lot of power. Every single day you do one experiment or two- and it may seems that you're just barely moving along because you need to work a lot to figure out one thing but it matters a lot. There's a purpose to it.  I am incredibly grateful and excited that I have been able to spend the past year gaining and practicing the skills to contribute to an ongoing search for an answer to such a complex and important problem. Because it matters. That's the thing.
What is the most difficult thing about doing research?
It can be daunting. There's a lot of information that as an undergrad, you just don't know. It's up to you to read, and to be aware of what you do or don't know—and to learn how to ask questions. Once you start learning and understanding, then you have to master the techniques of what you're doing. It's a lot of trial and error. It's also very individually driven – so you have to want to do it. You have to push, to ask, to figure out what you don't know and admit it to yourself. … If you want to move forward, you have to be critical and keep trying and keep pushing. But doing research teaches you a lot. You learn how to be more driven, how to be motivated and reach out and communicate. It was hard for me when I was new to research to put myself out there. But you learn and it's a huge stepping-stone.
What advice would you give other students?
Don't be scared. When I first started, I thought: I don't know much so why would someone take you in a lab when you are a bare beginner. But you learn. And faculty are there to teach you; that's what they do. So don't be scared to reach out to professors. Don't be scared to make mistakes and definitely don't be scared to ask questions. That's one of the most important things I learned in research. You're the one person who knows exactly what you don't know. If you don't actively seek answers to those things, then you're not going to move forward. Because someone can't guess your questions. I can't even count how many times I've knocked on my mentor's door with a question about this or that. 
A lot of research is individual and you have to sit and think about what you are working on by yourself…but sometimes if you feel you need an answer, it's important to ask, and not to worry that your question is too trivial. I've become much more comfortable with asking questions. My perspective really changed a lot on that.
Did you find it was valuable to have a summer research experience?
Very much so. During the school year, with classes spread around, it is hard to get that much done in those 2-3 hour gaps. You might only be able to go in one day a week. Or run one experiment a week. And in 14 weeks some of it doesn't work. It's tough during the semester to get a huge base of data. But in the summer, going in every day – you get so much more done. That's why I just volunteered last summer. I wanted to learn. You need to be there and observe and practice and make mistakes. You just have to spend time on it if you want to go further. I was thrilled to get the Chhabra support for this summer to focus on my research.
What are your other hobbies?
I've been big into tutoring. When I came here, I joined the Academic Success and Tutoring Center right when it was starting. And it's been such a good learning experience to be involved with the ASTC. As a peer tutor, you help the person with the subject matter but then you also teach how to study, how to approach the class, and how to deal with time management and stress. You become almost a friend because you know exactly what it's like going through it. Then to help someone with it and see them visibly relax and understand what to do and be that guidance has been really a fulfilling experience for me as a tutor. It made me realize how much I liked it. Now I understand even more so why I appreciate Dr. Rubenstein so much as a mentor.
Tell me about your experience as an Honors College student.
The big thing that the Honors College offers, in my opinion, is that it puts you in a community of kids who are incredibly diverse but you all have the same desires to learn and share and become better people. And that was very helpful for me. It made the process of transitioning to college much less daunting. There's a support system there for you– with the advisors, the community of students, and so on. We instantly banded together. That's very important for college.
Congratulations on being selected for Chhabra-URECA award.
Thank you. I was able to meet the Chhabras at the Gala in April –and it was very heartwarming to meet them, and to see their support for students who are passionate about science. It's an immense honor to receive this award to support my project. I'm incredibly grateful.